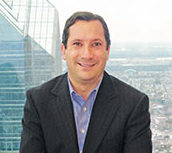 The new CEO of USA Volleyball hopes to use his background in marketing and e-commerce to help grow the sport
After years under the leadership of Doug Beal, who was an icon in the sport as a player, coach and executive, USA Volleyball went in a decidedly different direction when it hired Jamie Davis in January. Davis is the national governing body's first CEO with no prior experience in the sport and was hired by design for his marketing and e-commerce background. Davis founded his own company, Jomandrew Sports and Entertainment, after serving as president of online retailer Fanatics from 2012 to 2014. Before that, he served as president of the Versus television network from 2008 to 2011 and held several roles with News Corporation, Fox Sports and CBS Sports. Now he is setting about creating a new approach for USA Volleyball and its events.
You are the first CEO of USA Volleyball with no previous experience in the sport. How were you approached for this position?

I had my own consulting company in the sports and e-commerce space, and I received a phone call from a headhunter who asked me if I was interested in going back into the workplace for an NGB. I said, "You understand I have no background in volleyball," and they said, "That's OK. What they're looking for is someone with a sports background in marketing and finance and e-commerce who can bring a different vision, a new vision, a fresh vision to the sport."
As I started doing my research, it was quite a surprise to me how big and popular the sport actually was. I didn't realize there were 330,000 members of USA Volleyball. I then went to the website and I started looking at our sponsor pages and realized almost all the sponsors were volleyball endemic — a court, a ball, a net system. That's when I started getting very excited about the opportunity. I thought I would be able to marry my marketing, sales, digital and e-commerce background with a sport that had real excitement, growth and scale to be able to try and build something special.
In announcing your hire, USAV's board noted that there was a chance to "reshape the business of the organization." What areas need reshaping?
I wouldn't say there's any specific area that needs to be reshaped. It's not like our coaching or officials need to be reshaped or anything else. What I think is that there's real potential to build the brand of volleyball, and by building the brand and awareness, I think we can get a lot more people interested in the sport at the grassroots level. By doing that, I can then have even more scale that I can get more sponsors interested in being involved with the sport. With that additional money coming in, I can invest more in the coaching, more in the high-performance track as well, and be able to have even greater success at the international level when it comes to competitive excellence. It really comes around to looking at what we're spending our money on and prioritizing.
What did you learn as president of Fanatics, an e-commerce retailer, that will benefit USAV?
There's a really good revenue stream out there — the chance to build our brand so that everyone wants to wear it proudly on their shirt, on their sweatshirt, on their cap, on their bag. By building that business, that's also walking marketing for our brand. I'm motivated in two ways. One, certainly, is for the financial return. But also for the brand awareness it gets from having everyone who loves this game running around proudly with it all over their body.
Indoor and beach volleyball are your primary disciplines. Which has more opportunity for growth?
The exciting part is both have explosive growth in front of them. Indoor has much bigger scale currently, but I think with the NCAA making beach a varsity sport, there's more than 60 Division I and II schools that have programs, which now leads to scholarships. More girls are going to see it as a track that will follow all the way back to the grassroots. What I also see happening on the indoor side is that as I build this brand and the awareness of volleyball, I'm hopeful we're going to get more and more boys and girls who are interested in playing sports to say that volleyball
is their sport of choice.
You have set about reorganizing USAV's structure from a focus on the sport's disciplines like beach and indoor to departments like  high-performance, events and marketing. Why is that?
There are a lot of ways to structure an organization, and historically we have been structured by discipline. We started with indoor and now we have beach and sitting volleyball as well. We frankly weren't giving enough resources to support beach and sitting as I believe we could. What I've done is reorganize. Instead of being organized by discipline, I've now organized our operations by function. By doing that, what I've enabled us to do is give all three disciplines much stronger support by having a much bigger department. You'll have specialists in beach, indoor and sitting. But the beautiful thing is, because they're all one department now, I'll be able to expand and contract. If beach is very busy and indoor is not, I can have people who typically work on indoor go over and help out the beach people. I think it's going to help us with our communication internally as well.
USA Volleyball has 40 regional volleyball associations that support development of the sport. How can you keep up a relationship with that many groups?
I give our board chairwoman, Lori Okimura, a lot of credit, because when I started, she helped arrange for me to go out and meet with the 40 regional commissioners. She pulled them into five different cities for me, and I got a chance to have a frank, open discussion with each of them. They all knew I was from outside the volleyball world, and I told them I'm coming in with fresh eyes. I said I want us all rowing in the same direction,  because if we're doing that we're unstoppable. For example, part of the reorganization I did was the result of the feedback from the regional commissioners who said they felt certain parts of the operation were too thin and not able to give them enough support.
At your recent annual meeting, the president of the international federation, FIVB, discussed the idea of more international events in the U.S. What are your thoughts about bringing those events here?
The more big events we can have on the ground in the United States, the more our youth are going to be able to understand who our athletes are, get to know them, and want to emulate them. I'm all for us trying to work together to bring major events — whether it's beach, indoor or sitting — to the United States on a domestic or international level.
Are there more opportunities for additional events organized by USA Volleyball?
I think there are. When I came in, I asked how do we do more international events or bigger events on the ground in the United States? So we've added what we're calling USAV Cups. On August 18 and 19 in Hoffman Estates, Illinois, our USA men's national team will play two matches against the Brazilian national team. Then we're having the women's national team play against the Brazilian national team in Anaheim on August 27 and 29. I did this within the first two months of being here because I realized the importance of having these kinds of events on the calendar. 
How difficult is it to replace someone like Doug Beal and move a new agenda forward?
First of all, Doug is a legend in the sport and did a wonderful job in all aspects for USA Volleyball. I am honored to be following him. As I started looking at the solid foundation that was there, that solid foundation was built by the leaders before me. That made me go from not being interested in even hearing the company's name when the recruiter called to how do I throw my hat in the ring. And that really tells it all.