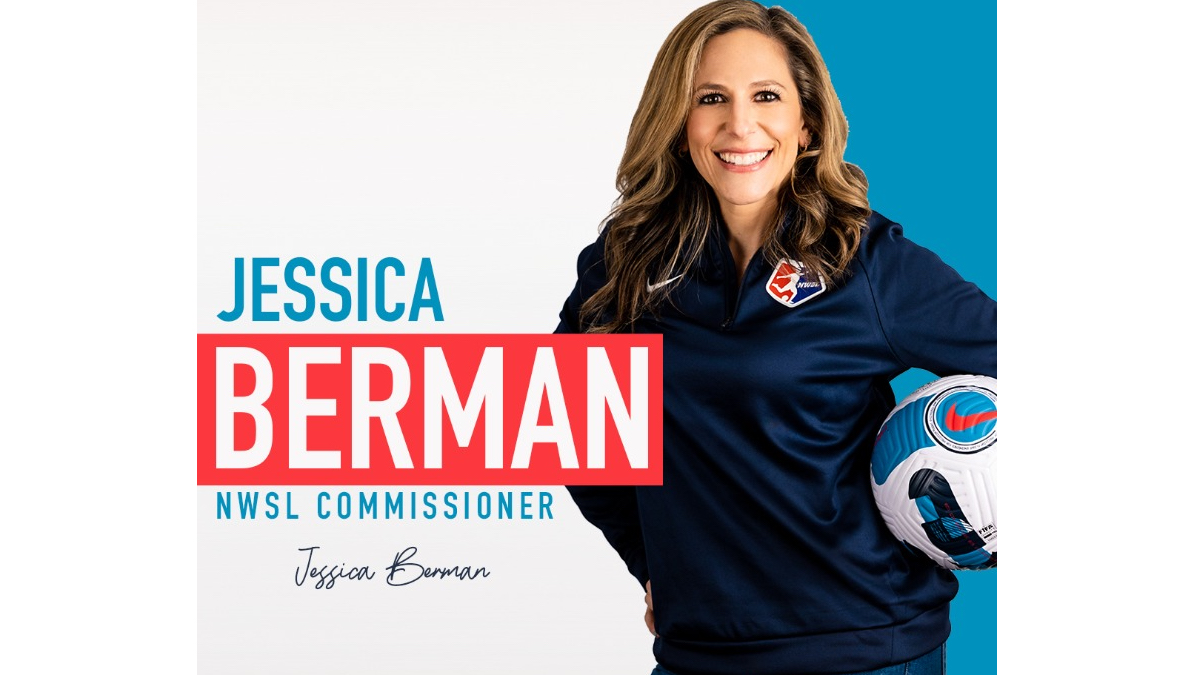 Jessica Berman has been named the next commissioner of the National Women's Soccer League as the league readies for its 10th season of competition.
"I'm honored to be the next commissioner of the NWSL and grateful to the owners for their confidence in me," said Berman. "Working on behalf of, and in partnership with, our players is my number one priority. Having been involved in professional sports for many years, I know how critically important a genuine partnership with players is for us all to be successful and continue to grow."
Berman will oversee all operations of the league with a focus on supporting players on and off the pitch, working with clubs to build on the league's growing audience and collaborating with NWSL partners to create an entertaining fan experience. Berman is set to begin her four-year term as commissioner on April 20.  To ensure a smooth transition, Marla Messing will continue her role as interim chief executive officer until May 31.
"We're thrilled to have Jessica serve as the next commissioner of the NWSL as we embark on our 10th season of play," said OL Reign's Sophie Sauvage, a member of the NWSL board of governors.  "This process was incredibly collaborative throughout and we want to thank the players for their involvement. Jessica's extensive professional background, her commitment to elevating diverse voices in the sports industry and her vision for the future of our league, made her the right fit for this incredibly important position."
Berman joins the NWSL after two and a half years serving as deputy commissioner and executive vice president of business affairs at the National Lacrosse League. Berman's responsibilities included overseeing team services, operations, marketing and communications, broadcast and content, community engagement, human resources and league governance.
Prior to her time with the NLL, Berman spent 13 years with the National Hockey League, first serving as vice president and deputy general counsel before becoming vice president of community development, culture and growth and executive director of the NHL Foundation.
The NWSL has had a year full of off-field moments. It has a new collective bargaining agreement with the NWSL Players Association and welcomes two highly-anticipated expansion teams this season in Angel City FC and the San Diego Wave. The preseason Challenge Cup, a competition that was borne out of the COVID-19 pandemic and has become one of the most popular events of the season, starts on March 18.
The league has had its share of off-field issues as well. Berman replaces Lisa Baird, who resigned in October after allegations of sexual harassment and coercion were brought against one of the league's most prominent coaches. Five coaches either resigned or were dismissed; both U.S. Soccer and the NWSL have opened independent investigations into the league's handling of abuse claims.
"A strong commissioner is vital to the future growth of NWSL," NWSLPA Executive Director Meghann Burke said. "In this process, the Players' Commissioner Search Committee focused on finding a candidate who understood that the strength and success of players and our union is integral to the success of NWSL. The Players Association would like to thank the board of governors for agreeing to include players in the selection process and for giving thoughtful consideration to our feedback. We support the selection of Commissioner Berman and look forward to working alongside her to achieve the common goal of building an NWSL that sets the global standard for women's professional soccer."