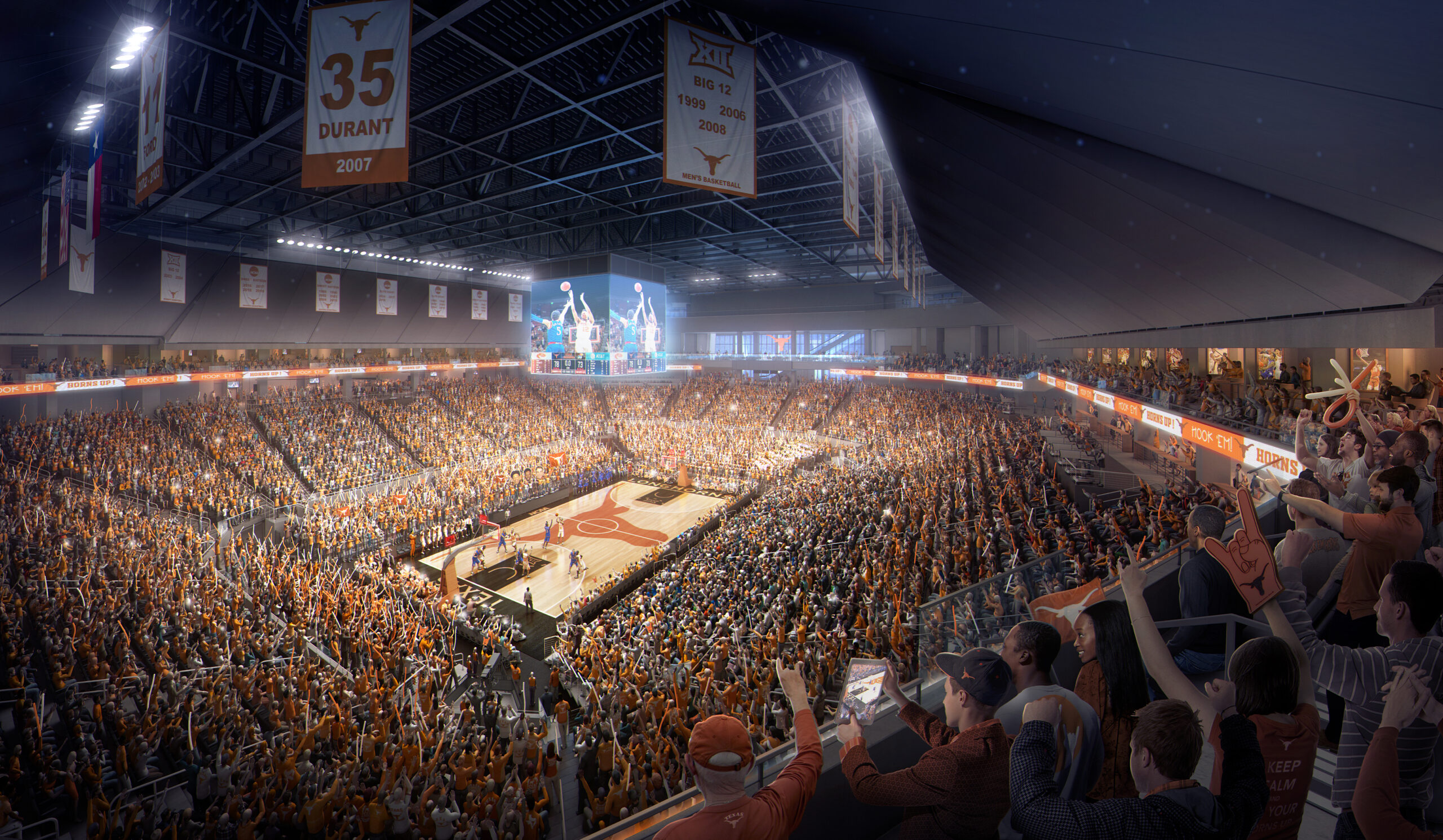 As the demand for spaces to host sporting events continues to grow with an eye toward sports-related travel in a post-coronavirus world, destinations across the country are examining their inventory, identifying needs and building accordingly. Here are 16 new sports complexes to keep an eye on in 2022.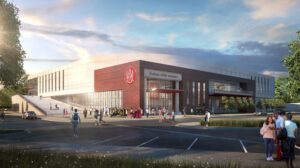 Huntsville, Alabama
OPENING: Fall
After playing off-campus for years, the Alabama A&M Bulldogs will have an on-campus arena to call home this fall for men's and women's basketball and women's volleyball games. The 132,000-square-foot event center and arena will have capacity for 6,000 at games as well as locker rooms, training rooms and a Hall of Fame honoring former notable athletic stars. Situated adjacent to Louis Crews Stadium, which the football program has called home since 1996, the new arena will also host other university functions after having to rent offsite facilities for activities.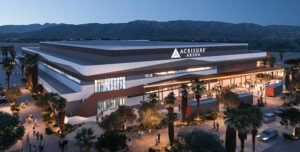 Palm Desert, California
OPENING: Fall
One year after Climate Pledge Arena opened for the NHL's Seattle Kraken, this new venue in the Coachella Valley will be home for Seattle's AHL affiliate, the Coachella Valley Firebirds. The naming rights for the arena were recently sold to financial technology firm Acrisure by OVG Facilities in a 10-year deal. The arena comes in at a cost of $300 million and will seat up to 11,000 for hockey; in addition to hockey, the venue is expected to host concerts, conventions, UFC, boxing and WWE events.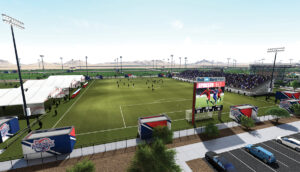 Mesa, Arizona
OPENED: January
The complex features a 3,000-seat outdoor stadium, a 2,800-seat indoor arena and an esports arena. The venue is highlighted by 57 indoor volleyball courts, 41 pickleball courts, 22 futsal courts, 20 basketball courts, 12 beach volleyball courts and eight baseball/softball fields. Beyond athletic facilities is a lawn for concerts and events, a zip line, fitness and kids centers, an obstacle course racing park and spaces for gymnastics, dance and cheer. Legacy Sports USA is the organization behind Bell Bank Park and OVG Facilities oversaw the construction and will manage daily operations.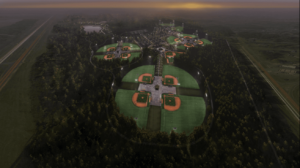 Starkville, Mississippi
OPENING: Summer
Once an industrial park, the SFM-managed venue will have 12 baseball and softball fields with synthetic turf infields and natural grass outfields along with batting cages, warmup areas and parking. There will also be two T-ball fields to commemorate Starkville being home to where T-ball was first played. Cornerstone will host a myriad of regional tournaments and will also feature the Cool Papa Bell Plaza and Statue, honoring the Starkville native and Negro League legend. The venue itself will cost more than $20 million and will include a walking trail, playgrounds and flex space.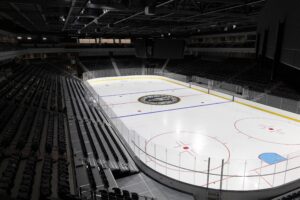 Henderson, Nevada
OPENED: March
The Dollar Loan Center, built in partnership between the Vegas Golden Knights and the city of Henderson, is a 6,000-seat arena with indoor/outdoor space and modern amenities. It will be the home of the Henderson Silver Knights, the AHL affiliate of the Vegas Golden Knights, and the Vegas Knight Hawks of the Indoor Football League. The arena is also home to the Southern Nevada Sports Hall of Fame. Fans will be greeted by staff in medieval-themed uniforms, adorned with the crest of the Silver Knights or Knight Hawks. High above one end of the ice is a castle while the scoreboard features a war horse.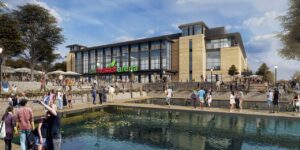 Savannah, Georgia
OPENED: February
Its opening delayed three weeks to early February, the 9,500-seat arena is another OVG Facilities project that will play host to the ECHL's Savannah Ghost Pirates starting with the 2022–2023 season. The opening finalizes a long journey; a new arena in the heart of downtown Savannah was first studied in 1996. The new $165 million arena features numerous luxury suites, loge boxes and an expansive club seating area and is located just one mile from the Savannah Civic Center right in the historic district.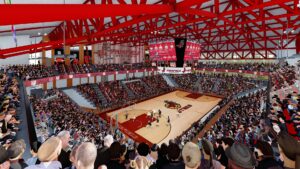 Fairfield, Connecticut
OPENING: Fall
The 3,500-seat Convocation Center will be the new home to the Fairfield University Stags' Division I basketball and volleyball programs and also have a state-of-the-art broadcast and media center, luxury seating and lounge areas throughout the 85,000-square-foot complex. Above the concourse, plans include a Stags Club with additional rows of seating and a conference room overlooking the court. The lower level will feature amenities including a film room, team lounge and a training room. The estimated $45 million cost is part of the school's multi-phase master plan to modernize the campus.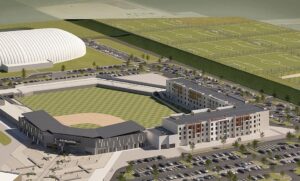 Windsor, Colorado
OPENING: Spring
The 118-acre sports complex is designed to host guests for major sports tournaments, events, leagues and more with more than 20 outdoor fields and diamonds, a four-acre bubble dome with turf and hardcourt inside, dorm-style lodging for tournament participants, hospitality options, restaurants and other amenities on-site. The venue will be home for minor league baseball's Northern Colorado Owlz and the USL League One's Northern Colorado Hailstorm FC.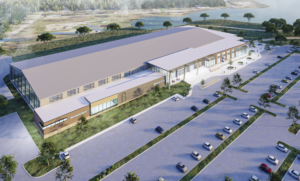 Bryan, Texas
OPENING: Fall
The Legends Event Center is expected to have eight basketball courts that can turn into 16 volleyball courts, an indoor turf area that can be used for gymnastics and wrestling meets, pickleball tournaments, archery and cheerleading competitions, boxing and soccer matches, dance and martial arts competitions, gaming conventions, trade shows, markets and other special events. The $40 million event center also will include concessions, an arcade, party rooms, an esports room, turf space and a flex space for smaller events.

Memphis, Tennessee
OPENING: Fall
This sports and events facility will include 16 indoor basketball courts, 32 indoor volleyball courts, seating for 3,500 fans within the 227,000 square foot venue and be adaptable for other sports like wrestling, gymnastics, cheerleading and futsal. The Center will include a cafe and concessions area as well as three outdoor turf fields. Located in Liberty Park outside Memphis's Liberty Bowl Stadium, the venue is in proximity to a wide array of entertainment, retail, dining, and hospitality options.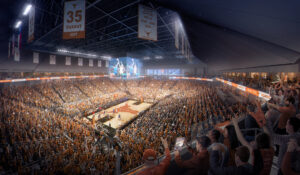 Austin, Texas
OPENING: April
The $338 million, 15,000-seat venue is another partnership between OVG Facilities and Live Nation, combining for 150 nights a year of entertainment. Moody Center will host University of Texas men's and women's basketball. The arena will seat 10,000 for most basketball games and expand to 15,000 seats for large basketball games and other events. The new arena will be named the Moody Center following the Moody Foundation's grant of $130 million to the university and will replace the Frank C. Erwin Jr. Center as the home of the Longhorns.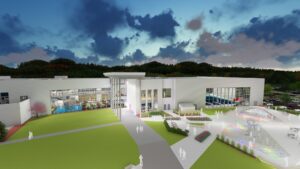 Morristown, Tennessee
OPENING: Fall
Morristown Landing will be a 100,000-square-foot indoor venue with a 25-yard, six-lane lap pool, family aquatic center, fitness center, field house with four hardwood basketball or six volleyball courts, play climb elements, and meeting and event spaces. The $36 million venue will offer summer camps, youth and adult leagues and a membership program for aquatics and fitness.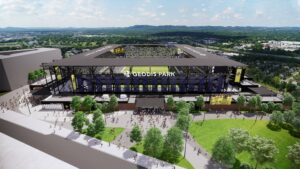 Nashville, Tennessee
OPENING: May 1
The latest in a series of new Major League Soccer stadiums, Nashville SC will have its own venue after spending its first two years playing at the home of the Tennessee Titans. With its naming rights deal announced on March 10, GEODIS Park will be the largest soccer-specific stadium in the United States and Canada, with a capacity of 30,000 seats. The stadium will feature a 360-degree canopy, safe standing supporter's section and 150 feet of distance between the last row to the field. The Populous-designed venue will include six lounges, two dozen box suites and a dedicated entry gate for the supporters group.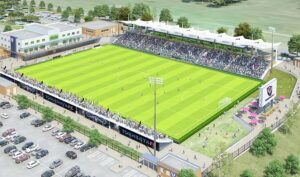 Statesboro, Georgia
OPENING: April
The 5,300-seat stadium will be home to Tormenta FC's USL League One team, USL League Two squad and USL Academy matches as well as both the Georgia Southern University men's and women's soccer teams. The soccer-specific venue will also feature luxury suites, a gym for players, a restaurant and craft brewery.  A healthy-eating dining hall for players and a team merchandise store are among many other amenities at the venue, which when not in use for soccer will host live concerts and maintain space available for conferences, weddings and other large gatherings.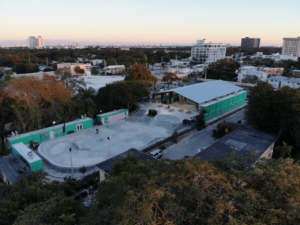 Miami, Florida
OPENED: March
SkateBird is a new concept in sports and entertainment. Coming in at 32,000 square feet, the venue has a place for skateboarders of all ages and levels,  plus a food hall and limited run retail. There will also be lessons for all ages and abilities that will be available and provided by Skateboard Supercross. The developers plan to expand the lineup to bicycle, art, culture and music programming as well. Camps during school days off will also be offered. The skatepark itself has an outdoor street-style plaza and a covered pump track with a series of banks and turns.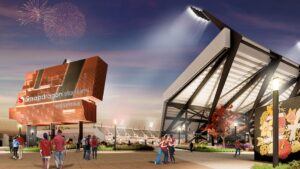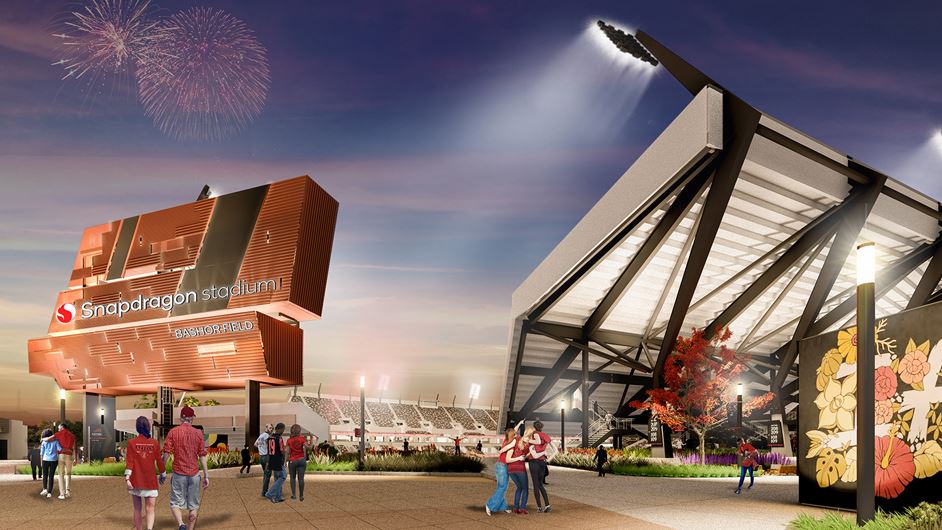 San Diego, California
OPENING: September
Snapdragon Stadium is going up just west of where Qualcomm Stadium stood since 1967 until it was demolished in 2021. The new venue will host San Diego State football and as well as the NWSL's San Diego Wave, Major League Rugby's San Diego Legion and the USL's San Diego Loyal. The stadium will seat 35,000 fans and was designed to be expandable to a capacity of 55,000. As part of the university's master plan for the area, the stadium has garden with exterior entrances that can be used for fan activates even beyond game days.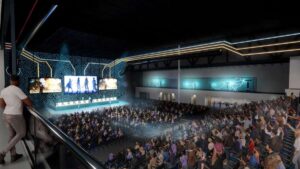 San Antonio, Texas
OPENING: March
This advanced technology venue will host live concerts, entertainment and esports and because it is located seven miles from downtown, the venue is readily accessible to San Antonio's 2.3 million population. The LAN center will give gaming enthusiasts a place to meet, compete and sharpen skills with friends. The $60 million building will span 130,000 square feet and include a 2,500-seat technology arena. The ASM Global-managed venue will also feature a large 24-hour electronic gaming area and a full-scale food hall, including catering support for various events at the center.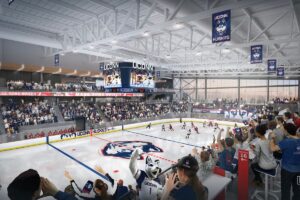 Storrs, Connecticut
OPENING: Fall
The new 2,600-seat arena will be located adjacent to the current Freitas Ice Arena. Eighty percent of the seating will be seatbacks and fans also will be able to access an ice-level lounge behind the home goaltender with food and beverage service. A student-only standing room deck will also be situated behind the opposing goaltender. Facilities will include full training and support for the women's and men's teams; team lounges; training spaces; strength and conditioning room; and other areas. The new arena will also have a large center-hung display scoreboard with perimeter ribbon boards.