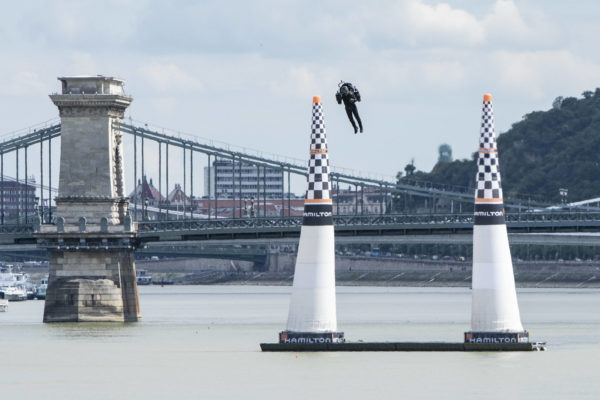 Jetpacks are a technology that always seems to be in the future. But that future seems to be getting a little closer. Soon, you may be able to attend a race as a fan—or host one as a venue—in the JetPack Racing League.
That, at least, is the plan conceived by David Mayman, CEO of JetPack Aviation in Van Nuys, California. After successfully demonstrating his company's turbine-powered jetpacks at several Red Bull Air Race events in 2018—as well as staging what he says was the first side-by-side flight of two jetpacks in history—Mayman has announced that his company is seeking pilots to race in a league as soon as 2020.
Previously, the company has focused on military and commercial uses for its products. But the company's next phase, Mayman said, is a push into entertainment and sports that he hopes will culminate in a new league. The recent side-by-side test was one of the last steps necessary, he said, before continuing with the company's plans to grow events.
"The plan now is to go out to the (aviation) industry, which we're doing now, and see what sort of interest there is in other manufacturers or other vendors getting involved," he said.
Fans of pop culture may be familiar with previous versions of a jetpack—or, more accurately, a rocket belt—such as the one used during the Opening Ceremony of the Olympic Summer Games in 1984. Those rocket-fueled versions, however, were good for only 25 seconds of flight at a time. "It was like a firecracker or a sky rocket," Mayman said of previous models. "It was controllable, but then you're out of gas. We've moved away from that."
JetPack Aviation instead has developed a jetpack with a turbine engine that takes in air along with fuel, similar to a jet engine. The technology makes the packs lighter (about 140 pounds, depending on the amount of fuel), more maneuverable and capable of flying for up to 10 minutes at a time. And they are fast—pilots can propel as fast as 200 mph. That combination of flight time and speed has the makings of potentially compelling competition.
But there must be several more steps in the process before anyone will be able to attend such an event.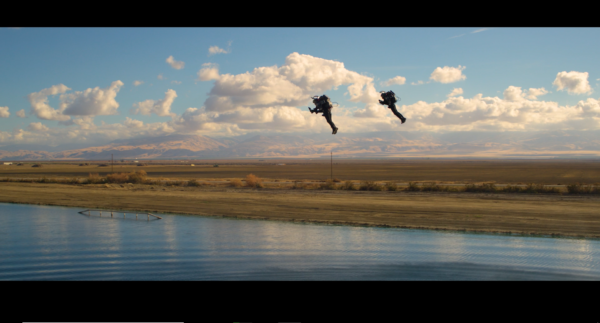 One of the first steps was last year's exhibitions with Red Bull. Mayman and his team were encouraged by the events, which were held over water. One goal of the experiment was to gauge crowd interest, while another was to identify needs of host venues, especially in the area of safety. "It proved very successful," he said of the Red Bull events. "We got a lot of crowd attention, a lot of feedback. They enjoyed the flight, the sound and the vibration."
But there were also practical issues his group was testing, including necessary crowd setbacks for safety. Some stops on the Red Bull tour opted out of the exhibition over concerns regarding what a safe setback might be. Mayman, however, said those setbacks need to be significantly smaller than for a race between airplanes since a person strapped to a jetpack has considerably less weight and momentum and therefore poses less of a danger than an airplane. And to make a jetpack race work, he said, there would have to be reasonable proximity to an audience. "You want to be close enough to a spectator so they can relate to it," he said. "By the time we're 300 or 400 feet in the air, we're just a speck."
Mayman's team also discovered that the best experience for fans may not involve simply watching jetpack pilots race side to side through a series of vertically oriented pylons, as planes do in an air race. Jetpacks, by contrast, could also maneuver over and under horizontally oriented barriers. And since jetpacks can stop and turn around at any point—unlike an airplane—courses could be made entertaining and surprising in other ways as well. "It would be awesome, and it starts to highlight the unique capabilities of the (jetpack) and introduce maneuvers that crowds are just gobsmacked by: 'How did he do that?'"
In 2019 Mayman's team plans to identify manufacturers of other types of aircraft that might be willing to partner on events. Another crucial task will be finding people willing to compete. "What we're trying to find is someone who understands the risk and is skilled enough to do this but has the right mindset for aviation," he said. "I'm sure we'll find them." Jetpacks cost $300,000 to $400,000 to manufacture, and teams would likely need to raise funding or sponsorships to compete, another hurdle to overcome.
Still, Mayman's hope is to launch a standalone league in 2020. What format the competition might take is also still in question. While JetPack Aviation's tests proved that people can race side by side, Mayman believes a timed competition (fastest time through a course, for instance) will be more engaging than a head-to-head competition. A race that features two five-minute loops with a refueling pitstop in the middle could also be compelling, he said.
For safety reasons, JetPack Aviation is envisioning events that are held over bodies of water, at least to start. But Mayman believes the packs are safe enough that events can eventually be held over land as well.
"It's a matter now of dealing with authorities, finding the right teams, finding the right venues," he said. "And that doesn't happen overnight."
To watch a video of JetPack Aviation's recent side-by-side test, click here.
Presented by