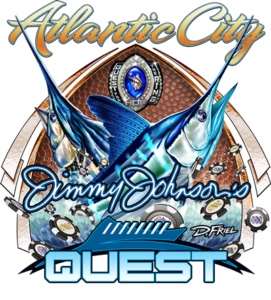 Atlantic City, New Jersey, will host the Jimmy Johnson's Quest for the Ring Fishing Championship, the first time the event series founded by the Hall of Fame football coach will stage one of its $1 million prize events outside of Florida.
The event, which will launch from the Frank S. Farley State Marina at the Golden Nugget Casino, Hotel and Marina, will held July 12–17 and be presented by Hard Rock Hotel and Casino in partnership with the Atlantic City Sports Commission. Jimmy Johnson's Atlantic City Quest for the Ring Championship Fishing Week will include a kickoff party at the Golden Nugget Hospitality Village, which will stay open for the week of the event, three days of competition, a charitable celebrity pro-am day and a closing party with live entertainment.
Competitors in the circuit vie not only for the prize purse but for a ring that resembles the Super Bowl rings won by Johnson when he coached the Dallas Cowboys.
"We are thrilled to be partnering with Fish Hard Events to bring this world-class event to our seaside destination," said Larry Sieg, president and CEO of Meet AC and the Atlantic City Sports Commission. "We are well positioned to host these type of outdoor sporting events that encourage new visitation and increase economic impact to our destination."
Tod Roy, president of Fish Hard Events, said Atlantic City made sense for the fishing series, which has staged events in Florida, to expand. "We came here and we saw the marina and we thought, wow, this is beautiful, you don't have venues like this," he said during a press conference announcing the event. "What makes a tournament work? Some may have the perfect venue, some may have the perfect purse. But nobody has entertainment possibilities, especially in the Northeast, that Atlantic City has right here."