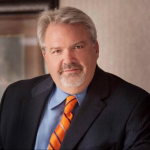 Sports industry veteran Keith Ferguson has been named executive director of USA Taekwondo, effective February 1. Ferguson brings an extensive Olympic sports background to the national governing body, having served an executive role for more than 25 years in sports marketing, sports management, television and events.
Most recently, Ferguson was senior vice-president of events for the Rural Media Group where he was responsible for the development and marketing of the network's western sports division. In that role he was responsible for producing the network's signature event, "The American"—the world's richest one-day rodeo, held in AT&T Stadium in Arlington, Texas.
"We are excited to have Keith take on this important role to lead USAT as we work to continue to move USAT forward to the benefit of all our athletes and other constituencies," said Donald R. Reynolds, a USAT board member and chair of the executive search committee. "We saw many impressive candidates through our broad and deep search process, and Keith rose to the top."
Ferguson also previously served as the chief executive officer of USA Climbing, where he was elected to the executive board of the International Federation of Sport Climbing. He also had many roles during his 15-year career at the U.S. Olympic Committee including international events, Olympic and Pan American Games bids, U.S. Olympic festivals and sport development. At USAT, he will be responsible for the day-to-day management of the organization along with developing and implementing the strategic plans to achieve the organization's goals and objectives.
"This is a pivotal time in USA Taekwondo's history, and I'm so pleased to have this opportunity," said Ferguson. "I appreciate the confidence that the board of directors has placed in me and look forward to serving the athletes, coaches, referees and membership of USA Taekwondo."
In August 2015, USAT regorganized its leadership structure to eliminate its CEO position and divide those responsibilities between a secretary general and executive director. Bruce Harris, the NGB's former CEO, is serving as secretary general, responsible for all external relations, including USAT's relationship with the World Taekwondo Federation and other international governing bodies. John Long had held the interim executive director position until Ferguson's appointment.