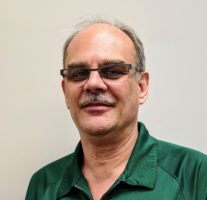 Ken Weinaug has been appointed general manager of Fox Cities Champion Center, an indoor sports venue scheduled to open this fall in Grand Chute, Wisconsin. A Wisconsin native, Weinaug has served in leadership roles with various federal, tribal and local government recreation organizations after retiring with 21 years of active duty with the United States Navy. In his new role as general manager, Weinaug will work for Sports Facilities Management (SFM), the firm managing the Fox Cities Champion Center.
"It is a privilege to be named general manager of the Fox Cities Champion Center," Weinaug said. "The opportunity to join the SFM family and be a part of a great team in the Fox Cities was a big part of why I chose to throw my hat in the ring. My passion for hockey will be well served at the Champion Center and I look forward to adding programming and aiding in the establishment of the Fox Cities as year-round sports tourism destination."
Weinaug previously worked with Jack Link's Aquatic & Activity Center in Minong, Wisconsin, and also at the Salvation Army of Brown County in Green Bay during the construction of the Ray & Joan Kroc Corps Community Center. As director of operations with the Boys & Girls Club of Sheboygan County, Weinaug was involved in two major building renovations.
"We interview professionals from around the world, and we knew immediately that Ken was a standout," said Jack Adams, vice president of SFM Venues. "With Ken's background and his recent experience in opening successful recreation centers, we have no doubt the community in Fox Cities will be proud to have him lead their facility. We are confident in Ken's ability to lead the team at the Champion Center to be one of the Midwest's best venues for sports tourism."
When it opens later this year, the 164,000-square-foot Fox Cities Champion Center will feature seating for up to 1,000 people; a fieldhouse with four basketball courts or eight volleyball courts; a seasonal arena that can be used as an ice rink, four basketball courts or six volleyball courts; and meeting and event spaces. The venue will host hard-court and ice-based events as well as community-based leagues, camps and clinics.