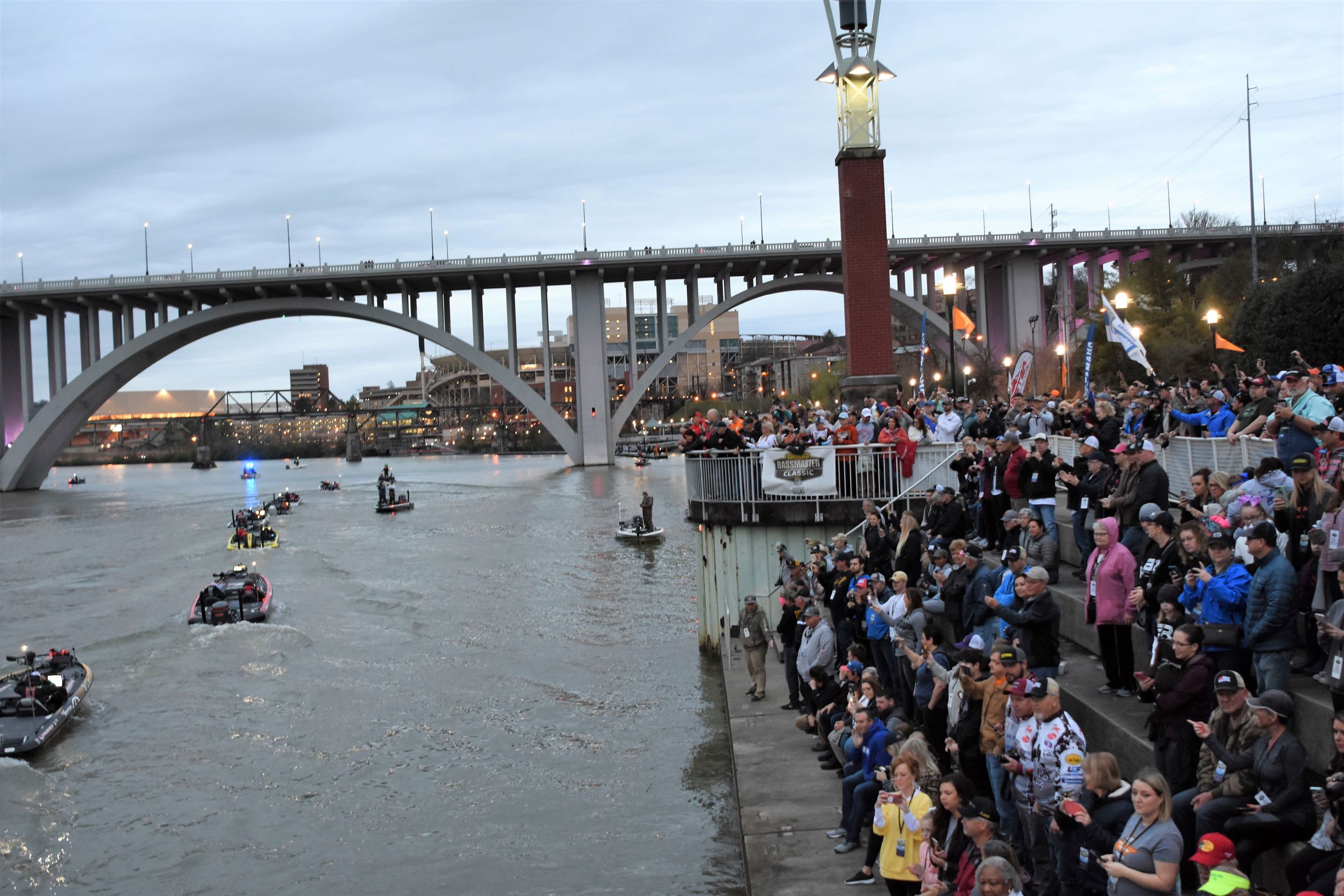 Knoxville, Tennessee, has been selected to host the 2023 Academy Sports + Outdoors Bassmaster Classic presented by Huk, which will be staged four years after the city hosted the most well-attended event in the series' history.
The 2023 event, hosted by the Visit Knoxville Sports Commission, will be held March 24–26. Competition will be on the Tennessee River lakes of Fort Loudoun and Tellico. Daily weigh-ins will be held at Thompson-Boling Arena at the University of Tennessee and the annual Bassmaster Classic Outdoors Expo will be staged at the Knoxville Convention Center and the adjacent World's Fair Exhibition Hall.
"Our first Bassmaster Classic in Knoxville produced record-breaking fan attendance and was one of the best Classics we've ever had," said B.A.S.S. Chief Executive Officer Chase Anderson. "The Bassmaster Classic is the Super Bowl of Professional Bass Fishing. It's not just a great competition; it is a true celebration of the competitors, the fans and the sport as a whole. We couldn't be more thrilled to be headed back to Knoxville."
The 2019 Classic drew a record crowd of 153,809 spectators and generated an economic impact of $32.2 million for Knoxville and East Tennessee, according to a report released by the Visit Knoxville Sports Commission.
"We are thrilled to welcome B.A.S.S. back to Knoxville and East Tennessee," said Chad Culver, senior director of the Visit Knoxville Sports Commission. "This will be their fourth major event hosted in Knoxville, (with Elite Series events in 2017 and 2021, and the Classic in 2019). With Knoxville having the distinction of their highest-attended Classic to date, we look forward to an exciting, record-breaking 2023 Classic."
The 2019 event provided an estimated direct economic impact of $17.7 million and an indirect boost in business sales of $14.5 million, according to the sports commission's report. The event generated $2.75 million in state and local tax revenue, including taxes on sales, restaurant purchases and lodging. Classic attendees also generated 29,232 room nights in local hotels.
"We're honored to host B.A.S.S. for the fourth time in seven years," said Kim Bumpas, president of Visit Knoxville. "We are proud of the continued successful partnership between B.A.S.S., our own Visit Knoxville Sports Commission, the Tennessee Department of Tourist Development, and Knox County and the City of Knoxville."
The 2022 event will be staged in Greenville, South Carolina, another previous host.