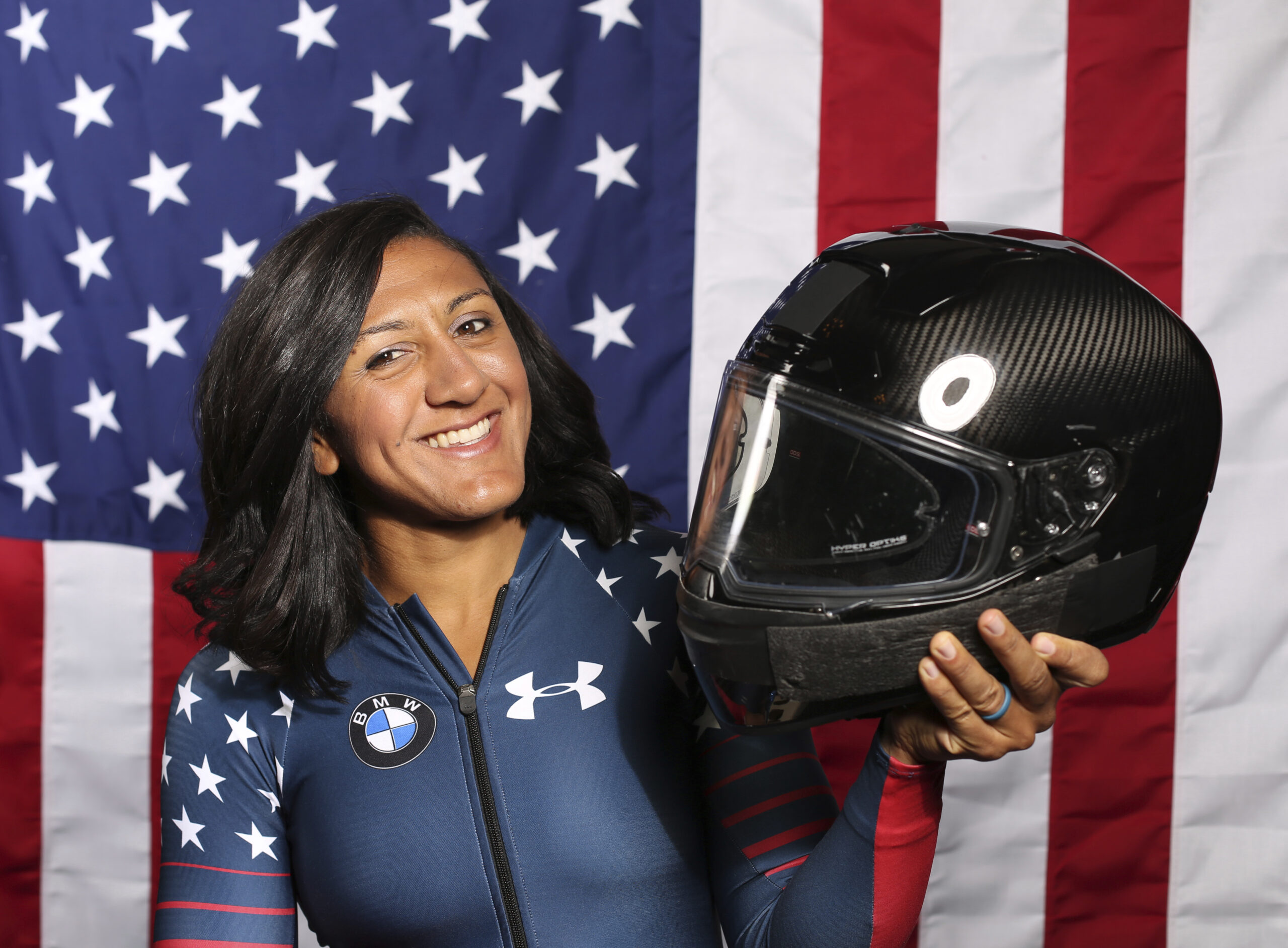 The COVID health and safety protocols at the Olympic and Paralympic Winter Games in Beijing are already being implemented as organizers said Tuesday that athletes and team officials who come to China are testing positive for COVID-19 at much higher rates than other people arriving for the Games.
Beijing organizers claim that 16 athletes and officials tested positive on Monday out of 379 screened. All of those who tested positive have been taken into isolation hotels to limit the spread of the infection.
One of the most notable athletes to go public with their positive test is U.S. World Cup champion Elana Meyers Taylor, the only woman to win three Olympic bobsled medals for the U.S. "After arriving to Beijing on January 27, on January 29 I tested positive for Covid-19," Meyers Taylor wrote on social media. "I am asymptomatic and currently at an isolation hotel- and yes I am completely isolated."
Meyers Taylor was planning to stay in a hotel and not the Olympic village, since she is traveling with her young son.
"This is just the latest obstacle that my family and I have faced on this journey, so I'm remaining optimistic that I'll be able to recover quickly and still have the opportunity to compete," Meyers Taylor wrote.
USA Bobsled and Skeleton remains hopeful that Meyers Taylor will be able to compete at the Games since bobsled does not begin until February 13 with the monobob. The two-person event starts February 18. Josh Williamson, a push athlete who was picked for his first Olympic team, revealed last week that he tested positive at a team camp in Chula Vista, California.
One moment Meyers Taylor will miss is the Opening Ceremony — for which she and curler John Shuster were selected by their fellow U.S. athletes to be the flag bearers of.
Shuster is a defending gold medalist and five-time Olympian. He will lead the U.S. delegation on Friday with speedskater Brittany Bowe, a three-time Olympian who was the first runner-up and will walk in place of Meyers Taylor.
The announcement of the flag bearers came shortly after competition at the Beijing Olympics began Wednesday with the opening games of mixed doubles curling at the Ice Cube, a reconfigured venue where Michael Phelps won a record eight swimming gold medals at the Summer Olympics 14 years ago.
A total of 200 positive tests for COVID-19 have been recorded at the Olympics since January 23. Sixty-seven were athletes and officials with "stakeholders," a group which includes workers and media, making up the majority of the numbers. The positive test rate so far is 4.2 percent for athletes and officials compared to 0.66 percent for stakeholders. On Monday, the rate of infection from tests of those inside the closed loop system was 100 times higher for athletes and officials compared to workers.
All athletes, team officials and journalists need to provide two recent negative tests before heading to China. They will be tested again at the airport upon arrival and everyone will get daily throat swabs for PCR lab tests, with results coming back within a day. If anybody tests positive, there will be a confirmatory test. Should that test also be positive, anyone who has symptoms will go to a hospital while those without symptoms go to a hotel for isolation. To get out of isolation, people will need two consecutive days of negative tests and no symptoms.
COVID-19 is not the only controversy ongoing at the Games. The FBI this week issued a warning for U.S. athletes traveling to Beijing use burner phones and not bring their personal devices.
Nearly everyone attending this year's games are required to download the My 2022 app to track their health while in Beijing. The FBI's notice comes on the heels of last month's report by the Citizen Lab, a group based at the University of Toronto, which found the app could be easily hacked with sensitive information of the users stolen.
"The FBI urges all athletes to keep their personal cell phones at home and use a temporary phone while at the Games," said a notice by the agency. "While there were no major cyber disruptions, the most popular attack methods used were malware, email spoofing, phishing and the use of fake websites and streaming services designed to look like official Olympic service providers."
The FBI said during the 2020 Olympics in Tokyo, there were more than 450 million attempted cyber-related incidents and that in Beijing, the use of digital wallets and mobile vaccination cards "could also increase the opportunity for cyber actors to steal personal information or install tracking tools, malicious code or malware."
The FBI also revealed in its note that during the 2018 Olympic and Paralympic Winter Games in Pyeonchang, South Korea, that Russian cyber actors "conducted a destructive cyberattack against the Opening Ceremony, enabled through spear phishing campaigns and malicious mobile applications."
While the controversy over China's hosting of the Games continues to be a subplot of the event, Olympic officials in Taiwan announced that it had reversed a decision to skip Friday's opening ceremony of the Beijing Games, saying they were pressured to do so by the IOC.
Taiwanese athletes compete as Chinese Taipei at the Olympics as part of a decades-old agreement with China brokered by the International Olympic Committee. The IOC said Tuesday "the Chinese Taipei Olympic Committee has confirmed its participation" in the Opening and Closing Ceremonies; officials in Taiwan said the country would "adjust" its plan not to attend.
One more note: Japan, which hosted the delayed Olympic and Paralympic Summer Games in summer 2021 in Tokyo, will now host the swimming world championships in 2023 after the event was postponed for a second time. FINA, the world governing body for the sport, said the event will be July 2023 in a third attempt to have the Japanese city  host the event, which was scheduled for July 2021 until that was pushed back 10 months to make space for the Tokyo Games.
Fukuoka first hosted the world swim championships in 2001, and the original date was meant to celebrate the 20th-year anniversary. FINA said as part of the adjustments that the 2023 worlds, originally scheduled for Qatar, will be in January 2024 — putting two world championships plus the 2024 Paris Olympics within a 12-month span.