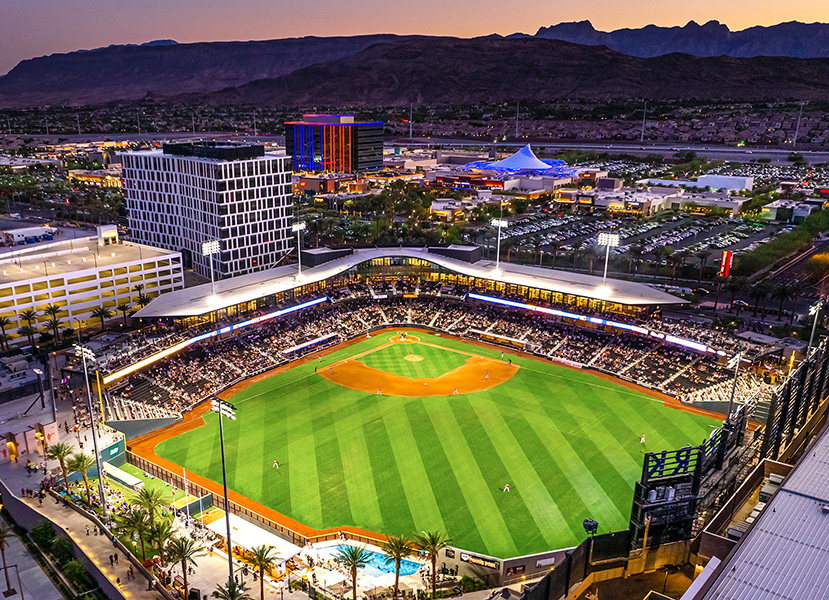 The Oakland Athletics are headed to Las Vegas … for two spring training games.
The A's and Cincinnati Reds announced the teams will play games on March 4–5, 2023, at Las Vegas Ballpark, home of the Las Vegas Aviators. It's a natural fit since the Aviators of the Pacific Coast League are the Triple-A affiliate of the Oakland A's. The news comes as Oakland relocation talks to the desert have heated up considerably over the past few months.
"We are excited to welcome back Big League Weekend to Las Vegas Ballpark after a three-year absence due to a variety of circumstances, mainly due to the COVID-19 pandemic," Aviators President and Chief Operating Officer Don Logan said. "We welcome our major league affiliate, the Oakland Athletics, who will face Cincinnati for a two-game series. Las Vegas Ballpark will once again provide an outstanding atmosphere and environment for Major League Baseball. Fans, both locals and tourists that visit during this event, will have a memorable time."
Las Vegas Big League Weekend dates to the mid-1990s. Oakland will make its seventh all-time appearance in Las Vegas (1994, 1997, 2000, 2015, 2020). The Athletics also played the first six games of the 1996 Major League Baseball season at Cashman Field in Las Vegas due to construction delays at the Oakland Coliseum. The games marked the first time that an MLB season opener was held at a minor league park.
The Athletics also appeared in the inaugural Las Vegas Ballpark BLW in 2020. They defeated Cleveland twice: 8–6 on February 29 before a crowd of 8,159 and 8–5 on March 1 (7,521).
Cincinnati will be making its fifth appearance for Big League Weekend (2010, 2011, 2017, 2020). The Reds' last appearance was at the inaugural Las Vegas Ballpark BLW in 2020. Cincinnati defeated the Chicago Cubs twice in front of sellout crowds of more than 10,000.
Game times for the spring training series are 1:05 p.m. PT on both days. Ticket packages are available starting at $20 per seat.
Oakland A's General Manager David Forst recently said the team is focused on a new Oakland ballpark, with Las Vegas serving as a backup plan. Forst's comments came soon after MLB Commissioner Rob Manfred said he was not optimistic about the chances of a new Oakland ballpark. Forst's comments also were before Nevada Governor Steve Sisolak said there would be no public money for a new ballpark in Vegas; Sisolak was defeated in his attempt at re-election last week.
"I'm aware of the commissioner's comments, obviously," Forst said at the MLB GM Meetings — held in Las Vegas — before noting team president Dave Kaval is the point person on the project. "I know [Kaval's] working tirelessly in both spots. We're just looking forward to having a new ballpark somewhere."
The A's have proposed a downtown Howard Terminal waterfront development in Oakland featuring $12 billion in private investment, including $1 billion for a new 35,000-capacity ballpark. The team's lease at RingCentral Coliseum expires after the 2024 season.