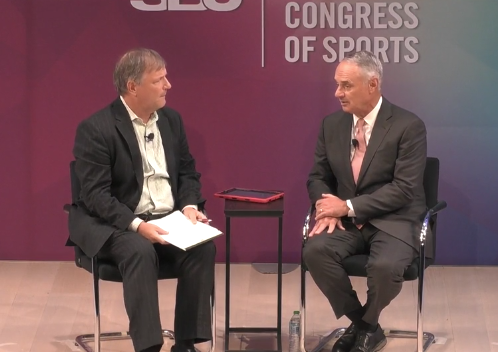 Having already secured an NHL and NFL team in the past five years, Las Vegas has been on a heater when it comes to bringing professional sports to the desert.
There has been no shortage of rumors and rumblings in the past year about the city adding both an MLB and NBA team in the near future. Those fires were further stoked this week at the CAA World Congress of Sports, presented by the Sports Business Journal.
MLB Commissioner Rob Manfred spoke at a session on October 11, which included mention of the situation the Oakland A's find themselves in while Las Vegas watches from afar. The SBJ also had a sit-down interview with Tim Leiweke, Oak View Group chief executive officer, and Tod Leiweke, chief executive officer of the Seattle Kraken, which featured a discussion of NBA teams in Las Vegas and Seattle.
Despite the careful phrasing used, it would appear all roads will soon lead to Las Vegas.
Manfred spoke about the desire for new ballparks in both Oakland and Tampa Bay, as well as his hopes for adding two more expansion teams to get the league to 32.
"I think we would like to have the A's stay in Oakland," Manfred said. "Baseball's first preference has always been to have franchise stability in terms of location … we take very seriously our commitments to the communities."
While Manfred remains hopeful, it will take a lot more than that hope if the A's are to stay in Oakland. The team's lease at RingCentral Coliseum expires after the 2024 season. Manfred commended Oakland Mayor Libby Schaff and A's Owner John Fisher for their work to keep the team in the Bay Area. However, Manfred acknowledged there are many hurdles in the way.
"John Fisher has made a huge commitment — the deal they're working around would involve a commitment from John of about $1.2 billion, which is a huge commitment for an individual owner to make," Manfred said. "The difficulty is that the rest of the deal has not yet quite come together. Mayor Schaff is term limited, as are members of the council, and they will be done in January. So the politics in the Bay Area are very difficult and we've got additional uncertainty on top of those politics. I know John and the mayor are both going to continue to work at it while there's still time on the clock."
While Las Vegas officials have made an aggressive pitch to lure the A's with a new stadium near the Las Vegas Strip, Nevada Governor Steve Sisolak recently said he would not consider a room tax package to finance a new ballpark if the A's were to relocate to Las Vegas. Sisolak is locked in a tight re-election battle of his own.
Manfred was much more open about his desire for expansion. He declared that resolving the Oakland and Tampa Bay stadium situations will take priority, but cities such as Las Vegas, Montreal and Charlotte, North Carolina, were mentioned as possible expansion locations.
"There's demand for (expansion)," Manfred said. "People want baseball, and that's what we sell. There are cities that want baseball and we should try to meet that demand. There are advantages to the sport — getting to 32 teams gets you out of five-team divisions, which really helps as far as scheduling flexibility and presents an opportunity for realignment."
It would appear on the surface if the A's don't relocate to Las Vegas, Sin City would be at the top of the list for an expansion franchise.
NBA team a slam dunk for Vegas?
Tim Leiweke and his brother Tod did a joint session at the World Congress of Sports and inevitably, the topic of the massive entertainment district Oak View Group is set to break ground on in Las Vegas in 2023 was brought up.
"Vegas, right now, sells more live entertainment tickets than any other place in the world, Tim Leiweke said. "I think Vegas deserves an arena that becomes the showcase and is up to the standard of Madison Square Garden, the O2 Arena and Climate Pledge Arena. We have the inroads to go create the world's greatest arena."
That 850,000-square-foot arena will feature 20,000 seats and will be located on Las Vegas Boulevard South, sitting on 25 acres as part of a 66-acre plot, joined by a casino, a hotel and an additional entertainment venue.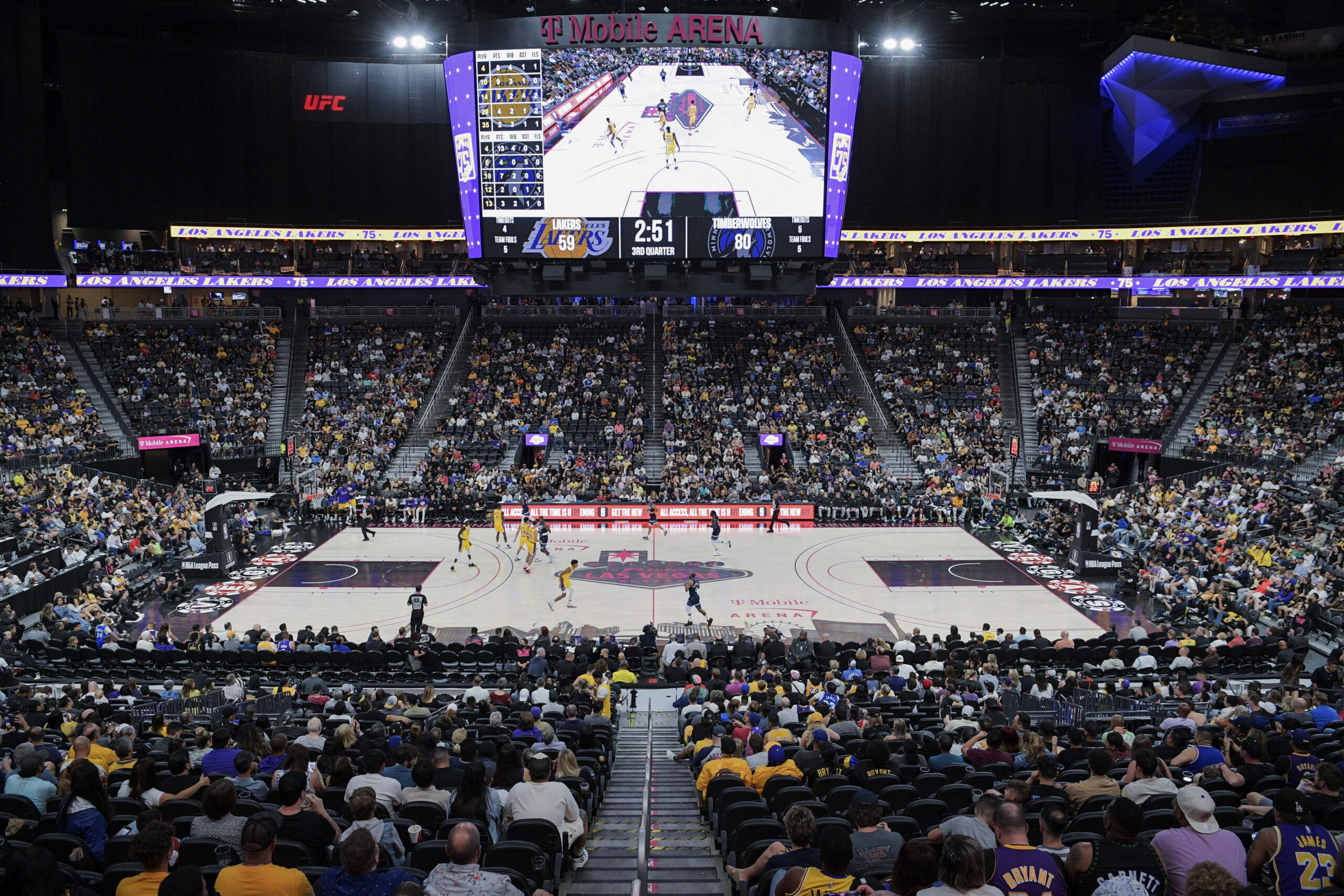 While Tim Leiweke didn't say that the arena, part of the estimated $3 billion project, is trying to lure an NBA expansion team, he made a strong case for such. NBA Commissioner Adam Silver has been coy about the possibility of Las Vegas receiving an expansion team, but many in the industry feel it's inevitable — including LeBron James.
"Vegas is the entertainment capital of the world and it deserves an arena that is the best in the world," Tim Leiweke said. "Now, should the NBA make a decision to go (to Las Vegas) — and that's Adam's decision, not mine — we will be ready for them. But we don't anticipate nor are we building it based on that expectation. It's up to the NBA and its owners about whether they want to expand.
"Vegas isn't about the two and a half million people who live there, Vegas is about the 50 million people who visit there. Would there be any other live entertainment event in Vegas that would draw more people from Asia — which is one of their top feeder markets — than an NBA team? No way. And it would be the most popular team in all of Asia. It will be a massive home run if it happens."
Along with Las Vegas, the other city long rumored to get an NBA expansion team is Seattle. The NBA played a preseason game between the Los Angeles Clippers and Portland Trail Blazers in Seattle on October 3 in front of a sellout crowd at new Climate Pledge Arena.
"I was there when the Sonics left and I think the pain is even greater today than it was in 2007," Tod Leiweke said. "I think the town doesn't feel complete until the NBA comes back and we've solved the main problem, which is building a world-class arena."