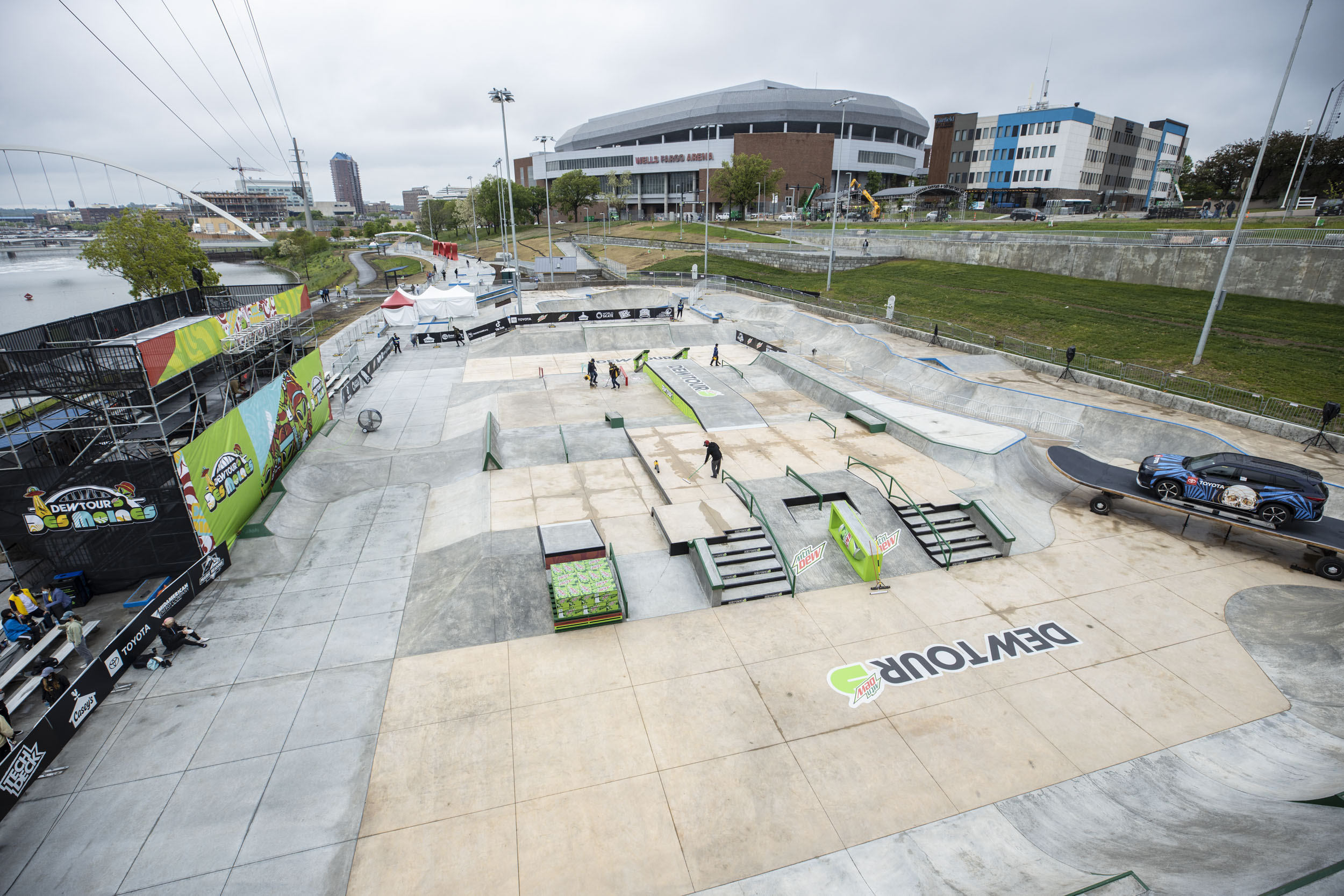 Greg Edwards wasn't sure how this site visit was going to go.
As the new Lauridsen Skatepark in downtown Des Moines, Iowa, was under construction last winter, Dew Tour representatives came to see firsthand what would become the largest skatepark in the country. But winter being winter, the weather was not cooperating.
"Here come all these people, mostly from San Diego, and it was 25 below with the wind chill, and the skatepark was covered with snow — you couldn't even see it," said Edwards, president and CEO of Catch Des Moines, the city's convention and visitors bureau. "We met them for dinner and they were all hugs, saying 'We can't believe what a great town this is' and 'What a great skatepark this is going to be.' They just loved it from day one."
The reality is the Dew Tour, which had hosted its signature summer event in Long Beach, California, for the past four events, was already sold on the new location. While the 88,000-square-foot skatepark had been an idea in the works for more than decade in Des Moines, its completion has immediately opened the destination to a premier spot with one of the largest action sports events in the world, which will also count as an Olympic qualifier as skateboarding makes its debut at the Olympic Summer Games in Tokyo.
The Des Moines event will be staged May 20–23, just weeks after the venue opened to the public, marking a turning point for a city that has never even hosted an Olympic Trials event.
"This has been 15 years in the making with so many advocating in the skate community there and fighting for it when they were kids — and now they are adults," said Courtney Gresik, vice president and general manager of the Dew Tour. "None of us had really been in Des Moines before and we were so incredibly amazed at what a cool city it is. They're doing a great job at turning the tide."
A Project Years in the Works
The path to the Dew Tour began years back in the Des Moines community. For years, local skateboard advocates had been lobbying officials for a skatepark.
"It really wasn't picking up much momentum when it came to fundraising," said Angela Connolly, a Polk County supervisor who eventually co-chaired a task force to see the project to its completion. "But they had a lot of great ideas for where they wanted to be."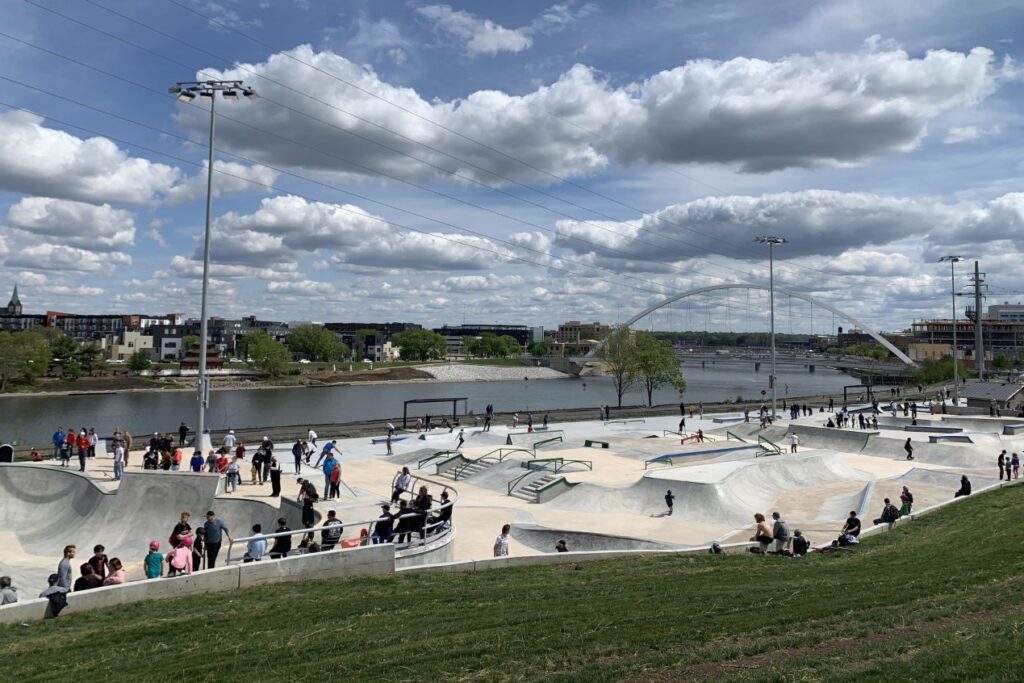 The site eventually chosen sits along the banks of the Des Moines River, adjacent to Wells Fargo Arena, the city's main sports venue, and the Iowa Events Center, its convention center. The land was city-owned but was donated to the county, which oversaw construction and will manage the property.
California Skateparks, a company that for years has designed the temporary courses used by the Dew Tour and is a leader in the space, was selected for design and construction.
In the end, the $7 million project was paid for through a combination of public-private partnerships that included the $600,000 land donation, about $1 million from Polk County, a $1.6 million donation from philanthropists Nix and Virginia Lauridsen and donations from skaters and the local business community.
"What we're good at in our community is collaboration," Connolly said. "That's how we get these projects done. We believe public-private partnerships."
Courting the Dew Tour
Having the venue was one thing, but attracting events there was another concerted effort. Edwards said that when the pandemic hit, his staff at the CVB had been on the lookout for events that might be willing to relocate to Iowa, where restrictions tended to be looser than they were in many destinations along the coast.
"All throughout the pandemic, our sales team has kept a close eye out on other venues, other states that had bigger restrictions or bigger cases of COVID and who was closing down and those sorts of things," Edwards said. "We began reaching out to a lot of different organizations to say we are going to be open this summer and we'd love to have this event."
"We began reaching out to a lot of different organizations to say we are going to be open this summer and we'd love to have this event."
—Greg Edwards, Catch Des Moines
While Dew Tour was contracted for a fifth and final year in Long Beach for this year's event, restrictions in California in early 2021 when decisions had to be made forced the organizers to look elsewhere. Gresik said that the tour was familiar with the Des Moines project, in part because of the tour's long partnership with California Skateparks, which gave them the inside track on the project's progress.
"We actually were considering it and at the same time we were considering moving out of California," she said. "Catch Des Moines actually reached out to us and the stars aligned."
Because the pandemic forced the 2020 event to cancel and World Skate was counting on the Dew Tour to be the only U.S.-based Olympic qualifier heading into the rescheduled Olympic Games, the need to have the event this year was paramount, Gresik said. "We were disappointed to leave Long Beach — we wanted to finish our run there and Long Beach was so good in terms of support," she said. "We just couldn't take another chance after having to postpone after last year. With this being the only U.S.-based global qualifier to happen it was even more important."
At Last, a Permanent Park
Attendance at the Dew Tour has always been free, but limits even in Iowa on public gatherings have caused organizers to issue tickets for those who want to attend. Those tickets will be free but will allow for some management of the number of people on site. A second round went up for sale last week and quickly sold out. Gresik said a final capacity limit will depend on the situation locally in the days leading up to the competitions.
But with the venue sitting along a riverbank next to a grassy knoll, there is no longer a need to set up bleachers as was the case in Long Beach, where the event was held outside in a temporary set-up near the city's convention center. The main construction on site in Des Moines will be a small structure for broadcasting purposes and event staff.
In fact, the permanent nature of the Des Moines venue may make it an attractive location for future events. The Dew Tour contract in Des Moines is for one year with an option to renew. But the fact the course will already be there in years to come may work to the city's advantage.
"We're really happy to be able to go and leverage a permanent park," Gresik said. "It's always really heartbreaking to build these amazing courses in a parking lot and then have to tear them down."
And there may be more surrounding the site in the future. The stretch of riverbank that is home to the skatepark is part of a larger effort underway across the Des Moines River to redevelop the area and increase usage of the river for recreational purposes. The federal government has issued a $50 million grant toward the Central Iowa Water Trails project, and another $30 million in private donations have been raised toward the effort, Connolly said. "This is all tying together for a great experience," she said.
A Stake in the Ground
For Catch Des Moines, which has gone after the U.S. Track and Field Olympic Trials but never landed the event, the Dew Tour will mark the first Olympic-qualifying event to be held in the city. More than that, the event will provide immediate exposure for the destination to an audience that likely has yet to experience the city.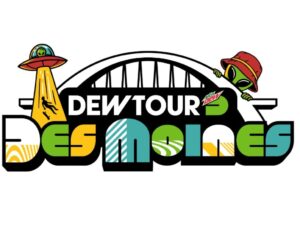 "The other avenue to all of this is every state is looking for more economic development, more people to move to your state, more people to work in your state," Edwards said. "This is another niche market where you get exposure for young people coming here for the first time, and this time from all over the world to see Des Moines, Iowa. Their parents are coming with them, their families are coming with them. It's just great exposure for us."
Connolly is excited about those prospects as well. She knows the project is a hit locally. In more than 20 years as a supervisor, she said, she has never seen a bigger turnout at a ribbon cutting than the more than 300 who came out in early May to open the venue. But for her and other local leaders, the skatepark is a long-term play outside of the region as well.
"What I'm most excited about is how it brings national and international exposure to Des Moines and Central Iowa," she said.
That exposure will extend beyond the banks of the Des Moines River. The Dew Tour will be livestreamed in its entirety on DewTour.com, Facebook Live, YouTube and other major platforms, with more than 25 hours of live video planned. In addition, more than four hours of Dew Tour coverage will air on NBC and NBCSN later this summer.
"What I'm most excited about is how it brings national and international exposure to Des Moines and Central Iowa."
—Angela Connolly, Polk County Supervisor
For Gresik and the Dew Tour team, Des Moines' foresight in completing the skatepark project appears to be paying off in terms of new excitement for the event. And that was evident months back — even after a freezing cold site visit.
"The second time we went, the snow had melted and it was insane how big the park is," she said. "To be honest, the bowl section of the park, it's pretty crazy that it's available to the public. From the beginner to professional level, it has something for everyone. To know a kid or anyone can go in there and learn how to skate and can keep progressing to that level is really awesome. It was well-built and thought out. Des Moines put a stake in the ground in building that park."