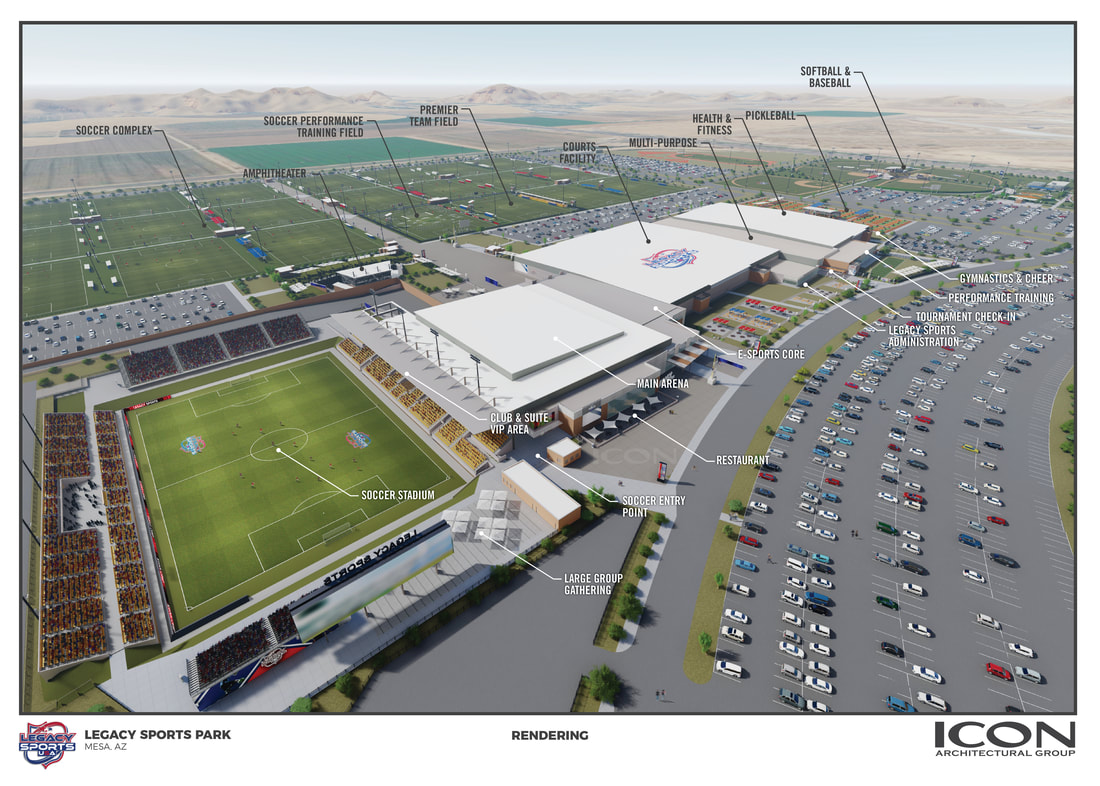 A new 320-acre sports and entertainment complex is planned for Mesa, Arizona, with multiple outdoor and indoor sporting opportunities aimed toward driving the area's sports tourism market to become even more of a destination beyond Major League Baseball spring training.
The Legacy Sports Park is scheduled to open in 2022 and Legacy Sports USA, the venue's developers, say that they will create 1,500 jobs in the community with over 3 million visitors per year.
Developers say it will be the largest privately owned multisport facility in the country consisting of a soccer complex with a minimum of 23 fields, an 8,000-seat multipurpose stadium, 20 sand volleyball courts, 40 pickleball courts, six sand soccer courts, eight baseball and softball fields with one stadium field and a 50-acre special events area for concerts, festivals and events.
The indoor facility will include 62 volleyball courts and 16 NBA-sized basketball courts, six futsal courts and a 75,000-square-foot esports arena plus a center for gymnastics, cheer and dance. There will also be a youth gym and child care center, yoga studios and a 25,000-square-foot general fitness center and 25,000-square-foot sports performance center led by Olympic gold medalist Dan O'Brien.
O'Brien will be the director of performance training at the venue. The project will be developed in one phase and will be managed and operated by the Oak View Group, a global venue development, advisory and investment company. "The Legacy Sports Park will be a one-of-a-kind destination for aspiring athletes, sports enthusiasts, and more," said Peter Luukko, chairman of OVG facilities. "We look forward to bringing our many Oak View Group resources to Mesa to identify and create exciting opportunities for Legacy Sports Park."
Legacy Cares, Inc., the owner of Legacy Sports Park, is a 501(c)(3) entity incorporated in Arizona. Randy Miller, will serve as chairman of Legacy Sports USA and Chad Miller will be the CEO.
"This project will transform the youth sports and family entertainment industry across the United States," Chad Miller said. "Legacy Park is not just a sports complex but a true family entertainment center with dining options, athletic apparel shops, as well as venues for concerts and various artistic events. A facility such as this is long overdue in the Arizona market. Legacy Park will provide a variety of playing fields and indoor team sports facilities designed with the latest in athletic technologies. It will offer an opportunity for athletes of all ages and levels of proficiency to develop their skills in a multitude of sports."