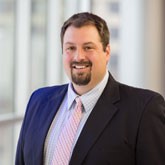 The Little Rock Convention & Visitors Bureau has named Brian Oaks as its new senior vice president and chief operating officer. Oaks will lead activities and operations for all LRCVB-managed properties including the Statehouse Convention Center, Robinson Center and Performance Hall, River Market facilities and multiple parking decks and surface lots.
In addition to overseeing all LRCVB-managed facilities and the operations division, Oaks will help implement strategic initiatives such as transitioning the Robinson Center box office to LRCVB.
"It's an exciting time once again for our industry," Oaks said. "I look forward to this new venture and building upon the success the Little Rock Convention & Visitors Bureau and the city have achieved over the years."
Since 2007, Oaks has served as general manager of the Bank of Springfield Center in Springfield, Illinois. During that time, he oversaw all aspects of facility management for the multi-purpose convention center and 7,000-seat arena.
"I am excited to have Brian join our team," said LRCVB President and Chief Executive Officer Gretchen Hall. "His experience and knowledge of facility operations and management will serve Little Rock well as we continue promoting the city as a preferred meetings and convention destination