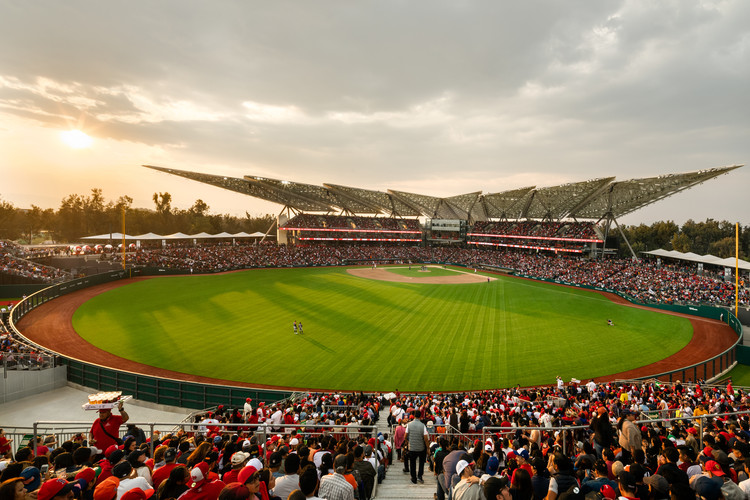 The new Alfredo Harp Helú Stadium in Mexico City will host two Major League Baseball games between the Arizona Diamondbacks and San Diego Padres, the league announced during its Winter Meetings in San Diego.
The games will be played April 18–19 between two teams that have large Hispanic fan bases. It will be the first Major League Baseball games in Mexico City; four previous seasons, games have been played at Estadio de Béisbol in Monterrey.
¡México Lindo y Querido!

The #Padres are going back to Mexico City for a series against the Dbacks on April 18 & 19, 2020 at Estadio Alfredo Harp Helú. 🇲🇽 #QuePadre pic.twitter.com/wnvDkNVmd9— San Diego Padres (@Padres) December 10, 2019
It will be the 12th time that the Diamondbacks play in Mexico; their fourth annual Liga Mexicana del Pacifico Day at their home ballpark Chase Field on August 31, 2019, had a crowd of 50,180, the largest single-game attendance at the stadium.
"The D-backs are committed to spreading our game internationally and specifically throughout Mexico, where we have thousands of loyal fans across the country," said Diamondbacks President and CEO Derrick Hall.  "As a member of MLB's International Committee, I've seen first-hand the incredible efforts made on a league-wide level to help grow the sport of baseball across the globe and we are honored to be selected to play in Mexico City."
It is the second consecutive season the Diamondbacks will play in Mexico, having participated in a two-game exhibition series in Monterrey last season following 10 exhibition games in Hermosillo from 1998 through 2015. The team has faced Team Mexico three times during spring training since 2013.
The Padres played in the first MLB games ever held in Mexico, winning two out of three games against the New York Mets in Monterrey during the 1996 season. It also played a regular-season game against the Colorado Rockies in Monterrey in 1999, and won two out of three games against the Los Angeles Dodgers in Monterrey in 2018.
"The Padres are honored to be a part of the first regular-season series in Mexico City," Padres President Erik Greupner said. "We are also excited to play at the beautiful new Estadio built by Padres minority owner Alfredo Harp Helú. Our connections to Mexico run deep, including Alfredo's part ownership of the Padres and our bi-national fan base that extends into Baja California and throughout the country."
Monterrey also hosted four games in the 2019 season, two between the St. Louis Cardinals and Cincinnati Reds, and two between the Houston Astros and Los Angeles Angels.
The Mexico games are part of Major League Baseball's broadening of regular season play in new markets. Last season in addition to the four games in Mexico, MLB opened the season with two games between the Oakland Athletics and Seattle Mariners in Tokyo, and a two-game series between the Boston Red Sox and New York Yankees drew a combined 118,718 fans in London.