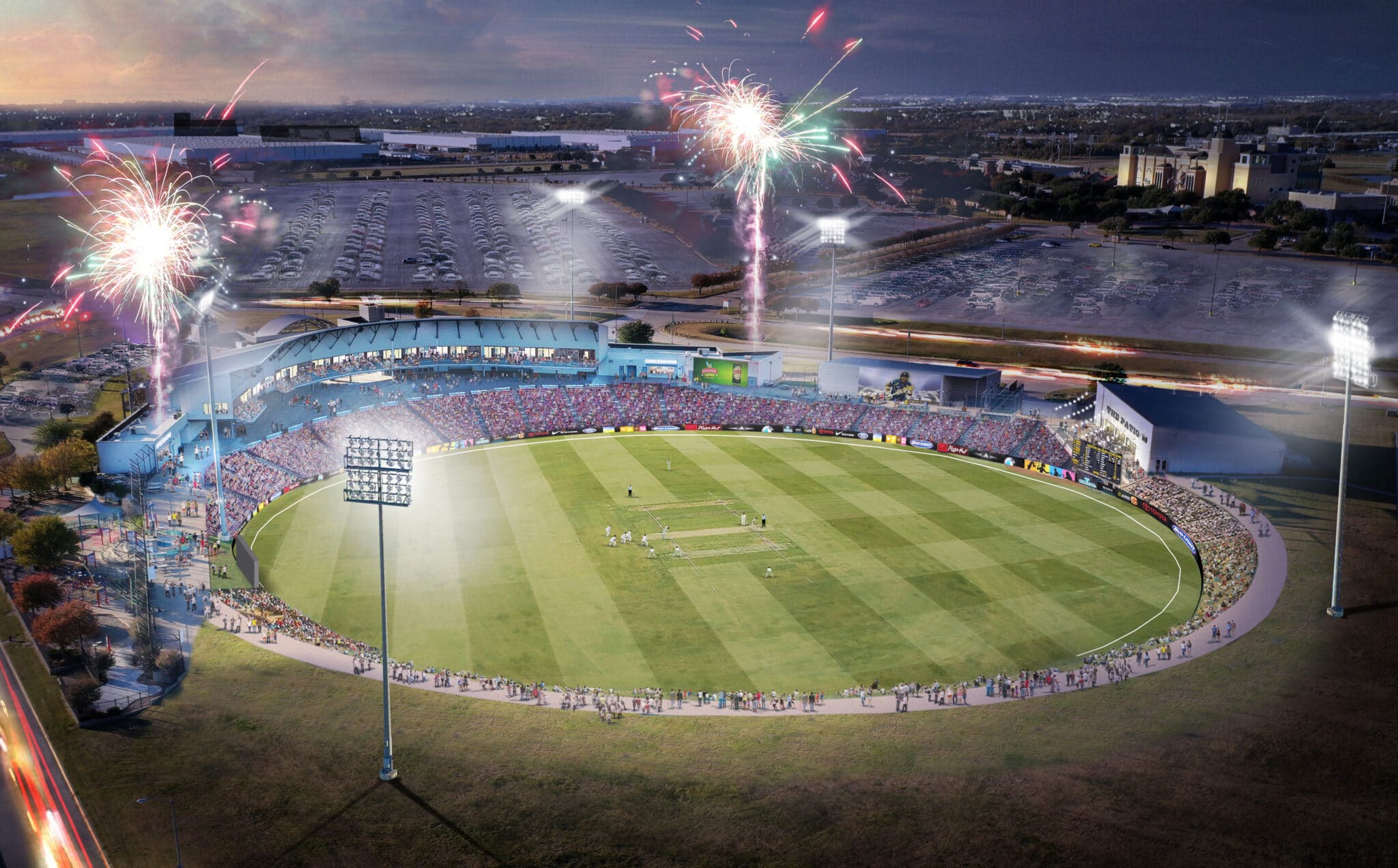 Major League Cricket will break ground in April in Grand Prairie, Texas, on the first of what is planned to be multiple new venues for the league between now and the 2024 season with an eye toward hosting games at the International Cricket Council's Men's T20 World Cup in 2024, co-hosted by the United States and the West Indies.
Groundbreaking in Grand Prairie will take place in April on a venue that will have a capacity of up to 20,000, while work is set to begin mid-year in Morrisville, North Carolina, for completion of upgrades to Church Street Park by spring 2023 for a 5,000-seat venue. Both venues will bid to host games at the World Cup.
Upon completion in spring 2023, Grand Prairie Stadium will be the leading venue for cricket in the United States and a base for the USA Cricket National team. The stadium near Dallas will feature more than 7,000 permanent seats, expandable to 20,000 for major events along with luxury and hospitality space. The expansion of Church Street Park in North Carolina will expand its permanent capacity to over 3,500 and include the installation of state-of-the-art broadcast infrastructure, additional parking and LED illuminated natural and artificial turf practice pitches and nets.
"This array of venue developments in areas with significant cricket-passionate communities comes as the International Cricket Council has identified the United States as its primary target market to expand the game with the award of co-hosting rights to the ICC Men's T20 World Cup in 2024," said Sameer Mehta, co-founder of Major League Cricket. "MLC is committed to supporting that vision alongside its long-term partner USA Cricket and we're excited to work together to transform the landscape and opportunities for cricket to rapidly develop across the country with this infrastructure investment."
MLC is also planning investments to enhance two venues near Houston, Moosa Stadium and Prairie View Cricket Complex, that would allow both to be host candidate venues for the 2024 T20 World Cup. The league also said it is developing plans for a 12,000-capacity venue in San Jose, conditional on a final agreement being reached with Santa Clara County; a facility outside of Seattle with a capacity of up to 6,000 fans; a potential location in Orange County, California, that could serve to host Major League Cricket and other international events, including cricket if the sport is included at the 2028 Summer Olympic Games in Los Angeles.