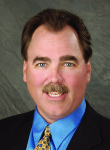 Mike Plant has been selected by UCI President Brian Cookson and the UCI Management Committee to be president of the UCI Cyclo-cross Commission.
The discipline of cycling has become increasingly popular in the United States, which hosted the first World Championships ever held outside of Europe when Louisville, Kentucky, staged the event in February 2013.
"I am honored and excited to be selected as president of the UCI Cyclo-cross Commission," said Plant, who was also recently re-elected to serve another four-year term on the UCI Management Committee. "Cyclo-cross has grown dramatically in the U.S. over the past five years."
Plant, who will serve as a presenter at TEAMS '13 in Salt Lake City, November 4–7, is well seasoned in sports administration. Since 2003, he has served as executive vice-president of business operations for the Atlanta Braves. He also served as president of USA Cycling's board of directors from 1995 to 2002 and is currently president of the U.S. Speedskating board of directors. Plant was a member of the U.S. Olympic Committee board of directors and in previous roles served as executive director of the U.S. Canoe and Kayak Team and associate executive director of the U.S. Cycling Federation. Plant also raced as a member of the 1980 U.S. Olympic Speedskating Team.