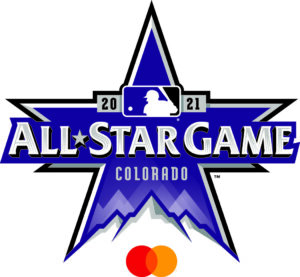 Major League Baseball and the Colorado Rockies have unveiled the official logo of the relocated 2021 All-Star Game presented by Mastercard. The game will be staged July 13 with support from Visit Denver and the Denver Sports Commission.
The game, which was relocated from Atlanta over MLB's concerns with a new statewide voting law in Georgia, will come to Denver for the second time, and the first since 1998.
The logo for the game is designed to reflect the landscape of Colorado. The Rocky Mountains are central to the mark, which subliminally takes the shape of a star. Rockies purple along with the modern geometric mountain silhouette create the logo's dimension and also reflect the expansive views of the mountains from downtown Denver and Coors Field.
In addition to the Midsummer Classic, Coors Field will host the Sirius XM All-Star Futures Game and All-Star Celebrity Softball Game on All-Star Sunday on July 11, as well as the T-Mobile Home Run Derby on Gatorade All-Star Workout Day on July 12.