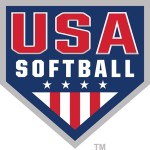 The Amateur Softball Association (ASA) of America/USA Softball, the national governing body for softball in the United States, will be known as just USA Softball, effective January 1, 2017. The rename and rebrand also includes a new logo, shaped like home plate.
"This is an exciting time for ASA/USA Softball as the rebrand to USA Softball reflects our vision for the growth of the sport," said ASA/USA Softball President Warren Jones. "For over 80 years, ASA/USA Softball has been the driving force behind the sport of softball and this new logo truly embodies that character and legacy. I encourage all of our members to embrace the change of rebranding our organization to USA Softball that the ASA/USA Softball Board of Directors approved during its September 2015 board meeting. As the national governing body of softball, USA Softball will continue to serve as the leader in the sport of softball while helping foster the passion and love for the game to all."
When ASA/USA Softball entered the softball picture in 1933, the sport was in a state of confusion with no unified set of playing rules and no NGB to provide guidance and stability. ASA/USA Softball adopted softball's first universally accepted rules of play.  The NGB certified equipment standards, coaching education and umpiring, created a Hall of Fame and fielded the first U.S. Olympic softball team in 1996. The sport is expected to return to the Olympic program in 2020 after being taken off the program in 2008. The NGB represents more than 160,000 teams and has a membership of more than 2.2 million.
"The evolution of our brand to USA Softball showcases our organization to its fullest potential," said ASA/USA Softball Executive Director Craig Cress. "Rebranding shows our members, teams, umpires, players and fans that we are continually evolving and furthering the softball community while connecting and unifying them under the USA Softball brand. I'm excited for our fans, members and administrators to connect and identify with our new look and the USA Softball brand."
According to USA Softball, the new logo "embodies the sport, while bold, block USA Softball lettering symbolizes USA Softball's authority as the NGB." Stars and stripes are designed to pay homage to the U.S. flag and classic American iconography, "connecting fans and members with the Team USA brand," according to USA Softball. Three red stripes are a reference to 1933, the year ASA/USA Softball was founded, and the stars represent the four territories of ASA/USA Softball.