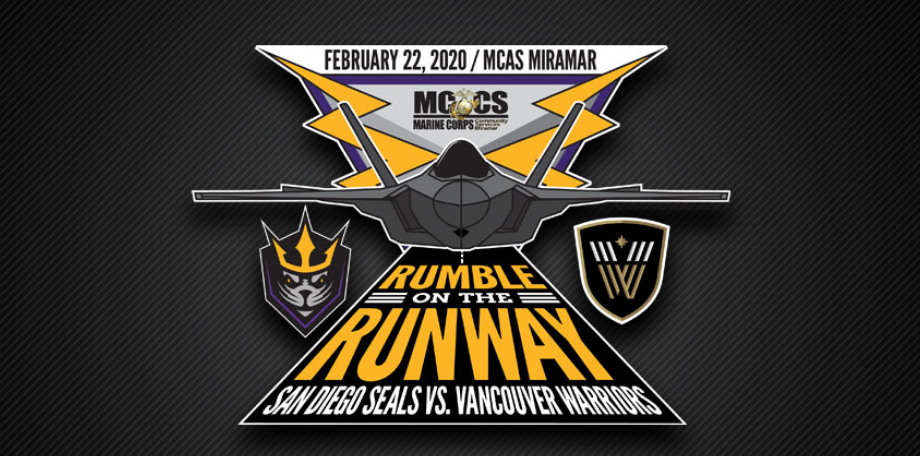 The National Lacrosse League will hold a game on a Marine Corps Base, the first professional league to do so, when the San Diego Seals host the Vancouver Warriors at the Marine Corps Air Station Miramar in February.
The box lacrosse game will be held on the flight line at the base on February 22. The team, which usually plays games at Pechanga Arena in San Diego, will construct a temporary venue with limited capacity for season ticket members and select active duty, reservists and retired military personnel.
"The NLL has a long history of supporting our servicemen and women in Canada and the United States and we are thrilled to support the Seals in making history and honoring our active duty, reservists and retired military members," NLL Commissioner Nick Sakiewicz said. "Hosting Vancouver in a first ever regular-season professional sporting event played on the flight deck of Marine Corps Air Station Miramar continues to showcase the NLL's ability to innovate and create unique experiences for our fans. Opening our incredible product in a special way to thank our military will truly make this an event that can't be missed."
The Seals will participate in a series of events during the week leading to the game for active duty military and their families. Miramar is home to more than 12,200 Marines, sailors and civilians, and is home to the 3rd Marine Aircraft Wing.
"MCAS Miramar has a deeply rooted relationship with the San Diego community," said Col. Charles Dockery, commanding officer, MCAS Miramar. "We strive to be outstanding neighbors to our fellow San Diegans by working hand in hand with them every chance we get. Miramar is grateful to host our San Diegan neighbors for 'Rumble on the Runway' right here on the flight line."
Sports events have been held at military installations in San Diego, which is home to more than 100,000 active duty military personnel. The Carrier Classic college basketball game was played on the deck of the USS Carl Vinson in 2011 and USS Midway in 2012.