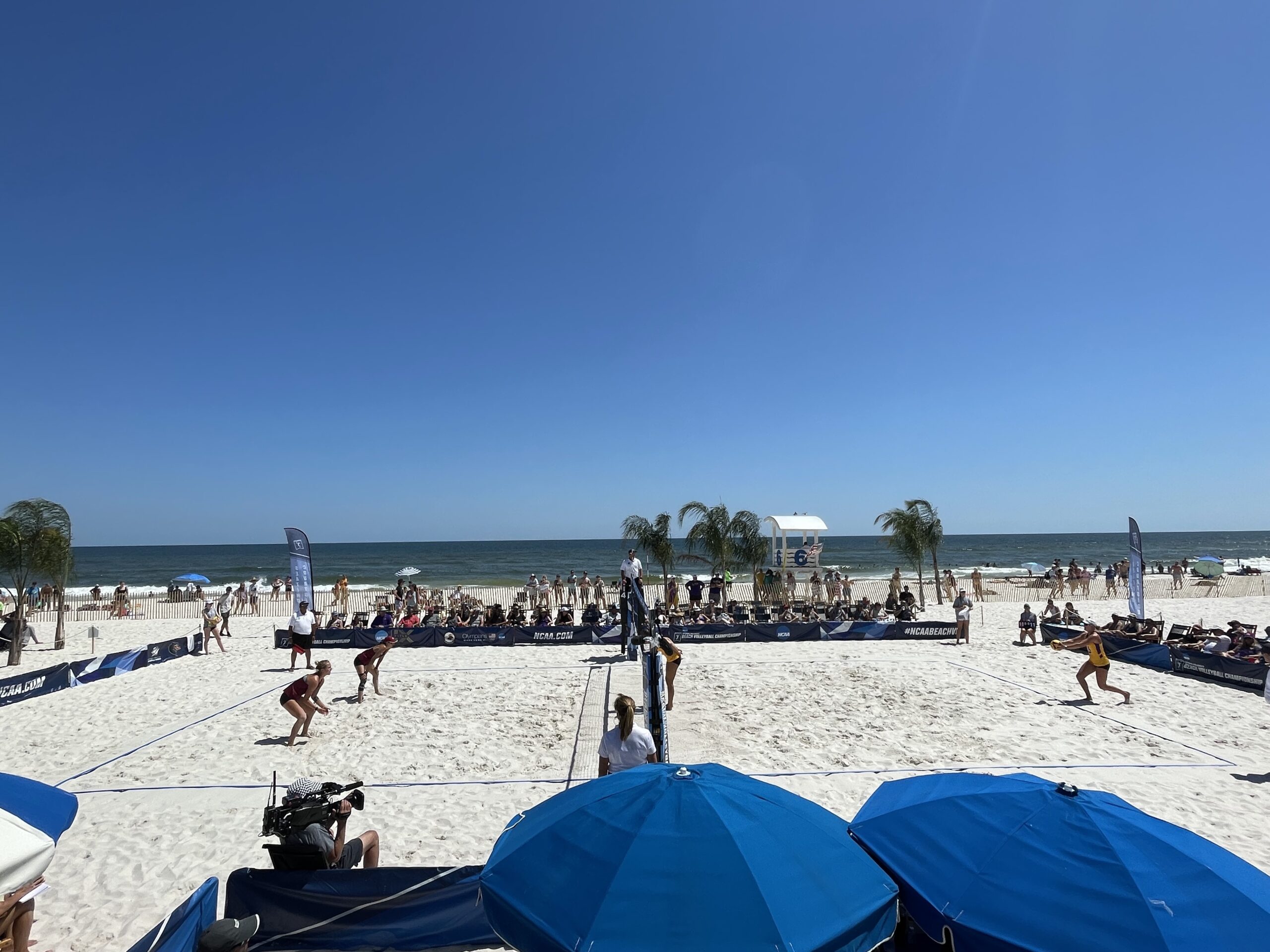 Walk past all the giant signage showcasing the event and through security with a couple of the 100 local volunteers screening attendees, then feel the white sand under your feet. Get a spot at the top of the temporary bleachers brought over from the local Little League fields for the event at center court and you have a 360-degree, nearly unobstructed view of all five courts and the ocean as waves gently wash ashore.
This is what it's like to experience the NCAA Beach Volleyball Championships in the Gulf Shores and Orange Beach region of Alabama on the Gulf of Mexico, which were staged from April 4–8.
Gulf Shores | Orange Beach Sports & Events has hosted the NCAA event since its inaugural championship in 2016 and before then, for four years of the AVCA national championships. With the city of Gulf Shores and the University of Alabama at Birmingham as partners, the NCAA event has become a tradition at the Gulf Place Public Beach.
"What started as a grassroots effort to facilitate and elevate the AVCA National Collegiate Sand Volleyball Championships and the exponential growth of junior programs, such as the Gulf Coast Region of USA Volleyball, has become a premier NCAA event during a previously slower time for our destination," said Michelle Russ, vice president of sales, sports and events for Gulf Shores | Orange Beach Sports & Events. "Hosting major events like this in the spring and fall greatly impacts our tourism-based economy outside of the peak summer season to keep more businesses open year-round in Gulf Shores and Orange Beach."
A Full Weekend of Events
This particular weekend was a big one for the region even beyond the NCAA championships. A few steps over was the Gulf Coast Region USA Volleyball BeachFest national qualifier, the largest junior beach volleyball qualifier in the country with close to 900 athletes. Shawn Weaver, who helps organize the event and is on USA Volleyball's Region Board of Directors, said that every athlete gets a pass to attend the NCAA championships to inspire them to the next level.
"It helps us get more attention to get the kids to come here, see our beautiful beaches and gives them a chance to watch them and be inspired to be like those players," Weaver said. "I think everybody has seen what we do as far as the tournament. We get so much praise for it to run so smoothly, with the beach and accommodations and everything, it makes for a great experience for the players."
And not only was there volleyball on the beach, the Gulf Shores Sportsplex hosted the Alabama High School Athletic Association state track championships all weekend as well. Just a short drive away is the Orange Beach Sportsplex, which has baseball, softball and soccer fields and has hosted the SEC soccer championships for several years.
The events combined in a big weekend for the Alabama destination. That was topped by a record attendance for the NCAA Beach Volleyball Championships, which expanded to 16 teams from its previous eight. The event drew a crowd of 10,151 overall, a 7 percent increase from 2019. And history was made at the expanded tournament when Georgia State, a No. 10 seed that in previous years would not have been at the tournament, advanced to the quarterfinals by upsetting No. 2 seed TCU.
"What really in my mind makes this one so unique is it's a fully built site," NCAA Director of Championships and Alliances Kristin Fasbender said. "Two weeks ago we were on the sandy beaches of Gulf Shores with no structures. These guys did an amazing job of putting on a first-class event."
Increased Housing Needs
The region's identity as a tourism destination also helped when it came to housing at the tournament this year. In Gulf Shores and Orange Beach, there is a general population of 20,000 — and 18,000 vacation rentals available. The availability of rentals is how the NCAA and its host partners were able to pivot when the tournament field was expanded.
"We found out (about the field's expansion) in November and the next challenge for the committee was to decide, would we be able to implement it for 2022 or have to wait until 2023?" Fasbender said. "My first call was to our friends down here and ask is there even a chance that we could do it because the biggest concern was housing. Once Gulf Shores had the chance to make a few calls and see what they could do and told us they could make it work, it was a great opportunity for us to get eight more teams the chance to be here."
And with the expanded tournament and coverage of all duals on ESPN's platforms, Gulf Shores and Orange Beach got hours' worth of priceless exposure. On Sunday's final day of competition, Florida State upset UCLA in the elimination bracket final in a match that ran past the allotted TV window. Instead of going on a short break before returning for the national championship (won by USC over Florida State), ESPN2 ran extended coverage during the hour-long break with repeated shots of the sand, beaches and all of the things any destination would crave for on national television.
Fine Beaches, Fine Dining
Heading into the Orange Beach region from the nearby Pensacola International Airport less than an hour away feels reassuring for anyone who enjoys the beach town experience. On the Gulf of Mexico side are hotels that provide the sandy views while on the other side of the street are the private rentals and commerce including surf shops and restaurants.
When you need a bite to eat during a break in the volleyball action, The Hangout — a beachside stop with all the seafood options one could hope for ranging from seafood boils to blackened grouper — is just steps away. A beach tradition in town is Sea-n-Suds' fried shrimp sandwich, an homage to simple things done right: a soft bun, shrimp and a hint of tartar sauce that is hard to resist not eating within seconds. For a night out, you can head to Cosmo's with live music some nights on the dining patio while you enjoy a Gulf specialty — pecan encrusted redfish with risotto and asparagus.
And when the action is done for the day and you head back to your room at Perdido Beach Resort, which reopened in 2021 after an extensive renovation, three restaurants span a variety of tastes: a pizza and ice cream joint downstairs, Latitude 30 (the Snapper Rueben is recommended) and Voyagers, a fine dining experience that features smooth wine, some of the best steak and sides that one could experience and luxurious desserts.
Beach Vibes
It's the mix of a championship-quality venue and a feeling of having gotten away from the routines of life that bring people down no matter the distance. Throughout the NCAA weekend, lots of USC fans from California were seen on the white sands of the Alabama coast, having the type of experience that will be closer when Huntington Beach, California, hosts the event starting in 2025 but certainly not as unique as what Gulf Shores and Orange Beach has offered for several years.
"We came down in 2015 because we knew we were going to have a championship in 2016," Fasbender said. "We put it out to bid and then having had the chance to come down here and see what it looked like here — they have a really good setup, the gorgeous beaches, the beautiful views. It's really special, the people and all they put into this event and how they really embrace it every year."