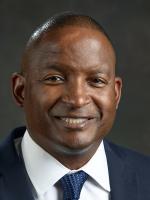 Derrick Gragg has been named to the new position of senior vice president for inclusion, education and community engagement at the NCAA. Gragg, who is the vice president and athletics director at the University of Tulsa, will report to NCAA President Mark Emmert and begin his new role on October 5 as part of the association's senior management team.
"Derrick brings exceptional experience and knowledge to the NCAA, and we look forward to his strong leadership around diversity, inclusion and equity policies and procedures for the Association," Emmert said. "As a former FBS football student-athlete and longtime athletics administrator in roles in many segments of Division I, Derrick understands the intercollegiate landscape and will be able to formulate relationships where the NCAA can work with constituencies to build more inclusive environments, which will enhance the experiences of student-athletes, coaches and athletics administrators. We welcome him and his family to Indianapolis."
In the new role, Gragg will lead all internal inclusion operations and supervise national office staff in inclusion, education and community engagement. He will also serve as a national office ambassador to member organizations to promote the NCAA core values of diversity and inclusion. Among his responsibilities will be to oversee the NCAA's leadership development office, which has increased online programming for student-athletes in the areas of career instruction and social-justice activism.
"As a former student-athlete and 27-year intercollegiate athletics administrator, I have dedicated my entire career to the betterment of young people," Gragg said. "During this historic era in our country, I look forward to supporting our student-athletes, engaging coaches and staff members, as well as working with our membership to identify ways to ensure that diversity, equity and inclusion are reflected on all levels. I am honored to be entrusted with this responsibility and look forward to identifying ways to help unite our 1,100 institutions to make a significant impact on higher education and our country as a whole."
Before his time in Tulsa, Gragg served as athletics director at Eastern Michigan University and in leadership roles at the University of Arkansas.