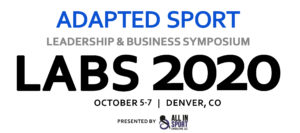 All In Sport Consulting, a Denver-based firm that helps organizations develop adaptive sports programs for people with physical disabilities, has announced that it will launch the inaugural Adapted Sport Leadership & Business Symposium (LABS). The conference, which is designed to unite adaptive sports industry leaders, will be held October 5­–7, 2020, in Denver at the Crowne Plaza Denver Airport Convention Center.
"The adapted sport experience has the power to change all aspects of a person's life from physical and emotional health to employment opportunities and social integration," said Dawna Callahan, founder and chief executive officer of All In Sport Consulting. "We created LABS with the goal of uniting leaders from the disability and adapted sport communities and beyond to have the conversations necessary to ultimately bring that experience to more people."
Callahan, an adaptive sport industry professional and athlete, conceived of the conference after having conversations with industry thought leaders, disability advocates, athletes and others. The timing of the conference is linked to the start of the U.S. Olympic and Paralympic Assembly, which will be staged in Colorado Springs later that week.
"We know to expand the movement we must reach outside our typical network and connect with key sport brokers to share new ideas and create a greater understanding of both the value and power of sport," she said. "LABS is really about collaboration and the impact that we can have when we come together. Our vision is for attendees to come away with deeper knowledge, greater proficiency, and stronger networks to enhance their own professional growth, the organizations they represent, and our collective impact."