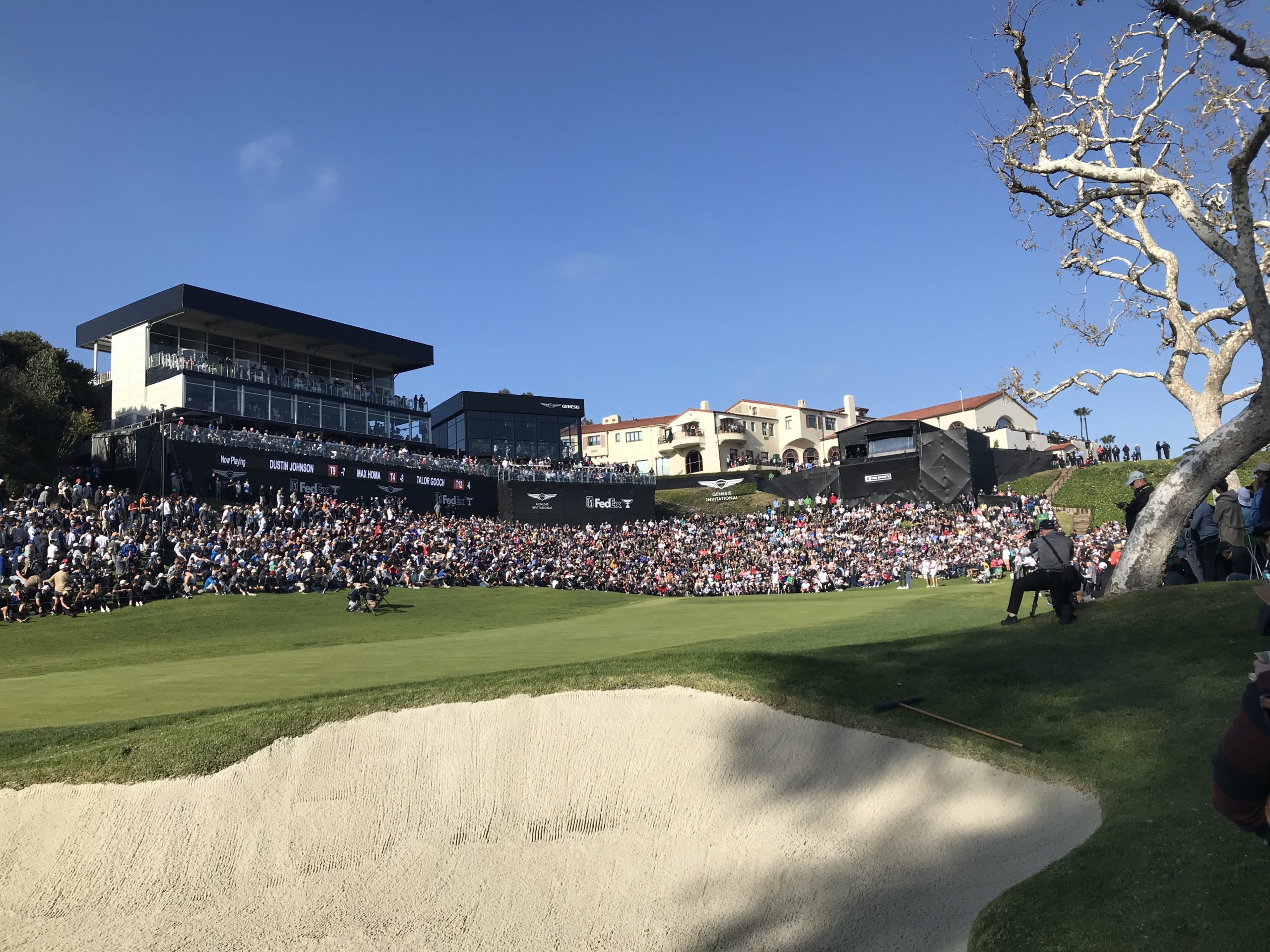 When fans enter the gates at Riviera Country Club in Los Angeles, they can gawk at the elevation changes and some of the most historic holes in championship golf. They can enjoy activations and different sponsorship stands at almost every fairway.
And if they think because the PGA Tour's Genesis Invitational is a four-day affair that it was an easy event to organize, they would be very, very wrong.
"It is a 365-day process," Tournament Director Mike Antolini said as the tournament was getting underway on February 13. While the tournament does maintain an office at Riviera and the building of stands and sponsor venues begins in December, "we're thinking year-round how we can elevate the tournament inside the ropes and outside the ropes. It's fun seeing it all come together — especially when the gates open."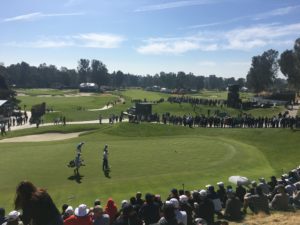 Antolini works for Tiger Woods' TGR Foundation, which serves as the tournament organizer. He described the preparation process as focusing on the tournament experience from various points of view from players to fans to sponsors and media. The early days of tournament week are used to work out any early wrinkles before the first round begins on Thursday.
"There's a true privilege running the Genesis Invitational, it's not something we take lightly," Antolini said. "There's so much history here. The event is more than 90 years old and goes back to (when it was called) the LA Open. We started managing the event in 2017 and Tiger's role as official tournament host has continued to elevate it."
The TGR Foundation's role with the event extends beyond serving as event organizer. On Saturday, a youth golf exhibition was held on the driving range and the Tee Off for Youth program provided complimentary tickets and transportation to 14 youth groups totaling approximately 640 kids. New to the 2020 tournament was a Kids Club with a personalized membership card, front row viewing zones on holes 8, 10 and 14, and access to autograph alley by the clubhouse.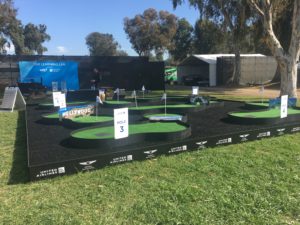 "Tiger's great at managing all the demands of him as a player and similarly as a tournament host," Antolini said. "This event benefits the TGR Foundation and it means so much to him. Tiger knows as tournament host his support is critical. Monday-Tuesday-Wednesday, he is certainly fulfilling his duties and responsibilities as official tournament host. We also know at the same time that he has a dual role as a competitor. Now that the first round is here (on Thursday), it's all business and inside the ropes and we respect that."
And while Woods did not fare particularly well, hosting an event on a course with Riviera's history has resonated with players. The site of three previous major championships and the future site for golf at the 2028 Olympic Summer Games, this year was the 56th time that the tournament has been held at the country club.
"It's a place that I absolutely love coming every year," said Matt Kuchar after shooting a 7-under 64 on Thursday on his way to a second-place finish. "I think it's one of the few courses that has truly stood the test of time. It was a great test of golf 50 years ago when Ben Hogan was playing, it's a great test today with Tiger Woods and all the young boys playing."
"It's such a cool place, cool golf course. I would love it to host a major again one day," said Rory McIlroy on Saturday.
"It might be the best course we play on tour," Dustin Johnson added Saturday. "It's just so good, it's right in front of you, there's nothing tricky, no rough really, but it's just hard."
Hard is also what organizing an event the size of the Genesis Invitational entails, but Antolini said perspective for those involved is also emphasized.
"Although it's long days and short nights and not much sleep and we have to use our time wisely, it can go by fast," he said. "What you don't want to have happen is Monday morning or even Sunday evening, you say 'Oh no, I didn't get to experience this, that or the other thing.' Whether that's a 10-minute walk in the morning before gates open to appreciate the course and the scenery and venue, you can sit back and know there was a lot of passionate, hard work that went into making the Genesis Invitational what it has become."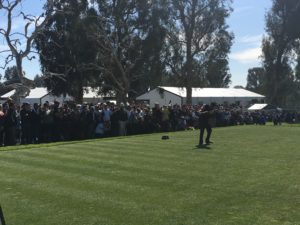 About the Tournament
First played in 1926 as the Los Angeles Open.
Held at Riviera Country Club 56 times and also held throughout L.A. at 10 other sites.
Tiger Woods' first PGA Tour event was the 1992 tournament at Riviera Country Club.
Jack Nicklaus won his first PGA Tour paycheck at the 1962 tournament, earning under $30.
About Riviera Country Club
Opened in 1926 as the Los Angeles Athletic Club Golf Course.
Hosted the 1948 U.S. Open (won by Ben Hogan) plus the 1983 and 1995 PGA Championships, along with the 1998 U.S. Senior Open.
Scheduled to host golf in the 2028 Olympic Summer Games; hosted dressage equestrian and the riding part of the modern pentathlon competition in the 1932 Summer Olympics.
Guests must play the course with a member; a collared shirt and either Bermuda shorts or slacks are required, and jeans are not allowed.
Among the club's famous members include Humphrey Bogart, Peter Falk, Dean Martin, Gregory Peck and Walt Disney.