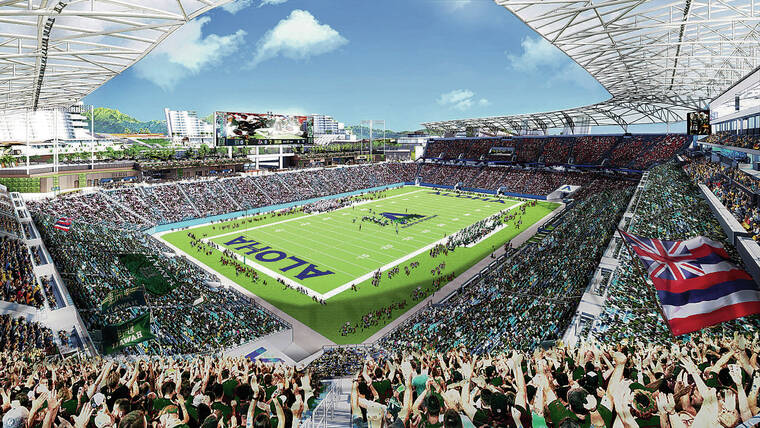 Work on a new Aloha Stadium as part of a broader mixed-use development district would start as early as 2023 with an RFP to three developers being issued in December, the state of Hawaii has said.
The New Aloha Stadium Entertainment District — or NASED — project will encompass roughly 25 acres for the stadium with an additional 73 acres used to develop hotels, retail and housing. The stadium, long known as the home for the University of Hawaii football team, Aloha Bowl and NFL Pro Bowl, would have a capacity of 35,000, down from the previous 50,000.
The broader part of the complex would take up to two decades because of sewer system improvements needed to support the area. The state has set aside $170 million for the entire project but the final cost is expected to be much more.
Three qualified bidders – Aloha Stadium District Partners, Aloha Stadium Hui Hilina'I and Waiola Development Partners – will be asked to design, finance and build the new stadium as well as maintain it for 30 years at an agreed-upon price. The existing Stadium Authority would manage the new stadium.
Aloha Stadium, built in the 1970s, was closed last year due to rust and deferred maintenance. Without Aloha Stadium, the Rainbow Warriors have played home games this season — and for the forseeable future — at the Clarence T.C. Ching Athletics Complex with bleachers surrounding the complex with seating for approximately 9,000, making it the smallest in the Football Bowl Subdivision. The team averaged roughly 24,000 fans per game in 2019.