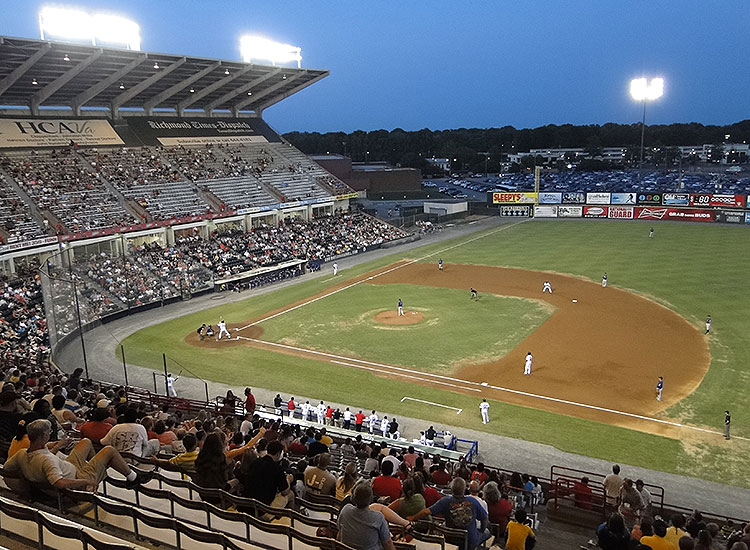 The home of the minor league Richmond Flying Squirrels will get a new look in the future as the Virginia destination has released a RFP for developers to create a new mixed-use development area in the Diamond District.
The 70-acre site is owned by the city four minutes from downtown and includes the current Diamond ballpark, home to Double-A baseball and the VCU baseball team. Keeping the Flying Squirrels in the Minor League Baseball system is a main driver for the RFP and development. When Major League Baseball took over the minor league system in early 2021, it issued facility standards for all teams to meet. The Richmond RFP says proposals are due February 15, 2022 and with a goal of opening for the 2025 Flying Squirrels season.
"Richmond offers so many of the things people and businesses are seeking – location, diversity, authenticity and affordability," said Richmond Mayor Levar Stoney. "Richmond is the place to be and the Diamond District is positioned to be a crown jewel in our economically thriving city."
The RFP looks for a stadium with around 10,000 for capacity, which includes a standing-room area of around 2,000, along with 20 suites and 500 club spaces. The proposal asks for ideas for an adjacent private club space to accommodate meetings, receptions, parties and other events. The Flying Squirrels will play 65 games per year and VCU 20 games per year; the city has a goal of 100 other events per year at the ballpark.
The Diamond was built in 1985 and cost $8 million before a $1.5 million upgrade in 2008.