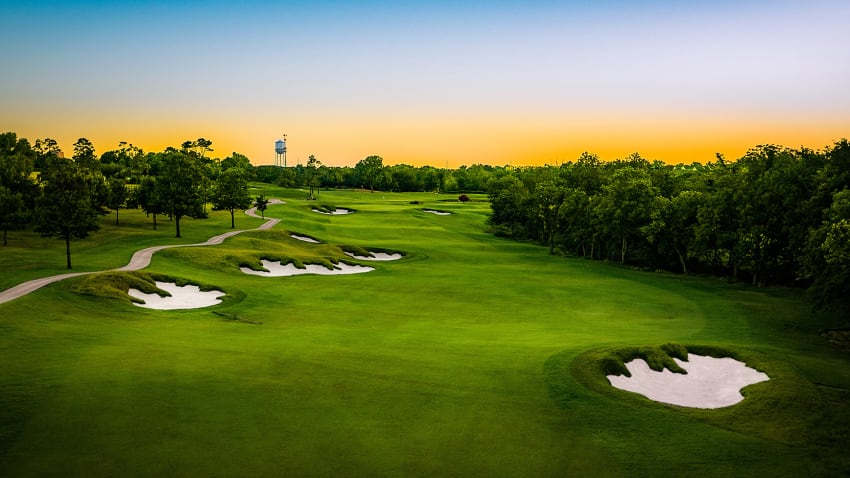 The Korn Ferry Tour and Compliance Solutions have announced a five-year partnership to host a new professional golf tournament, the Compliance Solutions Championship, beginning in June 2023 at the Jimmie Austin Golf Club at The University of Oklahoma in Norman.
The Compliance Solutions Championship will be a 72-hole tournament featuring 156 players from around the world. The event will fall in the middle of the 2023 Korn Ferry Tour season schedule.
"We are thrilled to partner with Compliance Solutions to bring Korn Ferry Tour golf to The Sooner State," said Korn Ferry Tour President Alex Baldwin. "Oklahoma is home to incredibly passionate golf fans, and this is a market we've been targeting for some time. Our membership is excited about the opportunity to compete at the Jimmie Austin Golf Club at The University of Oklahoma, and I know they'll receive a warm welcome from the local community."
Former University of Oklahoma standout Max McGreevy, who earned his first PGA Tour card with a No. 14 finish on the 2020-21 Korn Ferry Tour Regular Season Points List, is excited about the tour coming to the Sooner State and his alma mater.
"I know we've been vying for a Korn Ferry Tour event at Jimmie Austin for a long time now," said McGreevy, who grew up in Edmond, Oklahoma, and won the 2017 and 2019 Oklahoma Opens. "I know (Sooners Men's Golf Head) Coach (Ryan) Hybl is very excited about this. I've talked to some of the grounds crew and they're super thrilled."
Compliance Solutions offers client-centered compliance, accounting, tax and business advisory services, and will become the title sponsor of the event through at least 2027.
"We are incredibly honored and excited to join the PGA Tour family as the title sponsor of the Compliance Solutions Championship on the Korn Ferry Tour," said Compliance Solutions Chief Executive Officer and Founder Mark Lammert. "Our alignment with the PGA Tour embraces shared values of hard work, commitment and making a positive impact in the community both locally and nationally, striving for excellence and promoting notable charitable work."