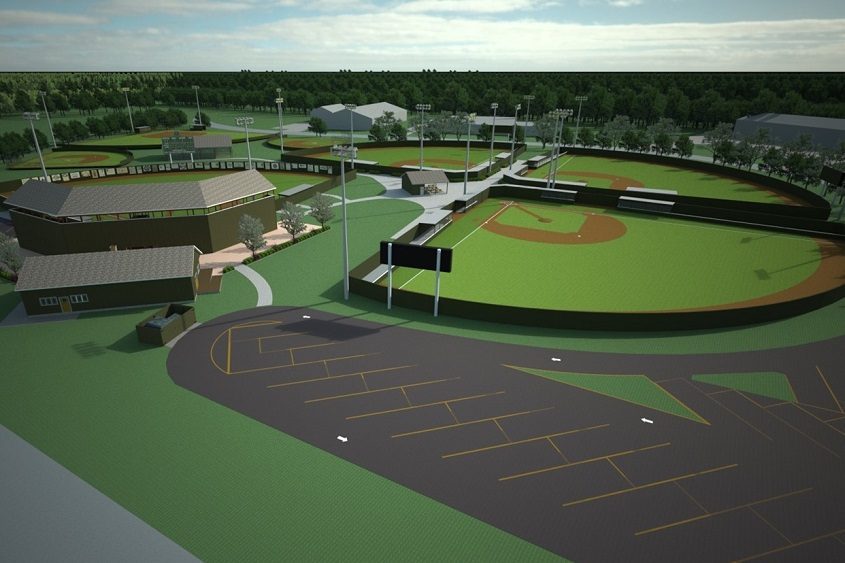 The Parkhurst Field Foundation in Gloversville, New York, held its ceremonial groundbreaking to start a $1.4 million project that will renovate its 'Legends Field' area and create an expanded five-field, fully lighted venue that can host regional tournaments and bring in teams throughout the Northeast.
Parkhurst Field Foundation President David Karpinski told the Daily Gazette that for the first phase, the foundation last year received a $1 million grant from Fulton County after the county got $10.4 million in pandemic economic stimulus funding from the American Rescue Plan Act of 2021. The rest of the Phase 1 money was raised by the foundation.
The first phase will include building the infrastructure needed for the expanded venue, including a 500-seat grandstand and pavilion. The second phase will include a concession stand and clubhouse area along with three fields to supplement the two existing fields, plus batting cages, parking and lighting for all five fields overall.
The total cost of the project will be $3.6 million at the same 1906 home plate location of the former A.J&G Park that baseball legends Honus Wagner, Cy Young and Archibald 'Moonlight' Graham of 'Field of Dreams' fame played on.