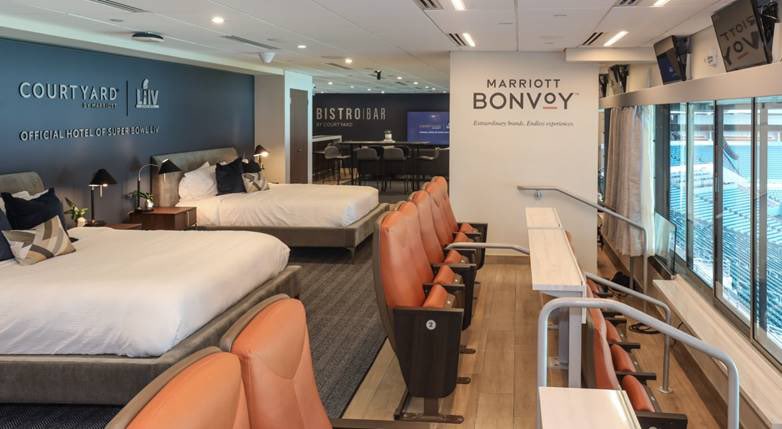 Courtyard by Marriott, the Official Hotel of the NFL, is celebrating the return of travel and live football games this fall with the re-launch of its Courtyard Super Bowl Sleepover Contest in which fans can enter for a chance to spend a night at SoFi Stadium in Inglewood, California, on the eve of the Super Bowl LVI.
As part of promotion, Courtyard is asking fans to share their most memorable stories showcasing how their love of football has fueled their passion for travel. The winner and a guest will be awarded a chance to wake up inside SoFi Stadium on Super Bowl Sunday.
The winner will enjoy an overnight stay inside a stadium suite transformed into a Courtyard guest room overlooking the field. In addition to the sleepover, Courtyard will host the winner and a friend for a weekend of access to exclusive events, culminating with tickets to Super Bowl LVI.
"Whether traveling near or far, following a favorite team on the road provides unforgettable moments that forever transform us," said Diane Mayer, vice president and global brand leader, classic select brands at Marriott International. "We are excited to once again bring our NFL partnership to life by celebrating the powerful memories that fans have made while traveling for the love of football, an experience that they have missed so much in the past year and a half."
Fans can enter by submitting a video on TikTok, Instagram or Twitter with the hashtag #CourtyardSuperBowlContest, showcasing how their love for football has fueled their passion for travel. The winner, along with a guest, will be announced in January.