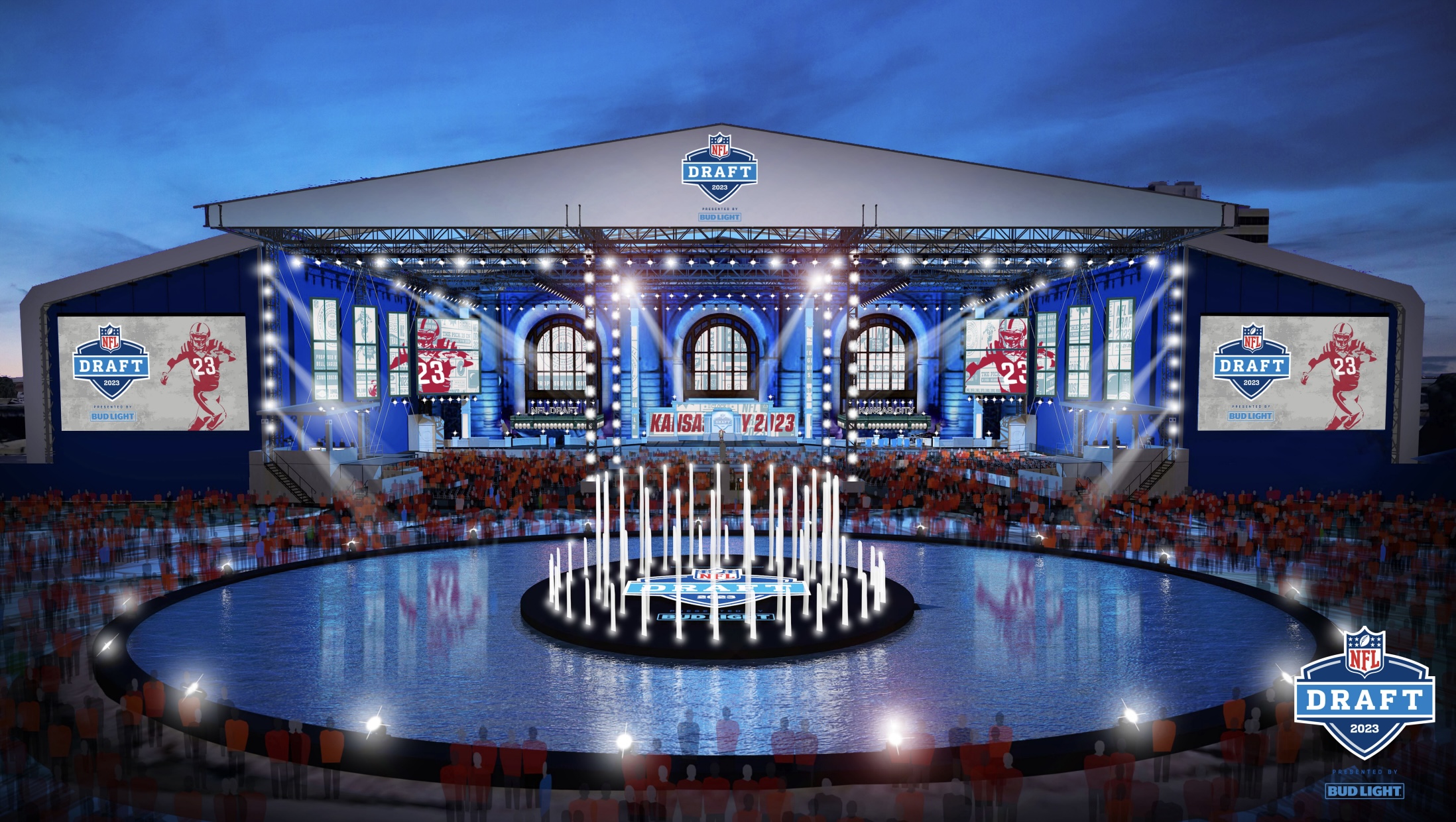 With 3 million square feet of space and staging in front of historic Union Station, Kansas City has unveiled its plans for this spring's NFL Draft while also reveling in having its hometown Chiefs play in the Super Bowl for the third time in four years on Sunday.
The draft is scheduled to be held in the plaza outside of Union Station and the National WWI Museum and Memorial from April 27–29. The Draft Theater, which will act as the hub for all activities April 27-29, will be built in front of Union Station with general admission fan viewing on the North Lawn of the Museum and Memorial. The NFL has been in Kansas City at least once a month the past six months to work on staging options, fan logistics and transportation.
"We always knew Union Station would be the home base for this but now we're getting a feel for what could this be," said Kathy Nelson, president and chief executive officer of the Kansas City Sports Commission and Visit KC. "The stage is different, it's unique to other drafts. So they really wanted to make sure the heart of Kansas City is captured in that."
NFL Draft Experience will take place on the south side of the Museum and Memorial and will allow fans to test skills, enjoy exhibits and autograph sessions, and take part in photo opportunities with the Vince Lombardi Trophy and all 56 Super Bowl rings. The draft and its associated events have rotated around various NFL cities since it left New York's Radio City Music Hall in 2015 after a multi-decade stay.
"I always say that moving the draft around was one of our more significant moves because again it brought the game closer to our fans," NFL Commissioner Roger Goodell said. "It's another way for them to interact with one of our events. Kansas City is going to be a great host but the key for them is to do it Kansas City style."
New Airport Close to Launch
While not designed specifically for the draft, Kansas City will unveil at month's end the city's single-largest infrastructure project ever, a new 1 million-square-foot single terminal at Kansas City International Airport. The $1.5 billion terminal features 39 gates and the capability to expand to 50. Decorating the new terminal and parking garage are the works of 28 local artists with more than 50 local businesses operating inside the airport as well.
"We were awarded the draft before the new airport was even voted on," Nelson said. "We were prepared with the current terminal situation the way it was. But the new airport just heightens everything — there's opportunities for signage, there's opportunities for the theme of the NFL Draft to come through. We couldn't have done that with what we had before. The new airport is certainly that front door to our city now and when you're welcoming tens of thousands of people coming in for the NFL Draft, having that experience from when you land and get off the plane makes it that much better."
There is, of course, also the matter of Sunday's game. Not only will Kansas City host the draft coming off the Chiefs' third Super Bowl appearance in four years but it also has the matter of a little wager to settle with Philadelphia, a fellow 2026 FIFA World Cup host city. Philadelphia Soccer 2026 and Kansas City World Cup 2026 have wagered a $2,026 donation to youth programs in the winning city to benefit either Rebuild in Philadelphia or Variety KC.
While thousands have gathered in downtown in recent years for Chiefs' Super Bowl and Royals' World Series victory parades, until 2026 comes at least, Nelson said the draft will generate the largest crowd to date for a public gathering in the city.
"The number of fans that are coming in from across North America for this — that's different," she said, adding that while the downtown area has seen championship parades and inaugurations and more in the past, "the draft over so many days with so many people will be the biggest event we've ever had."