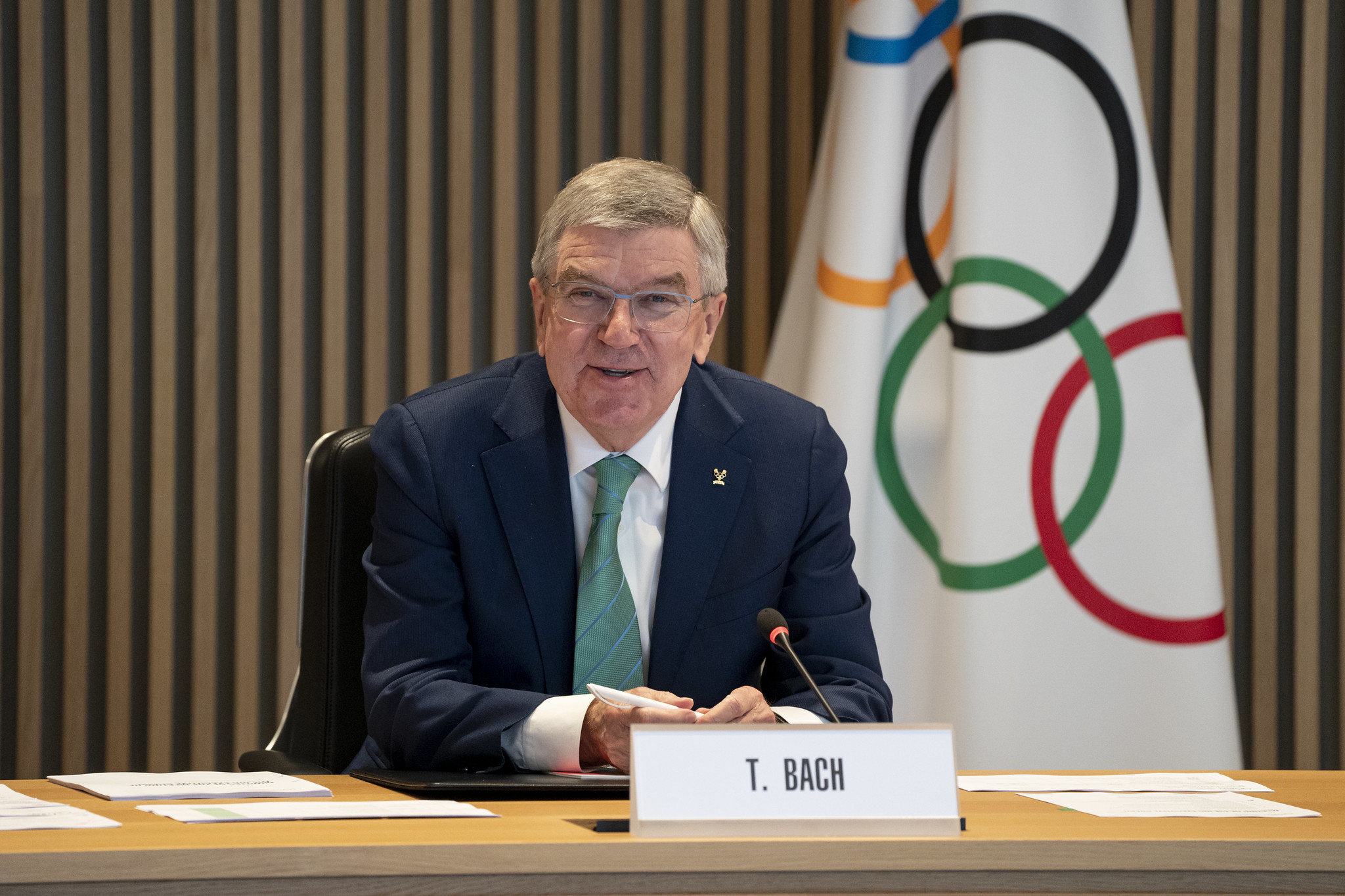 It was nearly a full year ago that Russia invaded Ukraine, leading to a succession of condemnation and sanctions throughout the world that — somewhat surprisingly — included swift, strong action from the International Olympic Committee.
This weekend, in the face of growing criticism around Europe for his plans to allow some athletes from Russia and Belarus to compete at the 2024 Olympic Summer Games, IOC President Thomas Bach is more defiant than ever that he will be proven right.
"History will show who is doing more for peace. The ones who try to keep lines open, to communicate, or the ones who want to isolate or divide," Bach said at the Alpine skiing world championships. "We have shown this in the past with great success in the Olympic movement. Our role is bringing people together."
Bach's comments came before the men's downhill at the event organized by the FIS, which has banned Russians and Belarussians since last February. Ukrainian Ivan Kovbasnyuk took part in the downhill and later joined prominent Ukrainian athletes including boxer Wladimir Klitschko, high jumper Yaroslava Mahuchikh and tennis player Elina Svitolina in saying Russia and Belarus should be banned from Paris 2024.
"Russia is killing my people. Not good situation for Olympic Committee," Kovbasnyuk said.
Russians and Belarusians were banned in February 2022 by most international sports federations after an IOC recommendation once Russia invaded Ukraine. But as qualification events for the 2024 Paris Games approach, Bach and the IOC have faced backlash from Ukraine, including comments directed at him by Ukrainian President Volodymyr Zelenskyy, and its allies since setting out a path last month for some athletes from Russia and Belarus to return to international competition despite the war waged by their countries.
"A white or any neutral flag is impossible for Russian athletes. All their flags are stained in blood," Zelenskyy has said.
Bach spoke Sunday of his support for "every Ukrainian athlete. We can from a human point of view understand their reactions, we share their suffering. … Every Ukrainian athlete can be rest assured that we are standing in full solidarity with them and that all their comments are taken very, very seriously into consideration."
Olympic leaders have set out a path for athletes from Russia and Belarus who have not actively supported the war to try to qualify to compete as "neutral athletes." Russian athletes have not competed under their country's name at any Olympics since the 2016 Rio de Janeiro Games because of the fallout from a prolonged doping saga.
Zelenskyy told a summit of sports officials from 36 countries on Friday that Russian athletes have "no place" in Paris while the invasion of Ukraine continues and political leaders of Poland and the Baltic states have said there could be Olympic boycotts if the IOC forges ahead with its plan. Paris Mayor Anne Hidalgo, who visited Kyiv last week, has also said Russian and Belarusian athletes should be barred from the Olympics in her city.
The United States led the largest boycott in 1980. More than 60 teams refused to go to Moscow after the Soviet Union invaded Afghanistan. Bach was among the West Germany athletes who could not go, denying him the chance to defend the team fencing title.
"Unfortunately, what they have not addressed, at least so far as we can see, are these human rights concerns," Bach said in reply on Sunday. "There, we don't have an answer but we have to take it seriously."
The IOC has cited advice from the United Nations that banning athletes on the basis of their passport would be discrimination. However, the IOC has multiple times in the past excluded countries from competition; Germany, Austria, Hungary, Bulgaria and Turkey were barred from the 1920 Olympics in Antwerp with Germany's ban lasting until 1928. Germany and Japan were not invited to the 1948 London Olympics after they were the aggressors in World War II and South Africa was excluded from 1964 to '88 because of its racist apartheid laws.
"The IOC being committed to human rights, like the international sports federations, has of course to address these serious concerns," Bach said Sunday, adding Olympic sports had a "unifying mission of bringing people together."