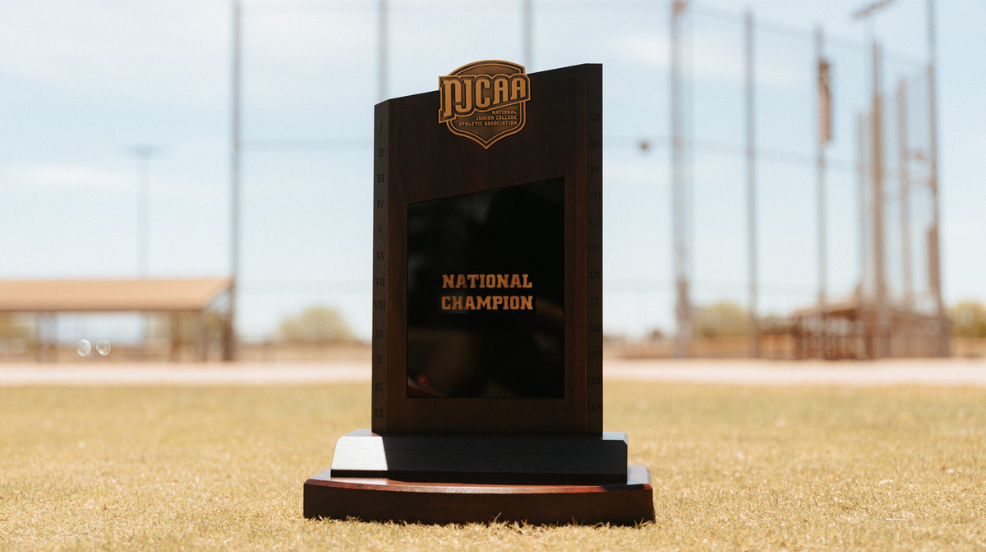 The National Junior College Athletic Association has announced a number of host locations for championship events that have been approved by the NJCAA Board of Regents.
Twenty different NJCAA sports received new championship locations over the course of the next two academic years. The newly approved locations will host events that will be held from 2024 through spring 2025.
Casper, Wyoming, will be the host site for the 2024 and 2025 DI Women's Basketball Championships. The 24-team event will be at the Ford Wyoming Center from March 26 through April 1, 2024, and March 25–31, 2025.
"Casper could not be more excited to welcome the NJCAA and the top women's basketball programs from around the country for the DI Championships," said Luke Gilliam, business development manager at Visit Casper.
New Mexico Junior College will host the 2024 Division I Men's Golf Championship at the Rockwind Community Links in Hobbs, New Mexico, from May 14–17, 2024.
"Rockwind Community Links will provide an excellent venue for the elite competition the NJCAA produces," said Deron Clark, athletic director at New Mexico Junior College. "Hobbs is prepared to share the week with the amazing athletic golf talent that will be competing at Rockwind."
The Finney County Convention and Visitors Bureau will host the 2025 Division I Women's Golf Championship at the Buffalo Dunes Golf Course in Garden City, Kansas, from May 12–15, 2025.
"We look forward to featuring both our great college, Garden City Community College and our nationally ranked golf course, Buffalo Dunes," said Roxanne Lansink, FCCVB executive director. "Buffalo Dunes has been ranked continuously in Golf Digest among the top 10 municipal courses in the country."
Hutchinson Community College will be the site for the 2025 Division I Outdoor Track & Field Championships, held at Gowan Stadium in Hutchinson, Kansas, from May 15–17, 2025.
"The NJCAA has a long history with Hutchinson and the surrounding community and we look forward to continuing to make strides in providing a premier championship experience," said Brian Luckett, NJCAA senior vice president for external affairs and development.
The 2025 Division I Softball World Series will be hosted by Arizona Western College in Yuma, Arizona, from May 20–24, 2025.
"Arizona Western College and the City of Yuma are eager to get to work on planning this great event that will bring visitors from all over the country to our great community," said Jerry Smith, athletic director at Arizona Western.
Collin College will host the 2024 Division I Men's Tennis Championships on its campus in Plano, Texas, from May 13–17. In 2025, the city of Florence Athletics/Sports Tourism in South Carolina will serve as the tournament host from May 12–16.
Tyler Junior College will host the 2024 and 2025 Division I Women's Tennis Championships at the JoAnn Medlock Murphy Tennis Center in Tyler, Texas, from May 4–8, 2024, and May 3–7, 2025.
Other 2024 and 2025 events include:
Beach Volleyball: Huntsville, Alabama (2025)
Indoor Track and Field: Gainesville, Florida (2024)
Wrestling: Council Bluffs, Iowa (2024, 2025)
Division II Men's Basketball: Danville, Illinois (2024, 2025)
Division III Men's Basketball: Herkimer, New York (2024, 2025)
Division III Women's Basketball: Rochester, Minnesota (2024, 2025)
Division II Baseball: Enid, Oklahoma (2024, 2025)
Division III Baseball: Auburn, New York (2024, 2025)
Division II Men's Golf: Joplin, Missouri (2024)
Division III Men's and Women's Golf: Chautauqua, New York (2024, 2025)
Division II Softball: Oxford, Alabama (2025)
Division III Softball: Chattanooga, Tennessee (2024) and DeWitt, New York (2025)
Division III Men's and Women's Tennis: Chattanooga, Tennessee (2024, 2025)