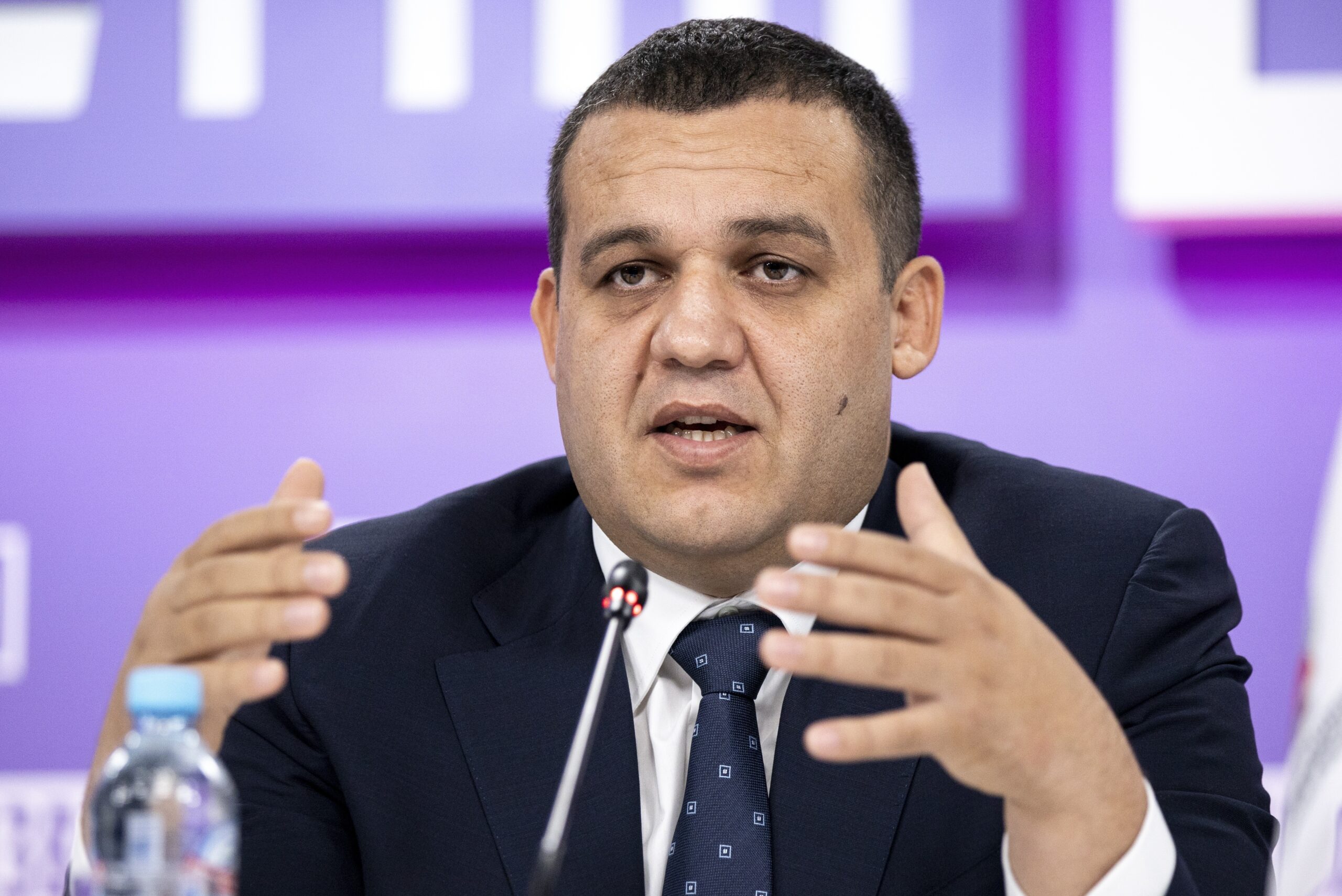 The president of the International Boxing Association spent close to two hours both signaling a willingness to work with the International Olympic Committee while also using vulgar expressions toward the Olympic Games organizers on Monday, the day that the international federation's men's world championships began.
The IBA's Russian president, Umar Kremlev said the federation will update the IOC this week on progress toward resolving a years-long dispute, then later said "I'm sure they don't like me" of the IOC because he refused to perform a vulgar act not useful to this website to describe. Kremlev later noted the IBA no longer has Russian energy giant Gazprom as a sponsor and attacked the organizers of World Boxing, a new organization seeking IOC recognition.
"We say that there's always a black sheep in our family, there are always people who go their own ways," Kremlev said of World Boxing. "Someone tried to register an international association from their garage, why should we even consider them. … I think it's all clear and simple. Some sports functionaries are like hyenas, like predators, they need to understand that they do not belong to sport."
A collection of boxing leaders from across the world, including USA Boxing, recently announced the creation of World Boxing, which aims to ensure that boxing remains a part of future Olympic Summer Games and is the formal breakaway for many international federations from the IBA. USA Boxing ended its membership with the IBA to join World Boxing, USA Boxing Executive Director Mike McAtee wrote to members of the national governing body this week.
World Boxing says it will seek recognition from the IOC. In the period between the launch of World Boxing and the inaugural Congress it will be led by an interim executive board that includes USA Boxing President Tyson Lee. One of the two athlete representatives on the interim executive board is USA super-heavyweight Tokyo silver medalist Richard Torrez Jr.
IBA Secretary General George Yerolimpos called World Boxing a "Mickey Mouse" organization and "World Boxing is not supporting athletes. They are just screaming out mottos. They are keen on earning from boxing but not to develop it."
The IBA's financial dependence on Gazprom has been among the IOC's main concerns; in addition, the IBA has let boxers from Russia and Belarus compete with their own flag and anthem contrary to IOC guidance that athletes should compete only as neutrals under certain conditions. The IOC organized the boxing tournament at the 2020 Games in Tokyo with plans to do so again next summer in Paris, having cut ties with the IBA in 2019.
"Our contract ended with Gazprom," Kremlev said. "As of today, we have plenty of other companies sponsoring us. We are negotiating with bigger companies as well. In June or July, we are going to have a new sponsor."
Kremlev and Yerolimpos spoke as the men's world championships began in Uzbekistan, which is being boycotted by teams including the U.S., Britain, Canada and Ireland. Kremlev noted medals of "pure gold" will be awarded to champions and those who win will also be paid prize money — contrasted to the Olympics, which gives medals plated with gold over pure silver. He also said "we don't want to pay for five-star hotels or for travel of sports officials," another jab at the IOC.