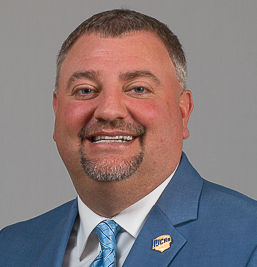 Christopher Parker has received a contract extension through 2027 to remain as president and chief executive officer of the NJCAA.
Parker, who has served as president and chief executive officer of the organization since 2017, is the fourth chief executive of the NJCAA since its founding in 1938.
"The NJCAA has made so many strides of improvement under the leadership of Dr. Parker and we are excited to extend his contract to continue that great work," stated Dr. Dan Kinney, chair of the NJCAA Presidents Commission. "Athletics play a key role in our institution's daily operation and under his leadership we have excelled in providing our student-athletes with an even better experience. His support and work have advanced the mission of our member colleges."
Parker led the organization into relocating its offices from Colorado Springs, Colorado, to Charlotte, North Carolina, in 2018 and a revamped governance structure to have engagement from 24 regions across the country. The NJCAA announced last year a multi-year media rights agreement with ESPN that features nationally televised NJCAA championship games on ESPNU along with regular season content on ESPN Plus. Parker also led the efforts to add five new emerging sports in competitive cheer, clay target shooting, men's volleyball, women's wrestling and women's flag football.
Prior to taking his role within the NJCAA, in 2006, Parker was hired as the first athletic director at Patrick Henry Community College in Martinsville, Virginia. In addition to his responsibilities at Patrick Henry, Parker served as the assistant region director and region director of NJCAA Region 10 for seven years.
"The NJCAA Board of Regents is thrilled that Dr. Parker has agreed to extend his employment contract for four more years," said Troy Tucker, chair of the NJCAA Board of Regents. "The NJCAA has prospered under Dr. Parker's leadership with unprecedented successes in revenue generation, branding and the student-athlete experience. College athletics and higher education in general are at a very challenging time in their history and we feel fortunate to have Dr. Parker leading the association as we move forward."