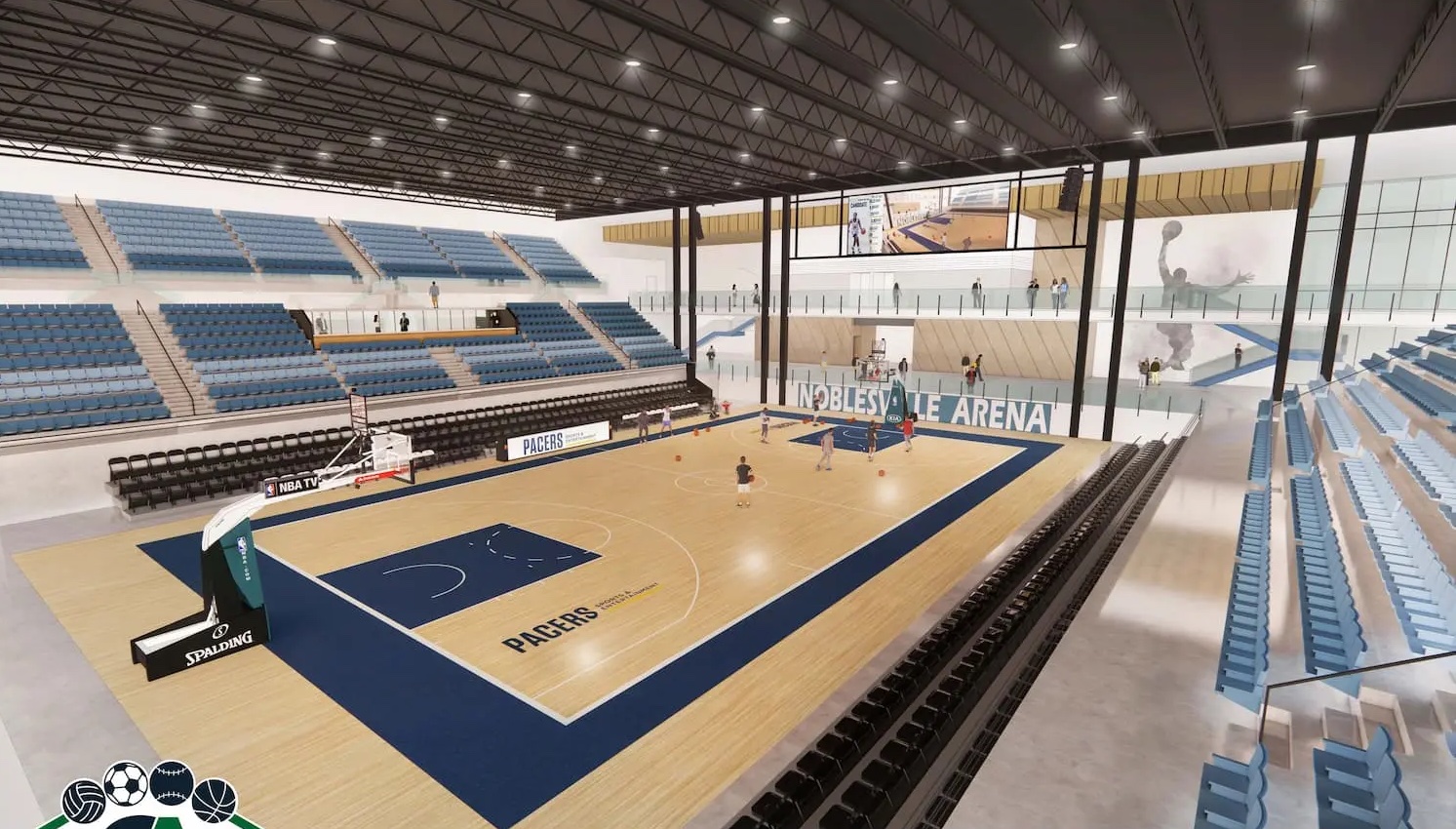 Pacers Sports & Entertainment will be bringing Indiana's G League franchise, the Mad Ants, to Noblesville, Indiana, and relocating the team from Fort Wayne into a new 3,400-seat, 85,000-square-foot arena on the east side of the city.
The new arena is anticipated to open during the 2024-2025 season and the team would play at Gainbridge Fieldhouse in the interim. City and team officials are working through steps with local partners and plan to build the arena at Finch Creek Park near the Mojo Up Sports Complex, which generates nearly 1 million visits per year.
"We are excited to welcome Pacers Sports & Entertainment to Noblesville along with the players, coaches and staff of the G League team," Noblesville Mayor Chris Jensen said. "The Pacers are an iconic brand with deep roots in central Indiana. Partnering with such an impactful organization opens numerous opportunities for our community and drives forward our efforts for a larger sports and entertainment district with enhanced partnerships."
At the Noblesville Common Council meeting on May 9, a 10-year partnership agreement between the city and Pacers Sports & Entertainment will be presented. The agreement includes $5 million in cash investment from PS&E, which will also lead an effort to secure another $5 million in naming rights and signage over those 10 years, as well as $36.5 million from the city in building the arena.
"We are working with the Pacers and other partners on programming options for the arena on days it is not used by the Pacers. The facility would be available for events like IHSAA tournaments and competitions, concerts, conferences, corporate events and graduations," Jensen said. "Further steps are being taken to finalize development and programming partners, which may also incorporate additional project features and recreational amenities."
The franchise will remain the Mad Ants through the 2023-2024 season. A new mascot will be unveiled prior to the 2024-2025 season and Mad Ants, a name with a special tie to Fort Wayne, will be retired.
"The G League is world-class basketball, and PS&E is proud to bring that to Noblesville as we strengthen our basketball operations and enhance player development in one of the state's most vibrant and growing communities," Pacers Sports & Entertainment Chief Executive Officer Rick Fuson said. "We are excited about the way this partnership fits into the bold vision for economic development Mayor Jensen has laid out, and we can't wait to continue growing our NBA and G League fan base right here in Hamilton County."