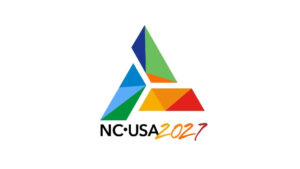 The U.S. International University Sports Federation and the North Carolina Bid Committee have unveiled the logo for the U.S. bid to host the 2027 Summer World University Games.
"We are excited to make public today the iconic look we've chosen to represent our efforts to bring the 2027 Summer World University Games to the United States," said Dan Guerrero, president of the USIUSF. "We've enjoyed working with our North Carolina host city partners in the design process and look forward to continuing our partnership through the bid – and beyond."
At the center of the design's bid is a triangle-shaped logo that reflects three geographical areas leading the bid: the United States of America, the state of North Carolina and the Raleigh-Durham metropolitan area. The Research Triangle area of North Carolina is also the proposed geographic hub of the area's bid for the multisport event.
"The USIUSF took pains to ensure the new logo matches up well with, and serves as a strong complement to, the 'U' logo of the International University Sports Federation (FISU), the international governing body for the World University Games," said Delise O'Meally, FISU Executive Committee member and USIUSF secretary general.
The International University Sports Federation will eventually decide on the winning bid.
"I like the multi-layered aspects of the design," said Hill Carrow, chairman and CEO of the NCBC. "You can see that a lot of thought went into it from everyone involved in the process. For example, each of the colors of the Olympic Games, which stand out on the left side of the FISU "U" logo are also included in the bid logo. And my favorite part is that it also contains Duke Blue, Carolina Blue and State Red in locations in the logo that approximate the locations of those universities on a map."