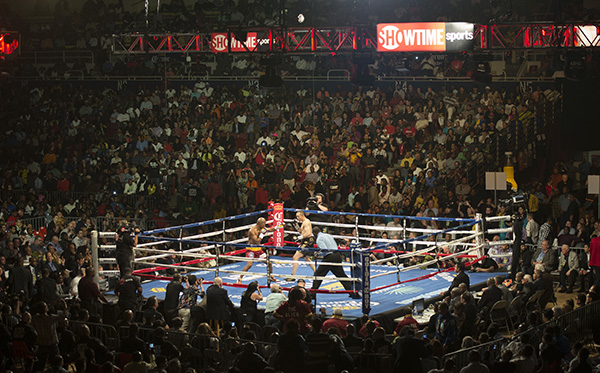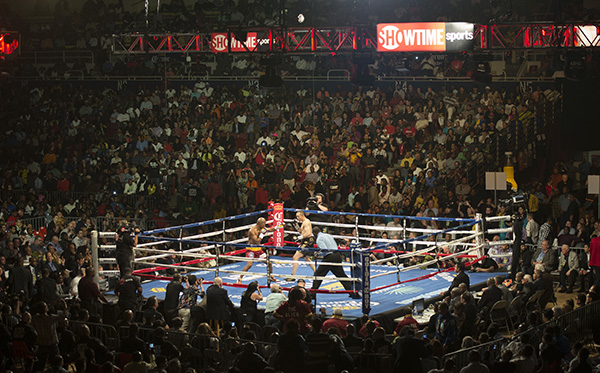 The Northeast has sports options to match any time of year. With baseball in the spring and summer, football in the fall and hockey in the winter—not to mention countless other sports—the Northeast has a sports landscape for all seasons.
With more than 56 million residents, it contains 17 percent of the U.S. population. Given that the Northeast's cities are easily accessible by mass transit and brimming with cultural resources and venues, event organizers will find options to suit every need.
Washington, D.C.
The nation's capital is known for bare-knuckle fisticuffs and knock-down, drag-out fights—and that's just the politicians. "We like to say politics isn't the only sport in town," said Greg O'Dell, president and CEO of Events DC.
The city of 694,000 features a deep menu of venues and events, not to mention 32,594 hotel rooms.
In recent years, the District has literally been building on its reputation with the completion of the $65 million Entertainment and Sports Arena, which recently opened as the home arena for the WNBA's Washington Mystics, the NBA G-League's Capital City Go-Go and a practice facility for the Washington Wizards. It will also serve as a facility for esports events, as Events DC seeks to become a major player in a burgeoning market.
"Esports are the fastest-growing sports," O'Dell said, explaining that his group is creating an entire "ecosystem" for esports culture. A younger demographic is moving into the District, and his group is looking to meet its needs. "We've been aggressive in bringing it to our venues," he said of esports infrastructure.
Elsewhere, D.C. United of Major League Soccer started playing at the new Audi Field, a 20,000-capacity soccer stadium. And the RFK Stadium Campus, once D.C. United's home, has begun what promises to be a major overhaul. For more than 55 years, RFK was an anchor sports facility that served as the home of the NFL's Washington Redskins and two Major League Baseball teams, among others. The stadium itself will eventually be demolished, but Events DC has big plans for the site. The first part of the renovation, slated to be complete by spring 2019, involves the conversion of 27 acres of parking lots into three multisport artificial turf fields and the construction of a 300,000-square-foot indoor sports facility.
Although further plans are undecided, groups in the city have proposed many options, including building a new stadium to lure back the Washington NFL team from neighboring Maryland.
Adjacent to the stadium is the D.C. Armory, a 10,000-seat indoor arena.
Indoor youth sports events often rely on the 2.3 million-square-foot Walter E. Washington Convention Center. The center is served by the Metro subway system and also connects to the 1,175-room Washington Marriott Marquis hotel.
Among the events the convention center draws is the Mizuno Capitol Hill Volleyball Classic, which attracts more than 1,000 club teams that play on 122 regulation courts. "They use our entire convention center," O'Dell said.
About Washington, D.C.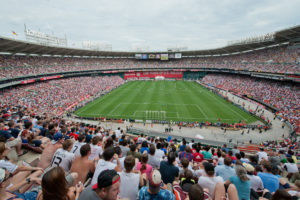 Key Venues: RFK Memorial Stadium Campus (56,000-seat stadium, planned playing fields and multisport facility); Entertainment and Sports Arena (4,200 seats); Walter E. Washington Convention Center (2.3 million square feet)
Recent Events: 2018 Red Bull Conquest National Final; D.C. United inaugural game at Audi Field; 2018 Mizuno Capitol Hill Volleyball Classic
Upcoming Events:  2019 D.C. State Athletic Association semifinals and finals; United Airlines Rock 'n' Roll Washington D.C. Marathon
Springfield, Massachusetts
Massachusetts is all about history. Boston, Salem and Bunker Hill have a rich colonial and Revolutionary War legacy, while in Western Massachusetts, sports history comes alive.
"What sets us apart is our history of sport," said Alicia Szenda, director of sales for the Greater Springfield Convention & Visitors Bureau and the Western Massachusetts Sports Commission. She noted that Springfield is where James Naismith invented basketball and nearby Holyoke was the home of William Morgan, who invented volleyball at a local YMCA. "You can still play on the floor where Dr. Naismith invented basketball at Springfield College," Szenda said.
Hoops roots are strong in the region.  In Springfield, the Naismith Memorial Basketball Hall of Fame is a mecca for fans. Annually the Hall enshrines the game's greats, and in 2019, Tim Duncan, Kobe Bryant and Kevin Garnett will all be in their first year of eligibility. The hall also supports a number of tournaments, such as the Spalding Hoophall Classic, which attracts top high school teams from across the country.
But it's not all about hoops. Just north of Springfield is the International Volleyball Hall of Fame in Holyoke. Each October, the Girls VolleyHall Classic Tournament attracts teams from throughout the region, and a summer tournament played on grass has also gained in popularity.
Springfield is home to the headquarters of the American Hockey League and the Springfield Thunderbirds. The team plays at the MassMutual Center, a convention facility that includes a recently renovated 8,000-seat arena.
Skiing also attracts crowds in Western Massachusetts. The state high school championships are held at Berkshire East Mountain Resort, which also is a frequent host of U.S. Ski and Snowboard events.
The region has hosted LPGA golf as well as soccer, baseball, basketball and hockey tournaments at the youth, high school and collegiate levels. It also has hosted the International Juggler Association Annual Festival, which brought in 650 jugglers and generated an estimated $1.3 million in economic impact.
The Springfield area—25 miles north of Hartford, Connecticut—has 1,347 hotel rooms, and there are 8,000 in Western Massachusetts as a whole.
About Springfield, Massachusetts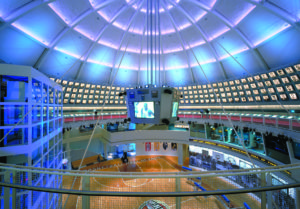 Key Venues: MassMutual Center (8,000-seat arena, 100,000-square-foot convention center); Eastern States Exposition (also known as the Big E, a multipurpose facility with buildings that range in size from 28,000 square feet to 129,400 square feet for a total of more than 355,000 square feet, including a 5,000-seat arena and an equine center with 800 stalls); Springfield College (multiple venues including 2,000-seat Blake Arena and 3,900-seat Stagg Field)    
Recent Events: International Juggler Association Annual Festival; Major League Baseball RBI Tournament (Reviving Baseball in Inner Cities); Equine Affaire equestrian competition
Upcoming Events: 2019 American Hockey League All Star Classic; 2019 Babe Ruth 13-Year-Old World Series; Spalding Hoophall Classic
Atlantic City, New Jersey
While the coastal city has long been seen as an adult playground, Atlantic City is making a big effort to be both more kid-friendly and a player in the sports- event industry. To that end, alongside the economic makeover of resorts and casinos, the city has been ramping up sports opportunities and venues for fans, athletes and event organizers. "Atlantic City is turning the tide," said Dan Gallagher, the sports account director at the Atlantic City Sports Commission.
As examples of the shift to families, Gallagher points to the Wheel at Steel Pier, a massive Ferris wheel. The sports commission has made a concerted effort to promote its 15 venues, including the Jim Whelan Boardwalk Hall, the Atlantic City Convention Center, the sprawling Bader Field complex and 16,000 hotel rooms.
Outdoor sports range from youth sports to the annual Ironman 70.3. Indoor opportunities include basketball, futsal and volleyball, and a commitment to esports.
The sports commission recently spent $1 million to purchase indoor equipment for basketball, futsal and volleyball courts that it can install in the convention center. The convention center will put the equipment to use as it plays host to the Northeast Regional Futsal Championship in February. The hard-court, five-on-five regionals will feature 350 teams over three days.
Boardwalk Hall is a stately 1929 venue that earned U.S. National Historic Landmark status in 1987. Beginning in 2019, it will be home to the Metro Atlantic Athletic Conference men's and women's basketball championships, as well as collegiate tournaments.
With its 142 acres on a former airfield, Bader Field has a variety of uses for adventure sports. During the annual triathlon it serves as the main staging area between circuits. It has also played host to the Red Bull Global Rallycross and other sports festivals.
About Atlantic City, New Jersey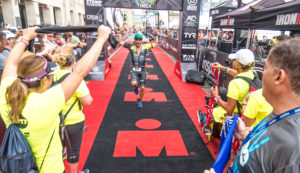 Key Venues: Atlantic City Convention Center (486,600 contiguous square feet of exhibit space, 45 meeting rooms); Jim Whelan Boardwalk Hall (141,000-square-foot main arena with 14,770 seats, 23,100-square-foot Adrian Phillips Ballroom with a capacity of 3,200); Bader Field (142 acres on a former airfield)
Recent Events: Ultimate Fighting Championship Fight Night; Pro-Am Beach Soccer; Red Bull Global Rallycross
Upcoming Events:  2019 MAAC men's and women's basketball tournaments; Indoor Auto Racing Championship; Amerikick Internationals karate championships
Buffalo, New York
Detroit may call itself Hockeytown, but Buffalo could give it a run for the claim. And that just scratches the surface of the attractiveness of this sports-friendly city to event organizers.
"Buffalo has emerged as a top-tier destination for college and amateur athletics as it has invested in new and updated sports facilities, built hotels, opened restaurants and added amenities," said Patrick Kaler, president/CEO of Visit Buffalo Niagara and the Buffalo Niagara Sports Commission.
In addition to its facilities, Buffalo offers more than 2,000 hotel rooms in its downtown, plus more than 10,000 rooms throughout Erie County.
Water—both frozen and liquid—are prominent in the city's sports scene. As part of an effort to upgrade its waterfront district, the city came up with a bold plan. The result was the $170 million HarborCenter. Occupying a 1.7-acre city block, it includes a 205-room Marriott hotel, retail, dining and two NHL-size rinks linked to KeyBank Center—home of the Buffalo Sabres—making it the only three-rink complex in the NHL.
In the winter of 2017–2018, the city played host to the IIHF World Junior Championship at Harbor Center and KeyBank Arena. The event also featured an outdoor game between the U.S. and Canada at the Buffalo Bills' New Era Field. Despite frigid, snowy conditions, the game drew an attendance of 44,592.
Another prominent hockey spot is the Northtown Center, which has played host to multiple USA Hockey national championships over the years.
Buffalo is also building an impressive swimming reputation. The city is a seven-time host of the NCAA Division II Men's and Women's Swimming and Diving Championships and the 2018 MAAC championships, with 50-meter competitive pools at the Burt Flickinger Center at Erie Community College, a legacy of the 1994 World University Games, and the University at Buffalo's Natatorium, with seating for 1,000.
Among its outdoor events, Buffalo has hosted the NSA Girls Fastpitch World Series at the Amherst Audubon Recreation Complex, with five softball and two baseball diamonds, and Sunshine Park, with seven softball fields.
About Buffalo, New York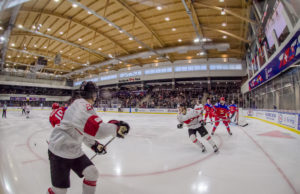 Key Venues: HarborCenter (connected to the Buffalo Sabres' 19,000-seat KeyBank Center, the venue includes two NHL-size rinks and a 5,000-square-foot off-ice training facility); Burt Flickinger Athletic Center (50-meter, eight-lane swimming pool, a 25-meter warm-up pool, three regulation basketball courts and a 3,000-seat fieldhouse); Northtown Center (1,800-seat, 185,000-square-foot facility with three NHL-size rinks and one Olympic-size rink)
Recent Events: IIHF World Junior Championship; NSA Girls Fastpitch World Series/B Division; 2018 MAAC Swimming and Diving Championships
Upcoming Events: 2019 NCAA Men's Ice Hockey Championships; 2019 NHL Combine
Prince George's County, Maryland
The Maryland county southeast of D.C. calls itself "Sports Capital USA," and it backs up its claim with great facilities and big-time events.
Prince George's County, with a population of nearly a million, was able to lure Washington's NFL team to Landover, Maryland, in 1997 when late owner Jack Kent Cooke pulled out of RFK Stadium. The 82,000-seat FedEx Field and the county have since fended off numerous attempts by surrounding areas to poach the team.
Prince George's is much more than home to a premier NFL franchise, however. The county boasts venues for 18 sports, including sheets of ice for hockey and curling, equestrian tracks and major sports stadiums. So the "Sports Capital" claim may not be far off the mark.
"It's a bold claim," admits Carl Smith Jr., marketing manager for Experience Prince George's County. "We've utilized it for a long time."
Being adjacent to Washington, D.C., is a big selling point, according to Smith, but the advantages of Prince George's County over its neighbor are space, price and versatility.
"We are open to any events," Smith said. "There's really no limit, from pro through youth."
Adjacent to FedEx Field is one of the county's gems, the Prince George's Sports and Learning Complex. Spread across 80 acres, the facility includes an aquatic center with a 50-meter pool and diving area, a field house for indoor track and field, a gymnastics center and an outdoor facility for football and track.
"When people think of D.C., the number of facilities is limited," Smith said. "Youth and amateur sports, softball and baseball venture into the suburbs."
Prince George's County has more than 10,000 hotel rooms, including clusters near venues in the key areas of College Park, Greenbelt, Largo/Landover, National Harbor/Oxon Hill and Bowie.
The county is also home to the renowned Gaylord National Resort and Convention Center, located on the banks of the Potomac River with views of D.C. It has ample meeting space and has hosted the U.S. Capitol Classics China Open martial arts tournament, Joola North American Teams Table Tennis Championships and the annual NCAA Convention.
In College Park, the University of Maryland has many facilities. The Junior Tennis Champions Center has 27 indoor and outdoor courts and the National Capital Curling Center is the premier venue of its kind in the D.C. area.
About Prince George's County, Maryland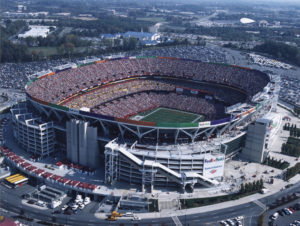 Key Venues: Prince George's Sports and Learning Complex (75,000-square-foot, 3,000-seat fieldhouse for indoor track and field; aquatic center with 50-meter pool and 1,000 seats; 5,500-seat Marvin F. Wilson Stadium with artificial turf field and 400-meter track; 25,000-square-foot, 1,000-seat gymnastics center with complete set of competition-grade equipment); Gaylord National Resort and Convention Center (600,000 square feet of meeting and event space); University of Maryland (College Park campus with wide array of venues including 54,000-seat Capital One Field at Maryland Stadium and Xfinity Center, a 17,950-capacity indoor arena and student events facility)
Recent Events: U.S. Capitol Classics China Open martial arts; WBC Featherweight Championship boxing Joseph Diaz vs. Gary Russell Jr.; USATF Masters Indoor Track & Field Championships
Upcoming Events: Capitol Classics China Open mixed martial arts tournament; Capital Challenge Horse Show; International Juniors Tennis Championship