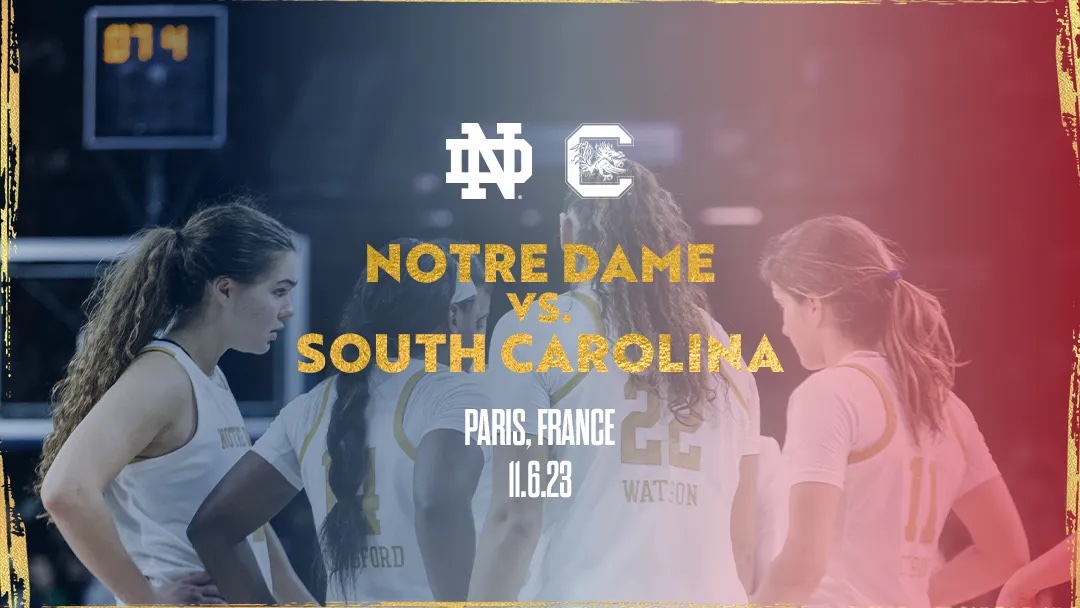 Notre Dame and South Carolina's women's basketball programs will open the 2023-2024 season with a game on November 6 in Paris, the first college game in the French capital ever.
"We did not hesitate to accept the invitation" said South Carolina coach Dawn Staley. "Playing Notre Dame in Paris is a once-in-a-lifetime experience for our student-athletes and I'm thankful for the support of our administration and our donors."
"Notre Dame is playing under the shadow of Notre Dame," Notre Dame coach Niele Ivey said. "We are absolutely thrilled to be heading to Paris to participate in this historic matchup between two storied women's basketball programs. It's always been my mission to break barriers and provide opportunities for my players to have life-changing experiences. Women's basketball is on the rise right now and having this exposure continues to grow the game on an international platform."
South Carolina was ranked No. 1 all of the past season and was unbeaten until the Final Four, where it lost to Iowa in the national semifinals when trying to repeat as national champions. South Carolina's Aliyah Boston, Brea Beal, Zia Cooke, Victaria Saxton and Laeticia Amihere are WNBA-bound after draft night on April 10 with all five women taken with the first 25 selections, including No. 1 overall pick Boston.
Notre Dame reached the Sweet 16 last month in the NCAA Tournament despite missing both of its starting guards due to injury. Notre Dame and South Carolina have faced off five times before, including three neutral site matchups. The last time the teams met was at the November 2017 Gulf Coast Showcase in Estero, Florida, where the Irish took home a 92-85 victory. Both teams have won two national championships, the Gamecocks in 2017 and 2022 and Irish in 2001 and 2018.
The contest will feature two of college basketball's most recognizable coaches in Ivey and Staley. Ivey was the 2023 ACC Coach of the Year and led her squad to a regular season ACC title this season. Staley is a four-time Olympic gold medalist (three times as a player, one as a coach) and the three-time Naismith Coach of the Year.
"I'm honored to coach alongside Dawn Staley and to continue to show that representation matters by having two Black female head coaches on this stage," Ivey said.
Game ticket packages and venue will be confirmed at a later date this spring, along with the television partner. The matchup was created by Complete Sports Management.