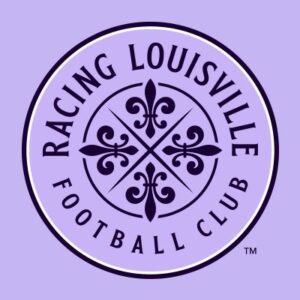 The newest club in the National Women's Soccer League will be known as Racing Louisville FC ahead of the team's debut next season.
Racing Louisville FC will start play in the spring of 2021 at the new Lynn Family Stadium in Louisville, Kentucky — also home for the city's USL team — while training daily at a new $15 million facility. The club's owners commissioned the Matthew Wolff Design firm, which created logos for Los Angeles FC and New York City FC, on its look. The team's logo combines the fleur de lis with a color palette of lavender and midnight violet.
"We couldn't be happier with the work Matthew has done in creating a unique and identifiable brand for Racing Louisville FC," said Soccer Holdings President Brad Estes. "The color palette and core elements in the crest allow for creative merchandising opportunities we hope our supporters will love."
The Racing moniker for the team also ties into the city that is home to Churchill Downs and the Kentucky Derby. The expansion team will be the 10th team in the NWSL, which is currently having its Challenge Cup tournament in Utah after the regular season was canceled because of the COVID-19 pandemic.
"We are very excited to launch our brand — a first step in bringing our team to life," said Soccer Holdings Executive Vice President of Development James O'Connor. "We have interviewed many coaching candidates in the last few months and are in the final stages of selecting our first coach for Racing Louisville FC. We will provide our supporters with a great technical team ranging from coaches to players who will benefit from our world-class stadium and training facilities."
Lynn Family Stadium, a soccer-specific facility east of downtown Louisville, will be able to accommodate 15,304 fans when at capacity while the new training facility at Champions Park will include 30,000 square feet of indoor space with separate locker rooms for the women's and men's clubs as well as seven fields.