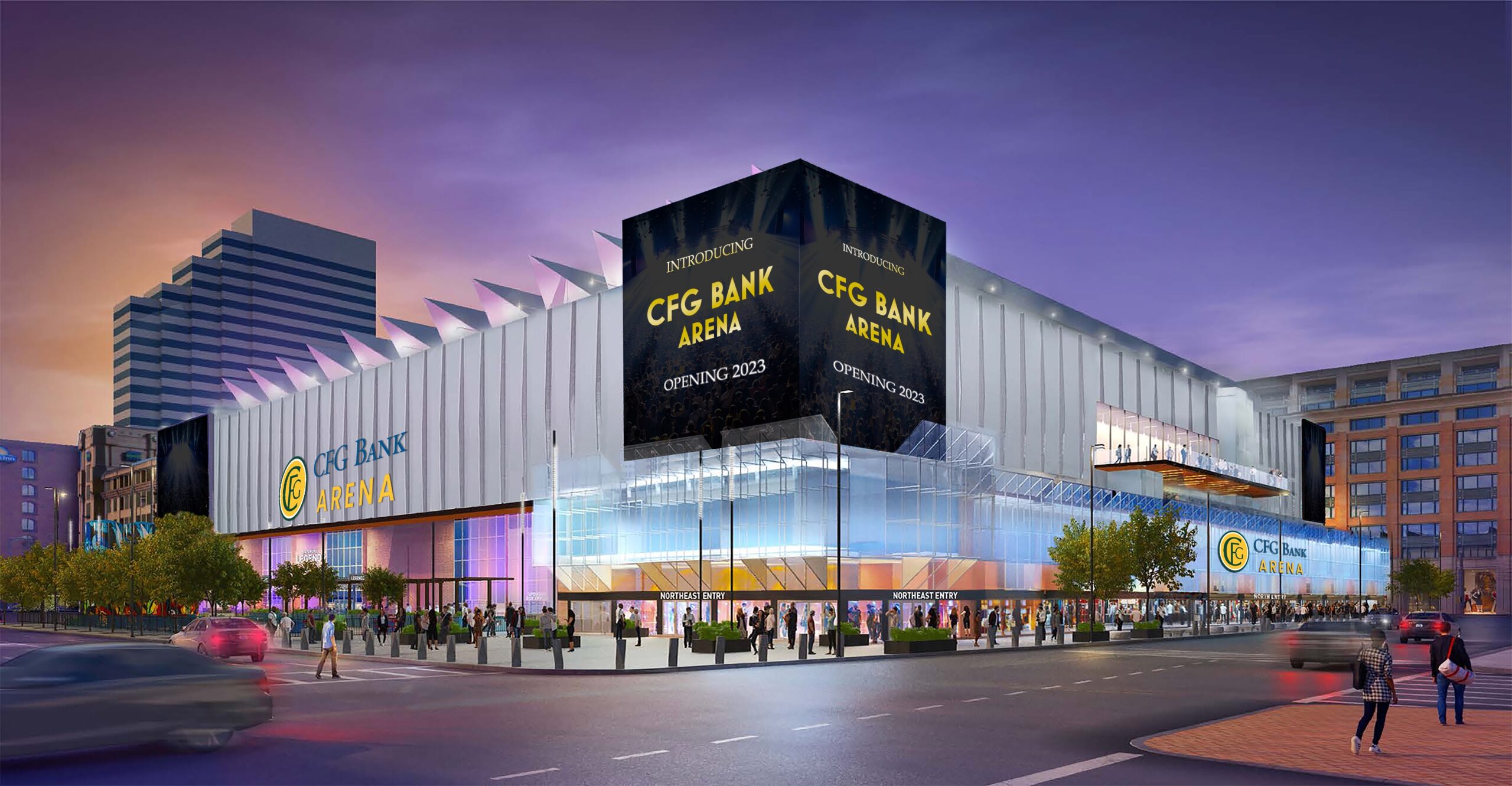 The renovated venue in Baltimore scheduled to open in February 2023 will be called CFG Bank Arena after a multi-year naming rights agreement announced Monday by Oak View Group and CFG Bank, which is headquartered in the city.
In addition to securing naming rights to the arena, CFG Bank's agreement includes prominent exterior and interior signage, exclusive benefits to CFG Bank clients, cardholders and team members. Financial terms were not disclosed. This is the first stadium or arena sponsorship for CFG Bank.
The arena is undergoing between $150 million and $200 million in renovations under an agreement backed by Oak View Group and Thirty-Five Ventures, an investment firm led by NBA star Kevin Durant in partnership with The Baltimore Development Corporation and Fundamental Advisors.
"CFG Bank has had a long-standing presence in the Baltimore area for nearly 100 years and we are pleased to have them on board as our naming rights partner," said Tim Leiweke, chairman and chief executive officer of Oak View Group. "CFG Bank understands our vision for the project and recognizes the economic need for a modern world-class arena. CFG Bank Arena will be a major destination for the biggest shows and be life-changing for the entire community."
Renovations include the removal of the permanent stage, adding seats and suites, refurbishing concourses, upgrading concessions areas and changing the building's appearance. In return, they will lease the building for the next 30 years through an entity called Baltimore Arena Co.
Once fully renovated, CFG Bank Arena will accommodate 14,000 guests. It is scheduled to open in advance of the CIAA Men's and Women's Basketball Tournaments from February 20-26, 2023. Opening in 1962 as the Baltimore Civic Center, the arena was once home to the NBA's Baltimore Bullets until the team moved to Landover, Maryland.
"We're thrilled to partner with Oak View Group and secure the naming rights for Baltimore Arena, now CFG Bank Arena," said Bill Wiedel, CFG Bank chief executive officer & president. "We are so much more than a traditional bank and this partnership is a great example of our entrepreneurial approach and how we do things differently to make change happen for the better. We have grown tremendously over the years and CFG Bank Arena reinforces our commitment to Baltimore and our leadership position in the banking industry."