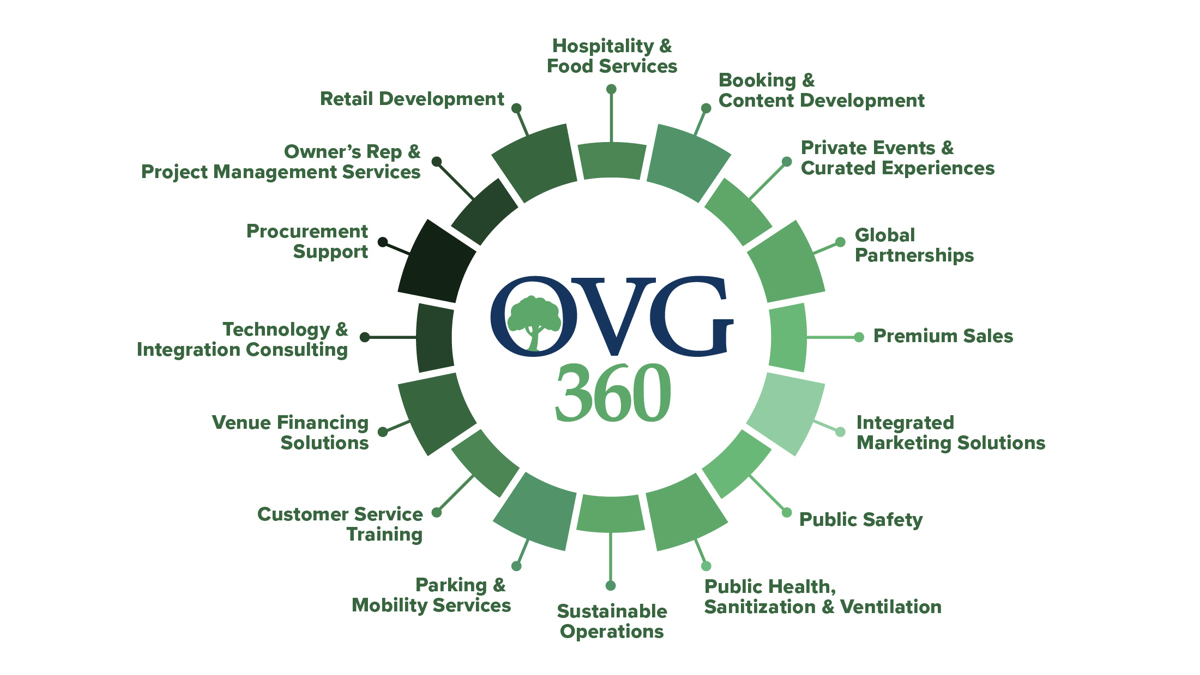 Oak View Group has rebranded its OVG Facilities division after its recent acquisition of Spectra and renamed the division OVG360. The new brand will also launch a sustainability initiative aimed at giving advice to venues on how to better combat climate change.
Along with its clients that includes arenas, stadiums, convention centers, performing arts centers, cultural institutions and fairgrounds, OVG360 will offer services focused on driving value for clients in every aspect of business. The new OVG360 is designed to offer expertise, resources and guidance in several areas for venue operators, including:
Hospitality & Food Services
Booking & Content Development
Private Events & Curated Experiences
Global Partnerships
Premium Sales
Integrated Marketing Solutions
Public Safety
Public Health, Sanitization & Ventilation
Sustainable Operations
Parking & Mobility Services
Customer Service & Training
Venue Financing Solutions
Technology & Integration Consulting
Procurement Support
Owner's Representative & Project Management Services
Retail Development
OVG360 will also assist venues and client-partners in addressing issues related to climate change. The company is introducing GOAL (Green Operations and Advanced Leadership), a program that will provide venues with advice on how their operations can be more sustainable. The new global consulting and certification program will focus on environmental sustainability, health and wellness, and equity and social justice in venues and communities.
"We need to act urgently, as operators and as humans, to make a difference in what is arguably the biggest fight of our lives," said Chris Granger, president of OVG360. "Sustainability, while critically important to all of us, is not a black-and-white issue. There are shades of green. Our opportunity is to meet venues where they are, across a number of different areas — water, carbon, waste, air quality, food sourcing, etc. — and provide them with a roadmap and tools that can help them operate more sustainably."
In November, OVG acquired Spectra, a leading food and beverage and hospitality providers, in to create a full-service live events company.