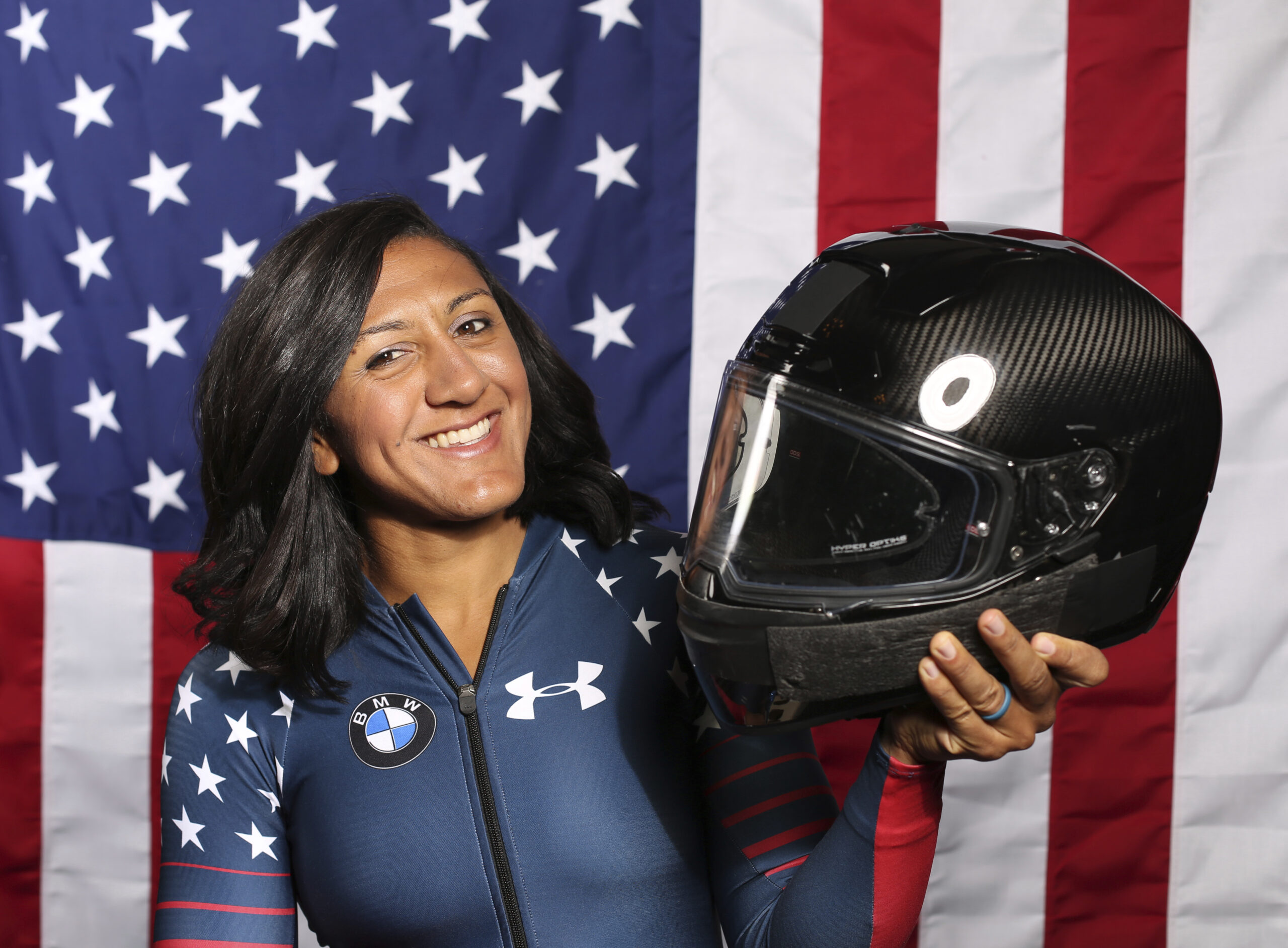 Elana Meyers Taylor, a four-time Olympian and five-time medal winner, has been elected by the United States Olympic & Paralympic Committee Athletes' Advisory Council to serve as an athlete representative to the USOPC Board of Directors.
The USOPC AAC, which serves as the representative group and voice of active Team USA athletes, is responsible for electing three of the five athlete positions on the USOPC board. Meyers Taylor's four-year term will start on January 1, 2023, and she is eligible for a subsequent four-year term subject to a vote of retention by the AAC.
"It's an incredible honor to be elected to the USOPC board of directors by the AAC to represent the athletes of Team USA," said Meyers Taylor. "The board of directors is a highly accomplished group of individuals and I am excited to work with them to serve all stakeholders – but most importantly the athletes. I am also honored to be taking over the board seat of fellow bobsledder Steve Mesler, who not only represented the athletes well but had a positive impact on the entire USOPC. I look forward to working to continue to improve the USOPC and to ensuring that we have the strongest national Olympic and Paralympic movements in the world."
The 18-member USOPC board is comprised of five athlete representatives – three AAC-elected and two at-large athlete-elected – along with three National Governing Bodies Council representatives and five independent members. Meyers Taylor joins fellow AAC-elected directors Daria Schneider and Brad Snyder. Current AAC-elected director Steve Mesler will continue serving through the end of his term on December 31, 2022.
"We are thrilled that Elana Meyers Taylor will represent USOPC athletes on the Board of Directors," said Mark Ladwig, Athletes' Advisory Council chair. "Elana has a true understanding of the movements and an unbridled passion for all sports, and she will be an excellent athlete voice on the Board."
Meyers Taylor has competed in four Olympic Winter Games, most recently competing in Beijing 2022 where she earned a silver medal in the Olympic debut of monobob and a bronze medal in the women's two-person bobsled event. She was elected Opening Ceremony flag bearer but was unable to participate due to a positive COVID-19 test upon arrival in China; she was then elected to carry the flag in the Closing Ceremony. Meyers Taylor has been an advocate for gender and racial parity in sport and served as the Women's Sport Foundation president, as an athlete director on the USA Bobsled and Skeleton Board of Directors and was appointed to the Georgia Council for Developmental Disabilities.
"Elana is a great champion and an excellent representative of Team USA," said USOPC Board Chair Susanne Lyons. "Elena was previously elected flag bearer for the U.S. delegation at the Olympic Winter Games in Beijing by her fellow athletes. Her election now as an athlete representative to the board is further testament to the great esteem in which she is held by her fellow athletes. She is dedicated to her sport, to her family and I have no doubt she will be an incredibly powerful voice for athletes in our Olympic and Paralympic community."