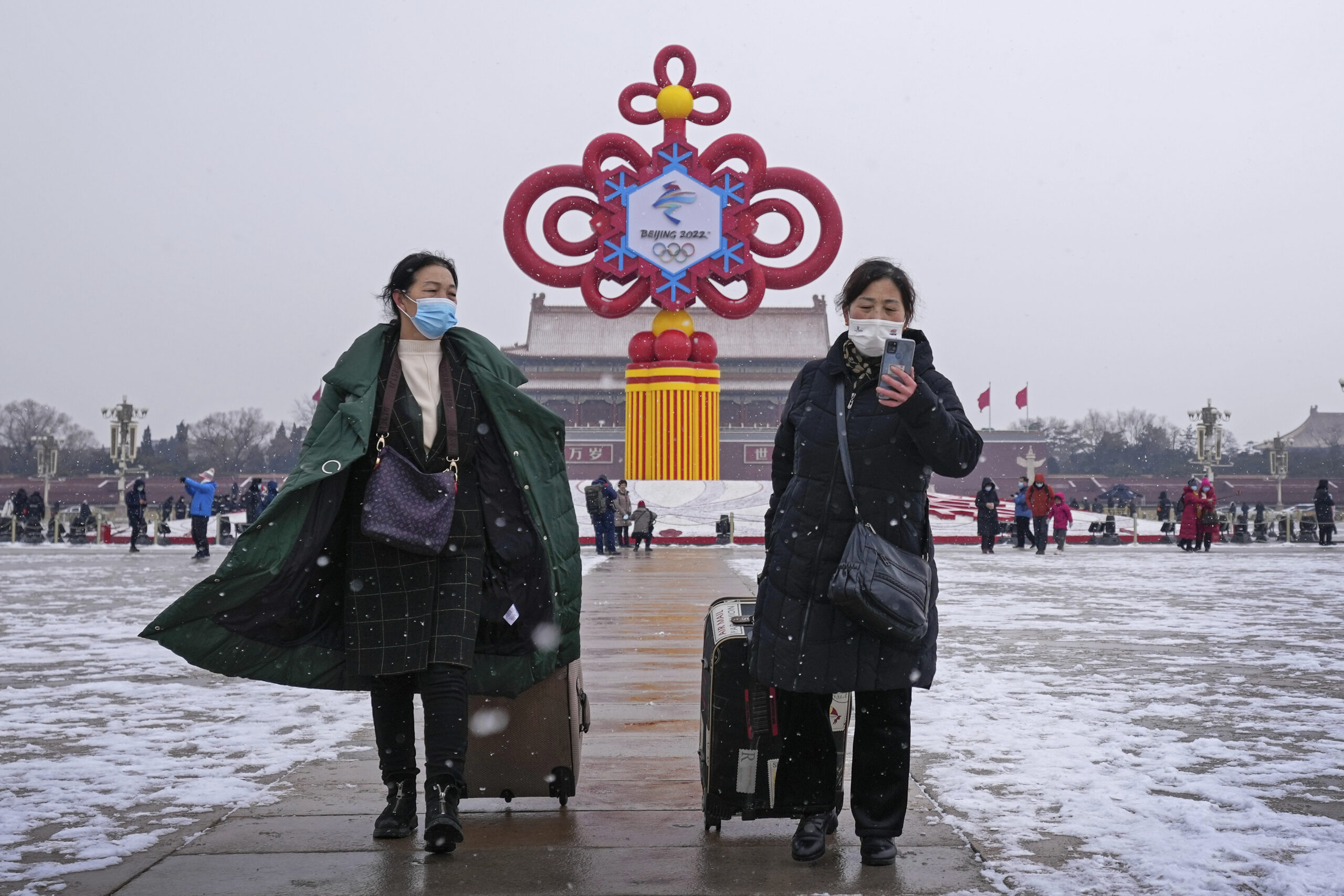 Given the zero tolerance for speaking out, there was expected resignation but acceptance among Chinese sports fans upon hearing this week's decision that they, like the rest of the world, will be shut out of attending events at the Olympic and Paralympic Winter Games in Beijing.
Organizers announced Monday that only selected spectators will be allowed. Access to the famed National Stadium, known as the Bird's Nest, and indoor venues have been sealed off as the omicron variant has heightened concerns about outbreaks; Beijing reported one new case Wednesday. Around 20 million people around China are under some form of lockdown and mass testing has been ordered in entire cities where cases have been discovered.
"It's a pity that I won't be able to watch the Games this time during the Winter Olympics," Chen Lin told The Associated Press. "Of course, we can still watch the Games with live broadcast on TV and live streaming online, but it doesn't provide as strong a sense of engagement as watching the Games on the spot."
Chen said the level of excitement in China was far below that of 2008, when the Summer Games brought an outpouring of national pride. "On the one hand, the Winter Olympics don't get as much attention as the Summer Olympics. On the other hand, there is also the pandemic. Both of them are the reasons," he said.
Olympic athletes, media and workers will be cut off from the outside world during the Games, with the only places they can go being competition venues, their accommodations and transportation between the two. China plans to isolate anyone who tests positive for COVID-19 for at least two days, pending a negative result. The country also has a mandatory 21-day isolation period for anyone entering the country who is not vaccinated.
USOPC Chief Medical Officer Jonathan Finnoff said every U.S. athlete heading to Beijing is fully vaccinated with no medical exemption requests.
"Vaccination is sort of the foundation of our COVID mitigation protocol," Finnoff said Thursday.
While fans in China are disappointed to be missing out on seeing events in person, one athlete who publicly said she was contemplating skipping the Games because of the conditions in Beijing has decided she will compete after all.
Germany's four-time luge gold medalist Natalie Geisenberger will compete after last month saying she was undecided because treatment from organizers at a test event in November. Geisenberger was quarantined after being deemed a close contact of somebody on the flight to Beijing who later tested positive. She also said that the food and conditions for athletes were not up to the standards expected by elite athletes.
"I tried to address everything that went so badly at our test event directly to the IOC," Geisenberger wrote in a post on Instagram. "Much has been assured and promised to me. I hope that this will now be implemented. … Now I have to hope for the best and I like to be positively surprised."
Geisenberger has won eight of the past nine overall World Cup titles and could equal Georg Hackl as the only luge athletes to win three consecutive Olympic singles titles.
"We have absolutely nothing to do with the decision to award the Olympic Games to Beijing," added Geisenberger in her Instagram post. "The IOC decides and we athletes are presented with a fait accompli. We only have the choice: do I fly there and give everything or do I just let my sporting dream burst so close to the end? The Olympic Games are not just any event, it is the greatest of all for almost every athlete and cannot be compared to anything in terms of sport."
The protocols for anybody, athlete or otherwise, testing positive in Beijing are strict enough that NBC will not be sending its announcers and most hosts to China.
It will be the second straight Games for which the broadcast teams will work mostly out of NBC Sports headquarters in Stamford, Connecticut, rather than the host city. The marquee sports of track and field, swimming and gymnastics had announcers in Tokyo. USA Today was first to report on NBC's decision for Beijing.
"With COVID's changing conditions and China's zero-tolerance policy, it's just added a layer of complexity to all of this, so we need to make sure we can provide the same quality experience to the American viewers," said Molly Solomon, the head of NBC's Olympics production unit. "That's why we are split between the two cities."
NBC Sports spokesman Greg Hughes told The Associated Press announcing teams for Alpine skiing, figure skating and snowboarding will be working remotely. NBC Olympics president Gary Zenkel is one of 250 people the network already has in Beijing. Most of those are technical staff.
Prime-time host Mike Tirico will anchor coverage from Beijing from February 3–10 before flying to Los Angeles to host the next three days and the network's coverage of the Super Bowl. NBC said it would determine over Super Bowl weekend where Tirico would be based for the final week of the Games.
"Our plans will continue to evolve based on the conditions, and we're going to stay flexible as we move through this," Hughes said.
Most expect the amount of time NBC devotes to human rights issues in China to be next to nothing — if not entirely nothing. On Tuesday, athletes were urged by human rights activists to avoid criticizing China because they could be prosecuted. The International Olympic Committee has said athletes will have freedom of speech when speaking to journalists or posting on social media. However, the Olympic Charter rule that prohibits political protests at medal ceremonies also requires "applicable public law" to be followed.
Asked about free speech at the Olympics, Foreign Ministry spokesperson Zhao Lijian said Wednesday that China understood the IOC banned athletes from political protests.
"I would like to reiterate that China welcomes athletes from all countries to participate in the Beijing Winter Olympic Games and will ensure their safety and convenience," Zhao said.
USOPC Chief Executive Officer Sarah Hirshland told The Associated Press on Thursday that it is holding informational meetings with athletes over the next week to reiterate the requirement of athletes to adhere to the host country's laws when considering any type of protest or demonstration.
"Certainly, the culture and laws of China are distinct from ours," Hirshland said. "And we have a duty and an obligation to make sure that they're well informed. At the same time we need to assure them that they've got a robust support team behind them along the way."