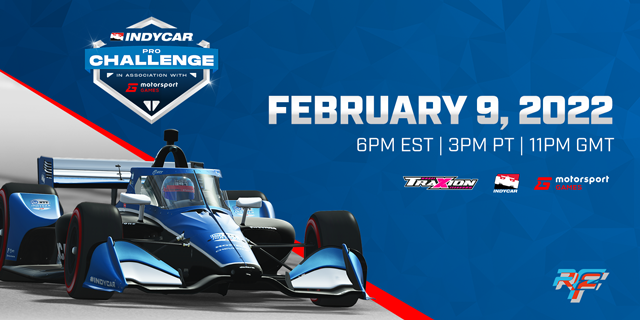 The IndyCar Series is getting into the esports racing scene with a Pro Challenge on February 9 held in partnership with Motorsports Games, Inc., and multiple drivers from the IndyCar Series scheduled to compete.
The event is the first official esports event between the two parties. It is part of an exclusive agreement reached in July 2021 between IndyCar and Motorsport Games that will include a virtual series and an IndyCar video game expected to launch in 2023 on PlayStation, Xbox and PC.
"IndyCar fans are a passionate, global audience hungry for quality motorsports gaming content," said SJ Luedtke, IndyCar vice president of marketing. "With our partners at Motorsport Games, we are now able to bring those same fans a premier virtual esports experience while also cultivating a new base of IndyCar supporters and followers."
Among the drivers expected to compete are reigning champion Alex Palou of Chip Ganassi Racing, four-time Indianapolis 500 winner Helio Castroneves of Meyer Shank Racing and two-time series champion Josef Newgarden of Team Penske. The race will be shown on the IndyCar Series' YouTube channel. The track will be announced the day of the race, to add an element of mystery to the competition. The top three finishers will receive donations to a charity of their choice, with first place winning $10,000, second place $8,000, third place $5,000 and an entrant lottery of $2,500.
"The 2022 IndyCar-Motorsport Games Pro Challenge is our first foray into the world of esports with our new partners, and we couldn't be more excited to bring this competition to the fans," said George Holmquist, Motorsport Games vice president of marketing. "Viewers can expect the same world-class experience as our other esports events, such as the highly renowned Le Mans Virtual Series, to be carried over into this new series. We cannot wait to continue producing live esports events with IndyCar in the future, all leading up to our first game in 2023."