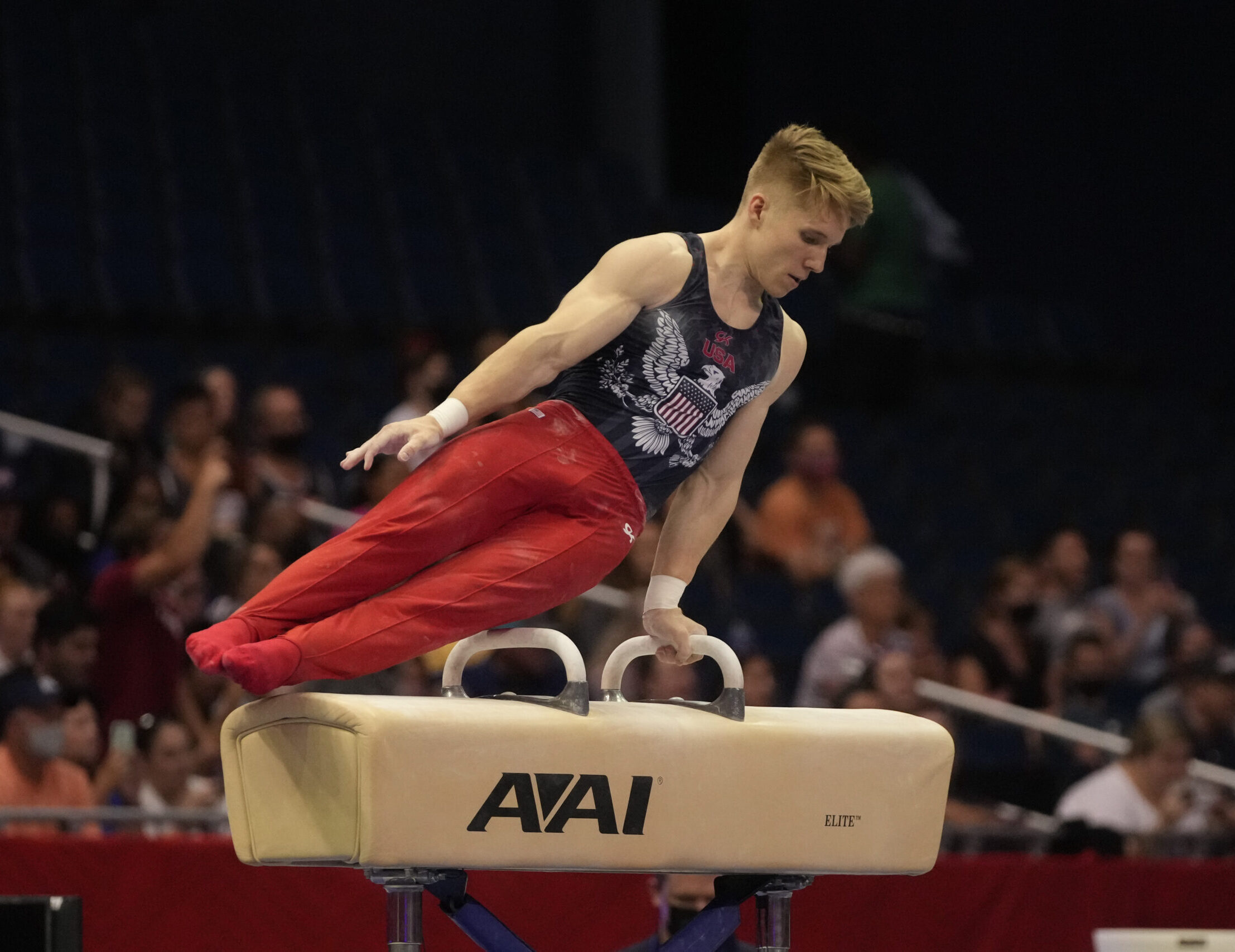 When the United States men's gymnastics team that had been selected for the Olympic Summer Games in Tokyo was announced, one thing stood out about the five-man group: Each was a college gymnast.
Sam Mikulak, the elder statesman of the team, was a three-time national champion at Michigan. Yul Moldauer helped Oklahoma win three NCAA titles and Alec Yoder competed at Ohio State. Stanford's Brody Malone is the current NCAA champion.
And then there is Shane Wiskus, who used to compete at Minnesota — past tense.
That's because the Gophers athletic department announced in October that gymnastics was among three men's sports that would be cut. So when the Gophers sent Wiskus congratulations on Twitter, it drew a quick retort from the new Olympian.
"I have not had time to look at my phone quite yet," Wiskus said. "We'll definitely have to send Mr. Mark Coyle a message or two," referring to the school's athletic director.
When the United States sent 613 athletes to Tokyo, 463 of them — more than 75 percent — came from the college sports system. But given the rising deficits throughout college sports — in part because of the pandemic, in part because of outsized spending toward high-profile sports — the issue of non-revenue or Olympic sports' place in the college sports system is perhaps debated more than ever before.
In one question from a survey sent by The Associated Press to Division I college athletic directors across the country in April, nearly 65 percent of those who responded said "Yes" when asked if the U.S. Olympic and Paralympic Committee should pay part of the bill to the universities that run sports programs that, in turn, feed the U.S. Olympic pipeline. And the USOPC has convened a task force which is looking for ways to keep the pipeline running for Olympic development.
"We definitely see this as a top priority for Team USA," said Rick Adams, the USOPC's chief of sport performance and NGB services. "We see this as a very important cog as we look at LA '28 and we look at a number of sports, not just on the Summer Olympic side of it. … 38 percent of the athletes on the Paralympic side come through the collegiate system, so we see this as an important issue."
College Sports Serve as a Pathway
It's not just the USOPC that sees the importance. Those within the national governing bodies that readily acknowledge why college sports is so important: Without a bankrolled Olympic training program like in other countries such as China or Russia, having collegians develop into Olympians is their lifeblood.
"The collegiate space plays a hugely important role in the development of our pipeline for our Olympians," said Jamie Davis, USA Volleyball's chief executive officer. USA Volleyball's men's and women's indoor volleyball teams, along with beach volleyball teams, in Tokyo are entirely comprised of former or current collegiate athletes.
USA Volleyball's development program for the national team starts with identifying kids as young as 12, Davis said. But when it comes to trying to make sure that those young athletes decide that volleyball is the path they want to take, "what they decide on what sport to play in high school depends on if they have a path to play in college."
For women's volleyball, the path is much wider; there are 312 Division I women's volleyball programs. But there are only 43 men's Division I volleyball programs.
Supporters of Olympic sports point to the paltry budgets most non-revenue sports have whenever schools say a sport is being cut for financial reasons. Minnesota's gymnastics program had a $750,000 budget; Coyle said it, along with three other sports, were being cut because of a budget shortfall that could reach $65 million. Along with Minnesota, Iowa cut its men's gymnastics program, leaving only 15 NCAA schools who sponsor the sport.
And rare is the school that does not face criticism when it announces it will be cutting sports. According to the Business of College Sports, 112 sports have been cut at the Division I level during the pandemic across 35 colleges and universities; 37 of those have been reinstated.
Then there is Stanford University. While no school was immune from pandemic-related expenses, Stanford is one of the schools that has the financial resources to withstand nearly anything, thanks to its wealthy alumni, boosters and parents of current students.
So when the Cardinal announced it would cut 11 sports, it sent shockwaves through the Olympic sport community. Among the cuts were not only fencing and rowing, but more recognizable sports such as men's volleyball, field hockey and wrestling — a sport in which the Cardinal's Shane Griffith wore a black singlet without Stanford's logo while winning an NCAA title in March.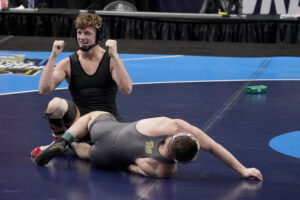 A group of former Stanford athletes called 36 Sports Strong raised several million dollars in pledges, proposed solutions to save the threatened sports and disputed the claim that eliminating them would ease the athletic department's budget deficit. After intense lobbying, the school changed its decision and said it would restore all sports thanks to "an improved financial picture with increased fundraising potential."
"We've had 15 Olympians come through the Stanford men's program," Davis said. "We worked very hard with Stanford, with the alums, with the volleyball community to make the case for the importance of that program."
The Tuition Factor
There are also schools that have, in the wake of ballooning deficits in college athletics, zigged where others may zag.
Farleigh Dickinson University in New Jersey announced it would add men's volleyball and women's lacrosse programs. The school's reasoning: While non-revenue sports have relatively small budgets — because those sports have large numbers of athletes paying tuition — the school can come out ahead financially.
"We want others to think this way," Athletics Director Brad Hurlbut told ESPN. "It's great for the growth of all these sports. It just shows the value of Division I athletics at mid-major schools."
FDU Associate Athletic Director Jason Young, according to ESPN, calculated that a men's volleyball team will cost $350,000 per year, but generate $470,000 in tuition payments; women's lacrosse will cost about $500,000 per year, but provide a net gain of slightly more than $100,000 for the university.
Tim Yount, USA Triathlon's chief sport development officer, said his organization has been able to advocate for seven new triathlon programs across all collegiate levels since January 2020 with a similar philosophy.
"You should still be able to reap revenue from an Olympic sport that does not generate a gate for you or eyeballs on the cable network for you," Yount said. "That's been a core message for us. The other is our athletes are extremely educated; the average GPA for our programs is 3.5."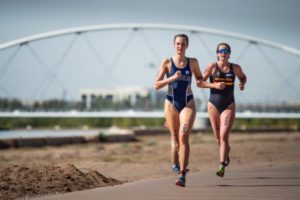 The hope for USA Triathlon, Yount said, is simple; that elite college athletes can become Olympians.
"There's no question that we see this as a huge foothold on what we can do to develop the next level of athlete," he said. "As you come through the pipeline, it had been junior league, then high school, then club — the NCAA has filled that void for junior elite athletes now. … It can be like USA Swimming, which has a huge foothold for collegiate athletes being good enough to represent the sport at the Olympic Games."
Providing Experience for Athletes
"It's sad to see Olympic sports go," Ryan Crouser said during the USOPC's Olympic Media Day activities. "They are not the big moneymakers like football or basketball tend to be. But they provide such an experience for kids."
Crouser would know — he is one of them. The world record holder in the indoor and outdoor shot put, this year in Tokyo he will attempt to repeat as a gold medalist in the shot put after winning in 2016 shortly after finishing his collegiate career at the University of Texas. Central Michigan and Minnesota cut both its indoor and outdoor programs over the past year while George Washington and Appalachian State cut their indoor programs.
"Track and field tends to be one of the most diverse teams on campus," Crouser said. "There is another shame to see especially in this day and age with the kind of social movements we're seeing and the positive changes, that right in the face of that we're seeing the most diverse programs get cut.
"I think with a lot of them, you are not making a ton of money off of the sports but just the benefit that athletics is providing to these student-athletes and universities is not in dollars and cents," he continued. "It is the diversity and the life lessons it is providing."
Beyond even the athletic side of the issue, what Crouser talks about is a lot of what the USOPC's sustainability think tank is trying to convey.
"I believe we're making good headway because we have members of the NCAA community, members from the NGB community and current or former national team athletes all working together to explain and show to the NCAA the importance they play but also look for ways to partner with them and say 'we're willing to step up and do this with you,'" Davis said. "There's great synergy with the USOPC and NCAA to be a win-win solution."