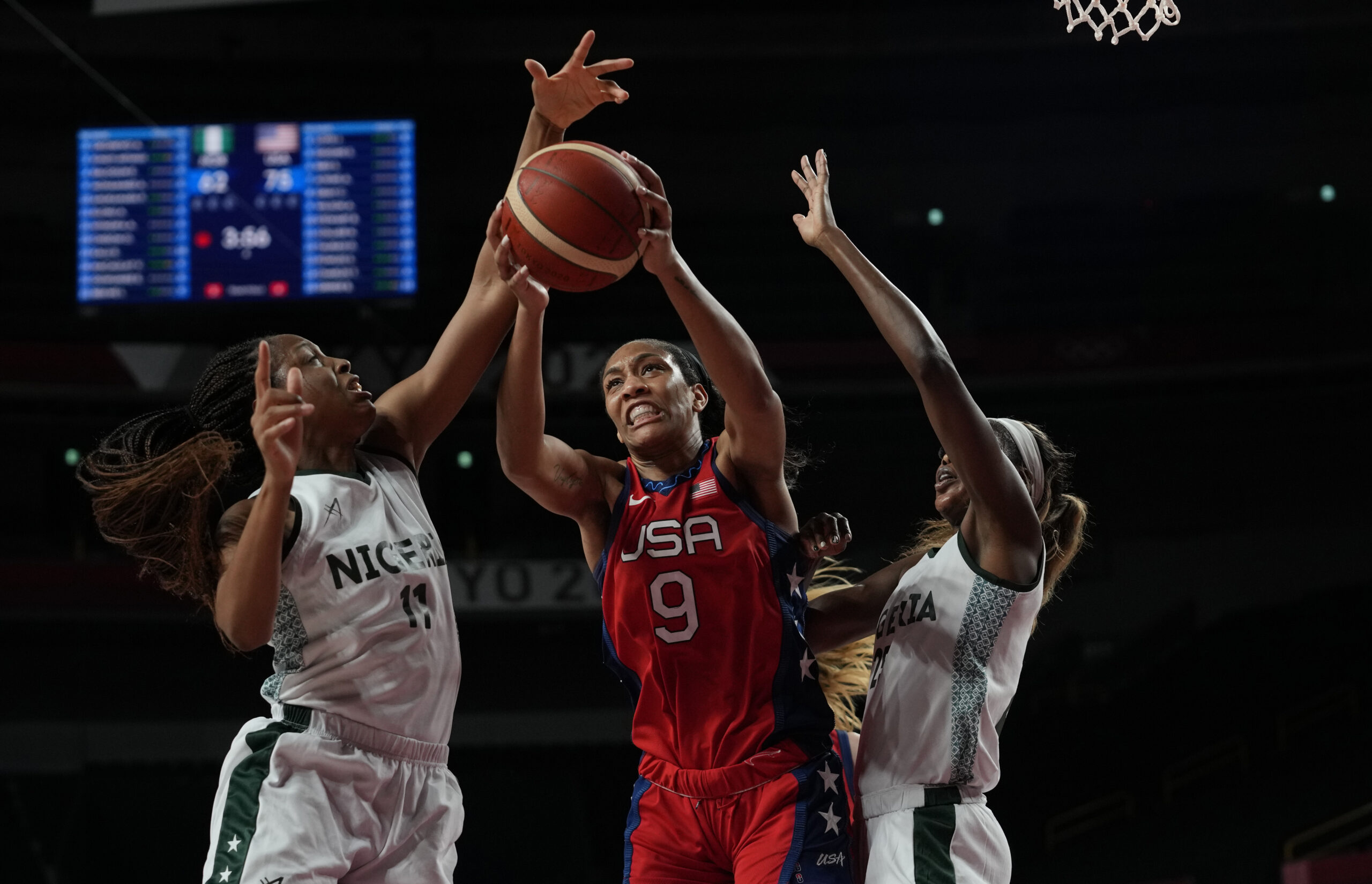 If you asked 100 people interested in this year's Olympic Summer Games in Tokyo which athlete they want to see the most, it's a safe bet the first name mentioned would be Simone Biles. Several may say Katie Ledecky. Others would say Allyson Felix, A'ja Wilson or Alex Morgan.
As the 50th anniversary of Title IX approaches next year, the infrastructure around women's sports has grown dramatically. And athletically, the proof is in the numbers. This year's U.S. roster in Tokyo has 329 women and 284 men, the third straight Games with more women on the team than men. At the 2016 Rio Games, women won 59 percent of the country's gold medals and 61 of 121 medals overall; in 19 of the 26 Olympic Summer Games in which American men and women competed for medals, women have won a greater share of the available golds than men.
"This is the biggest stage ever to really dial in on our sport and women's sports as a whole," Wilson said. "You don't have to necessarily watch sports all the time but when it comes down to the Olympics and focusing on just your country, it's all eyes on you."
The Olympics, perhaps more than any other worldwide event, has been a showcase for women's sports. When the Games go on in Tokyo, women will be in the spotlight more than ever — and with the spotlight and coverage of women's sports brighter than ever, women's individual athletes and women's leagues are well-positioned to capitalize on that spotlight after years of waiting for the business and sponsorship community to catch up.
"I think the best thing for women's sports in the Olympics is getting more eyes on more athletes," said U.S. women's soccer team captain Becky Sauerbrunn, whose team is going for its first gold since 2012 but has won two FIFA World Cups since then with millions of viewers watching. "A lot of these women have amazing stories."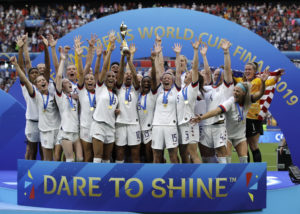 All Eyes on Women's Sports
The numbers make it clear: More attention will be paid to women's athletes than men in Tokyo.
A poll commissioned by AdWeek and Morning Consult in July revealed that 52 percent of 2,200 respondents said they planned to watch the Olympics — and the most-anticipated sport to watch was women's gymnastics, followed by women's swimming and then women's track and field.
Accounting firm Deloitte estimated that global TV and sponsorship revenue for women's sports will soon exceed $1 billion. In the past year-plus of pandemic sports TV watching, the WNBA and National Women's Soccer League experienced dramatic growth in viewership while many other men's sports saw decreases in ratings. The 2019 FIFA Women's World Cup delivered record audiences in the United States and Europe. In the ever-shifting new world of Name, Image and Likeness rights in college sports, women's athletes are primed to capitalize; Opendorse, an endorsement company for athletes, calculated during the NCAA Basketball Tournament that of teams in the men's and women's rounds of 16 with the largest and most monetizable social media followings, eight of the top 10 players were women.
"There's been a lot of eyes on women's sports, especially in the last year," said WNBA star Nnemka Ogwumike of the Los Angeles Sparks. "When it comes for us, on the inside looking out, I think most of us can say we always knew how cool we are and it's fun to see people on the outside really taking note. … I think now more than ever that we're experiencing a pivot and a true appreciation for women in sports."
And that is where the money — belatedly, many will point out — is starting to come into women's sports.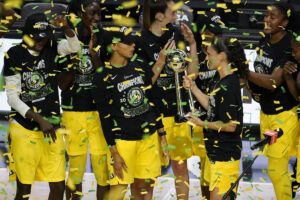 The WNBA, ahead of its landmark 25th anniversary season that is on an Olympic break, added three marquee partners last year in AT&T, Deloitte and Nike. Candace Parker of the Chicago Sky will be one of the cover athletes on the new NBA2K video game, a first for a WNBA player. The NWSL has four new national sponsors in the past year with millions in new investment made in the league's teams, most notably the expansion Angel City FC in Los Angeles.
Longstanding women's sports leagues are drawing new investments as well; the LPGA, in its 72nd year of existence, is offering a record $76.45 million in prize money with 34 tournaments around the world, two more than last year. And world governing bodies are getting into the act; World Rugby this year partnered with Mastercard on a five-year investment into accelerating the development of women's rugby after World Rugby's own research showed interest in women's rugby has increased double digits in the past two years.
"It's definitely an easier conversation today than it was even a year ago as I had seen women's sports and the momentum evolve," WNBA Commissioner Cathy Engelbert said before her league's season started. "But … I still believe our assets are undervalued, our narrative is undervalued and I think it's just because the spreadsheets and the models and the algorithms are set up for a time in the past that hasn't evolved with the diversity, equity, and inclusion of the future."
The issue of value is a notable one. With the exposure and spotlight that women's sports will have at the Games, there will be opportunity to capitalize on female accomplishments. And with the power that is social media and the reach that many female athletes have, in some cases exceeding those of male athletes, the ability to increase the value supporting women's empowerment abounds.
"I think what I keep coming back to is, we have no idea really what women's sports' value is," U.S. soccer star Megan Rapinoe said. "All I know is we have been able to be this successful with the lack of resources and the lack of funding, and the lack of investment, all of the things that we talk about."
A New Model for Women's Sports
Because of a landscape that has often been ignored, women's sports can also be a place where the traditional sports paradigm gets disrupted — and that is where Athletes Unlimited comes in.
Teams that change each week. Points based on individual statistics. No coaches, no owners, everything decided by players. Instead of teams representing cities, every game in one destination. Now that is a different way to run a league.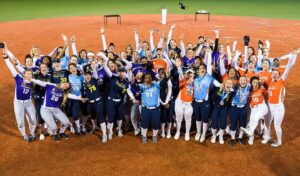 That is the Athletes Unlimited way, starting last year with softball outside of Chicago and then continuing in the winter with volleyball in Fort Worth, Texas. As the Opening Ceremony starts in Tokyo, women's lacrosse for Athletes Unlimited will be starting in Maryland — with the second softball season starting August 28 in Chicago once the Games are finished.
Each sport is organized in similar fashion. Each week, four players atop the leaderboard in points become team captains and draft teams for the next week of competition. At the end of the season, the player leading in the standings is crowned Athletes Unlimited Champion. Finding broadcast partners was not hard. All 30 of last season's softball games were either on TV or streamed by ESPN and CBS Sports Network; 22 of the 30 volleyball matches were streamed or over the air between CBSSN and Fox networks. The 30-game lacrosse season will be shared on broadcast and streaming between CBSSN, Fox Sports, Facebook and YouTube.
It all stems from a connection in 2018 between Jon Patricof, then the president of Major League Soccer's New York City FC, and investment manager Jonathan Soros. After six months of talking over ideas and how to disrupt the established professional league model, they settled on what is now the AU model focusing on the player-fan relationship — hence the focus on individual point totals rather than a team.
"I took a look at the women's side of (soccer) and thought there was so much untapped opportunity," Patricof said. "Then I looked more broadly and opened up my eyes to women's sports in general and just saw all the larger areas where the potential was untapped."
Starting with women's softball and volleyball were natural choices, Patricof said, because of the popularity of those sports on the collegiate level, the success of U.S. teams internationally and to give players the chance to earn money playing professionally without having to spend most of the year playing abroad.
"My goal was to try and find a place where they could play in the U.S. and be seen in the U.S.," said USA Volleyball Chief Executive Officer Jamie Davis, who helped in forming the volleyball league. "The great thing about the partnership with Athletes Unlimited is the quality of play is very high. It was broadcast on platforms such as Fox and CBS, so it was being seen. And these women now become role models for younger players coming up, so it helps our pipeline even more."
Athletes Unlimited also looked what has made events such as the Olympic Games or College World Series bring in dedicated fan bases and decided that instead of having teams in multiple cities, "why not create this amazing event that people can go to for five weeks a year and make it an event of national and international significance," Patricof said.
That philosophy works perfectly with the tradition of softball tournaments. And one thing that AU has already done for the sport is bring in non-traditional sponsors to the sport, AU Softball Senior Director Cheri Kempf said.
"When you have existing products, you know what the market share is," said Kempf, who has been part of the U.S. softball scene since the early 1990s between her careers as a player, coach, TV commentator and commissioner of National Pro Fastpitch. "I think what you see are women who want this opportunity and want to engage and are willing to work with sponsors in a different way. If you have the vision to understand that this product is nowhere near its potential and nowhere near its height, I think people will get on board with that."
The Olympics Carryover Effect
The amount of screen time for women's sports on television and through streaming platforms cannot be discounted. The NWSL has every game available on streaming through Paramount Plus; the WNBA's broadcast deals this season include games on Amazon Prime. With NBC planning thousands of hours of Olympics coverage between its network channels and Peacock, the ability to get visibility abounds. For a sport like softball, whose College World Series ratings often outdraw their baseball counterparts, being back in the Games this summer for the first time since 2008 is a prime opportunity to capitalize on.
"An Olympic year always gives the sport a shot in the arm and I don't think this year will be any different," Kempf said. "And then they're going to come back to Athletes Unlimited after the Olympic Games. It's a carryover effect, it does not dissipate quickly."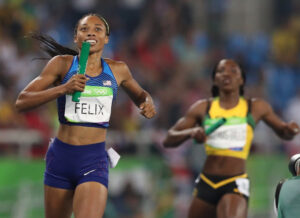 With the eyes of the world upon Tokyo more than ever before, the already-increasing prominence of women's sports on an individual and team basis shows no signs of slowing down. And with women's athletes having more power and attention than ever before, the mantra of 'women lifting women' is bringing real change in sports. Felix, the track star who left Nike two years ago and called for brands to provide maternity protections for athletes, this summer is partnering with her new sponsor, Athleta, and the Women's Sports Foundation to create The Power of She Fund: Child Care Grants, which has committed $200,000 to professional athlete mothers with the goal of covering childcare costs as they pursue goals in their respective sports while balancing motherhood.
And whether it's softball or swimming, gymnastics or soccer, track and field or volleyball, the next two weeks promise to be a celebration of female sports not only for those who compete for the United States but around the world.
"For our sport to be on the biggest stage in all of sports is extremely critical," said U.S. softball outfielder Haylie McCleney. "We want to constantly get our game in as many living rooms and as many family rooms. I think when you put softball on the biggest stage, more little girls will want to play it, more little girls will want to sign up, more little girls will want to come into our sport and realize how many life lessons they can learn from it. They will want to be us. That's the point of us playing. And really just in women's sports in general — the more stories we can get out there, we have so many cool stories to tell. If you give us a chance and listen to us, see what we're experiencing, see what we're going through, you will like what you see. I guarantee it."