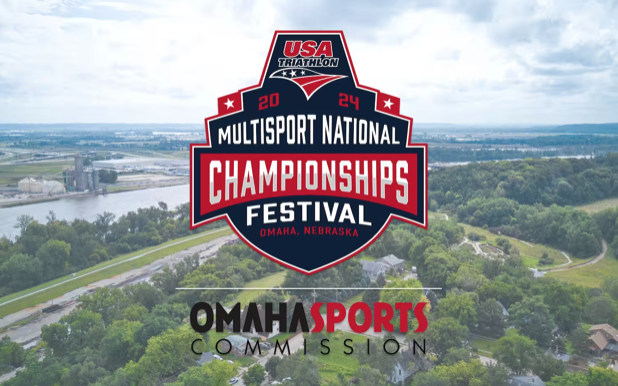 Omaha, Nebraska will host the 2024 and 2025 USA Triathlon Multisport National Championships Festival at Lake Cunningham, June 5–9, 2024. The event will bring together the nation's best multisport athletes as they compete in 12 events across multiple race formats along with nine National Championship Events.
"We are thrilled to continue our Multisport Festival in Omaha next year," said Victoria Brumfield, USA Triathlon chief executive officer. "This event has become an event where we are able to come together as a community and celebrate multisport and our athletes. Whether it's someone's first race, they're coming back to earn another multisport master belt buckle, or taking the opportunity to qualify for Team USA, we're excited to partner with Omaha to create a can't-miss racing experience."
USA Triathlon will host the event in partnership with the Omaha Sports Commission and the city of Omaha.
"The Omaha Sports Commission and the entire Omaha metropolitan community is honored to welcome USA Triathlon back to our city," Omaha Sports Commission President and Executive Director Lindsay Toussant Brown said. "The sport of triathlon is significant to many in our community, and we are thrilled to have these exceptional triathletes spend five days with us to achieve successes and explore what our city has to offer."
Athletes are encouraged to participate in multiple disciplines at the event. Anyone who completes five or more races will earn the honor and a special belt buckle commemorating the feat.
All races will be held at Lake Cunningham, a 390-acre lake surrounded by a 1,050-acre park. The lake was constructed by the U.S. Army Corps of Engineers for flood control and recreation and opened to the public in 1977. After 1977, it underwent significant renovations beginning in 2017 and reopened in August 2021.
Omaha previously hosted the 2016 and 2017 Age Group National Championships, which events occurred at a different venue with different courses.
Wednesday, June 5
Open Water Swim Competition
Thursday, June 6
Standard Aquabike National Championship
Super Sprint Triathlon Time Trial National Championship
Super Sprint Duathlon Time Trial National Championship
Friday, June 7
Standard Duathlon National Championship
Standard Aquathlon National Championship
Saturday, June 8
Draft-Legal Sprint Duathlon National Championship
Draft-Legal Sprint Triathlon National Championship
Youth Triathlon
Sunday, June 9
Mixed Relay Triathlon National Championship
Individual Medley Triathlon
Mixed Relay Duathlon National Championship