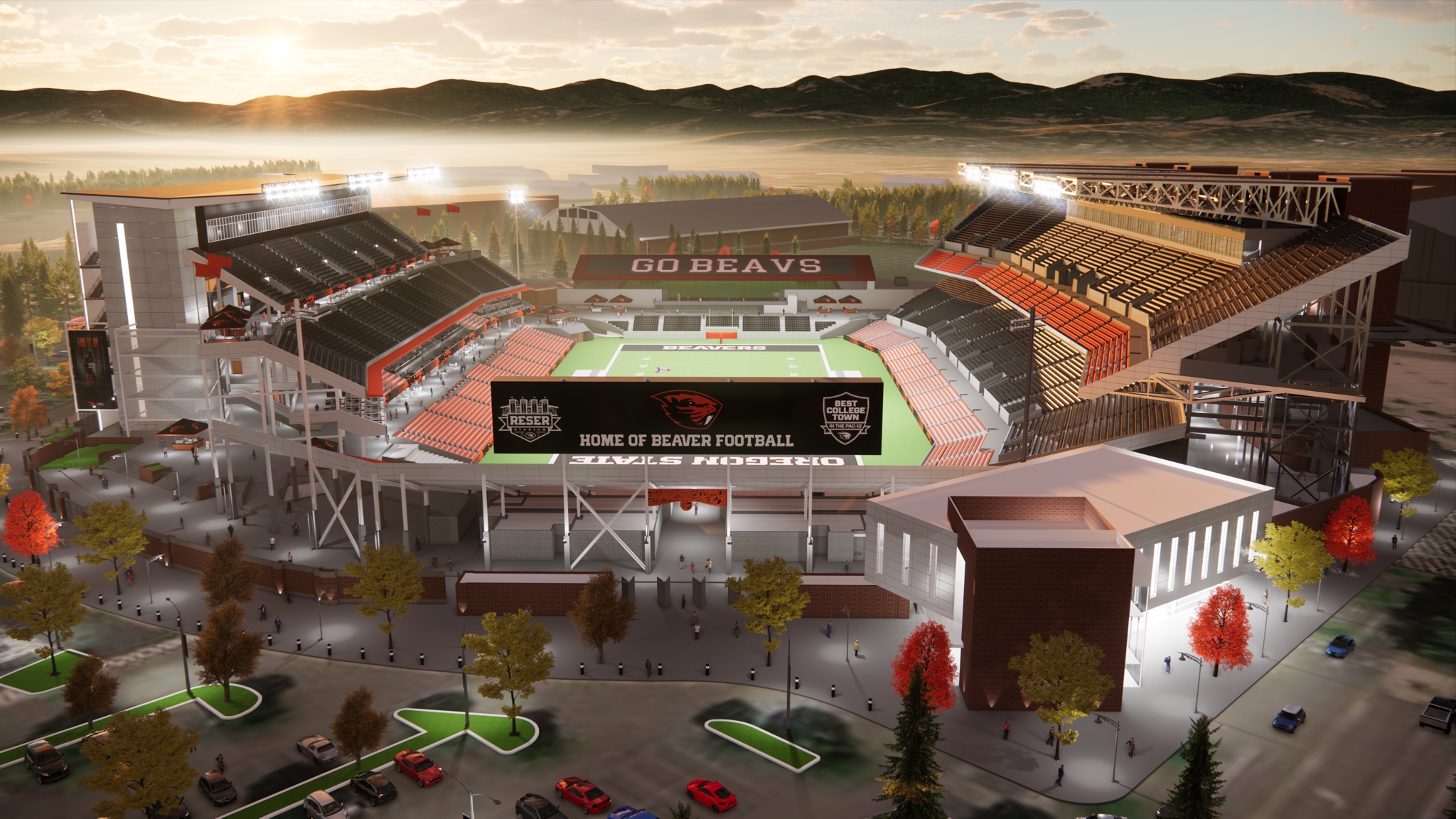 Oregon State University's Reser Stadium will undergo a renovation as part of a $153 million project approved by the school's Board of Trustees as part of an overhaul of the Beavers' football facility.
An anonymous donor has made a $50 million lead gift toward the renovations of the venue in Corvallis, which will include a full renovation of the stadium's west side. Construction upon final approval would begin after the 2021 season is completed with the goal of being finished before the start of the 2023 football season.
Oregon State will continue to play home games at Reser Stadium during construction with potentially a downsized capacity from its current 45,674. The venue was built in 1953 and has undergone several updates, including an east side renovation with a double-decked grandstand in 2005.
"I am grateful for our donors' incredible generosity and enthusiasm for this project," said Scott Barnes, university vice president and director at Oregon State. "By completing Reser now we ensure the long-term financial sustainability for the OSU Athletics Department and all student-athletes. Increased revenue will provide financial stability throughout OSU Athletics where 70 percent of the revenues required to operate 17 women and men's varsity sports are generated from football and Reser Stadium activities."
The project involves the demolition and rebuilding of the west side of the stadium and the construction of year-round facilities beyond football for the broader university community. In addition to the $50 million gift, a separate anonymous gift of $10.5 million has been made to the project along with other Reser Stadium gifts to the OSU Foundation. The project has an overall fundraising goal of $85 million.
When finished, Reser Stadium will feature a 360-degree stadium concourse and include expanded concessions and restroom facilities, enhanced sightlines, accessibility improvements and other fan amenities.
"This lead gift represents significant momentum in advancing this transformative project for all of Oregon State University," said Oregon State President F. King Alexander. "Thanks to the leadership and generosity of many, philanthropy continues to advance Beaver athletics and all of Oregon State University. This national best-in-class stadium will serve all of our university's students, faculty and staff; will provide for an enviable fan experience on game days; and will continue OSU's significant investments in Beaver football and in athletics programs for all OSU student-athletes."