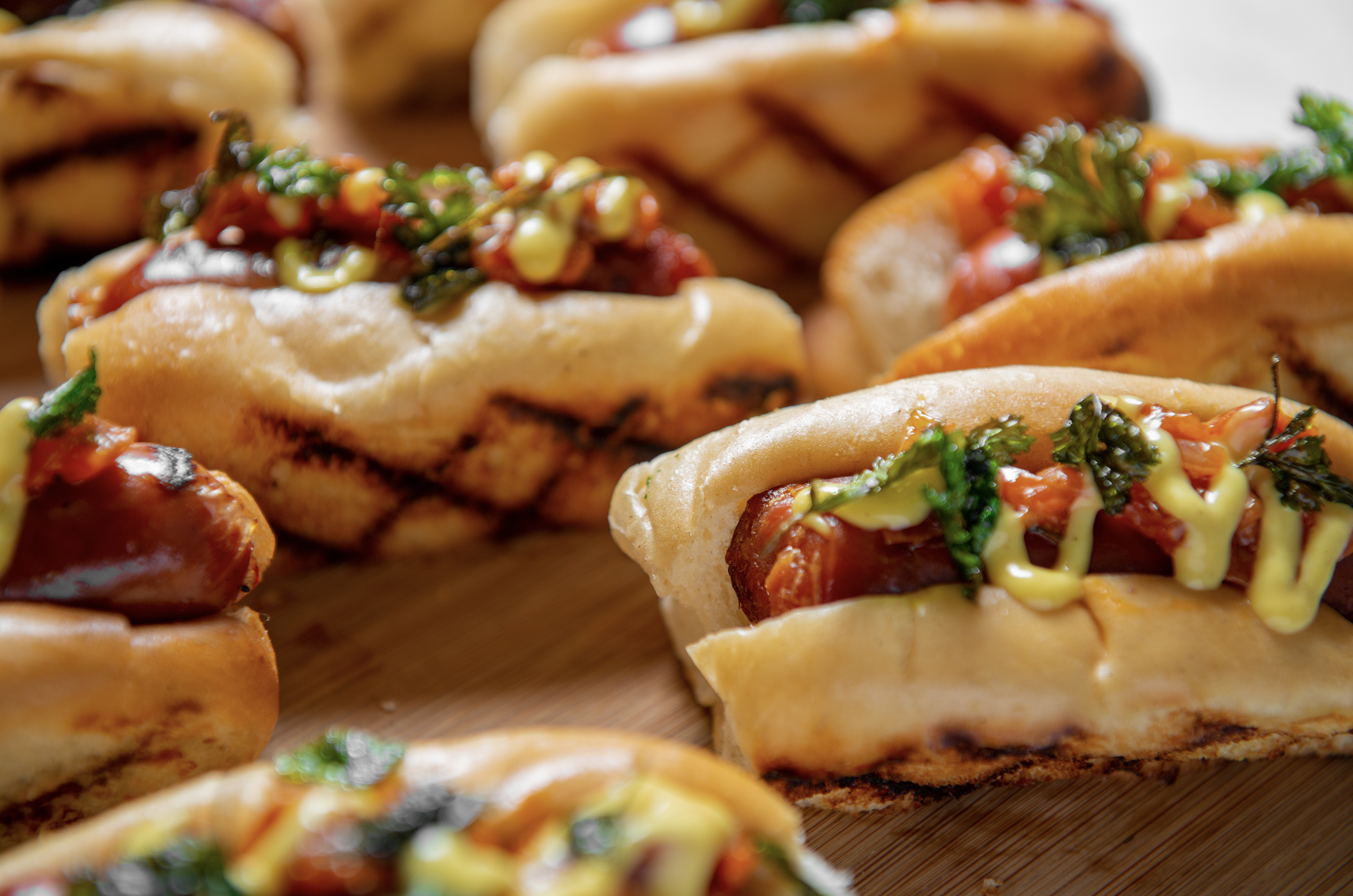 The College Football Playoff National Championship may have looked the same on the field as any other recent year: Alabama won, again — its sixth title under Coach Nick Saban since 2009.
But for the 14,926 fans who attended the January 11 game at Hard Rock Stadium in Miami, the experience was anything but normal. Reduced capacity and social distance rules made for a different, if not quieter, atmosphere than what Alabama and Ohio State fans have been used to during their teams' many recent appearances in big games.
One of the most notable experiences that changed was at the concession stand.
That was the challenge for Centerplate, the organization in charge of food services at the stadium and a company that has had to adapt as much as any in the COVID-19 landscape. The company, owned by Sodexo, may have to adjust again if the NCAA allows spectators into the Final Four in March, as Centerplate provides a similar service at Lucas Oil Stadium in Indianapolis where the final rounds will be held. Lucas Oil Stadium will also host next season's CFP national championship.
SportsTravel recently caught up with Centerplate CEO Steve Pangburn on ways the concession experience has changed for fans that have already returned to NFL stadiums (the company provided concessions at Colts, Dolphins and Saints games this season) and what the future might hold for spectators when they come back in earnest later this year. Here are some of the trends he identified.
Fans Are Embracing Mobile Ordering
For years, teams have been expanding their offerings to fans who want to order food through an app while they're at the stadium. But now, the interest in mobile ordering has grown.
At Hard Rock Stadium, attendees had the option to order food and drinks through the stadium's app, then pick up that food or beverage at a specific concession stand at a specific time. Meanwhile, those who wanted to stroll up to a concession stand and order from a menu retained that option as well.
"Fans don't like to be forced into one way of doing something," Pangburn said. "So they don't want to see all mobile ordering. When they have that choice it makes that fan experience even better."
"Fans don't like to be forced into one way of doing something.
So they don't want to see all mobile ordering."
Steve Pangburn/Centerplate CEO
The result of more fans ordering by phone? Shorter lines for those who wanted to order at the stand, and virtually no lines for those who picked up their order at a specific location.
"Lines are gone and fans love that," Pangburn said. "They don't want to stand in a line. They want to stand up, order their food and get back to their seats."
Moving forward, expect the ability to order via an app to become an increasingly attractive option in ways it never was before the pandemic. Fans who were on the fence about the experience are likely to embrace the option from here on out. And while lines are short or non-existent now, that may not hold when full stadiums return. But the willingness of fans to embrace mobile may well reduce lines in the future.
Cash May Be Gone Forever
All concession transactions, whether on the app or at the stand, were done without cash at the CFP title game. The main purpose was to limit hand-to-hand interaction of money. Many fans have been gravitating toward cashless purchases for years, but it's possible cash may be gone for good when stadiums and arenas reopen in earnest.
In addition to cashless being quicker and more secure, there has been another benefit from Centerplate's perspective: Fans are spending more.
"Because there's no line, people are ordering multiple times during the game," Pangburn said. "That's not just through the app but through the concession stands. The per caps are going up by 30 and 50 percent depending on the event and game. About 15 percent of that is coming from cashless. That's been very positive."
Fan Favorites on the Menu
To streamline concession services, Centerplate reduced its menu options at NFL games and the CFP championship. After analyzing fan interests, the company chose to stick with the basics.
"They definitely want the hot dogs, hamburgers, chicken tenders—people love that," Pangburn said. "It's quicker."
At Hard Rock Stadium, fans did have the option to purchase one of the stadium's signature dishes: the Cubano sausage.
And all items were individually packaged, which was a new experience for many. That includes food that was available in the suites, which traditionally are on display for people to take in as a group.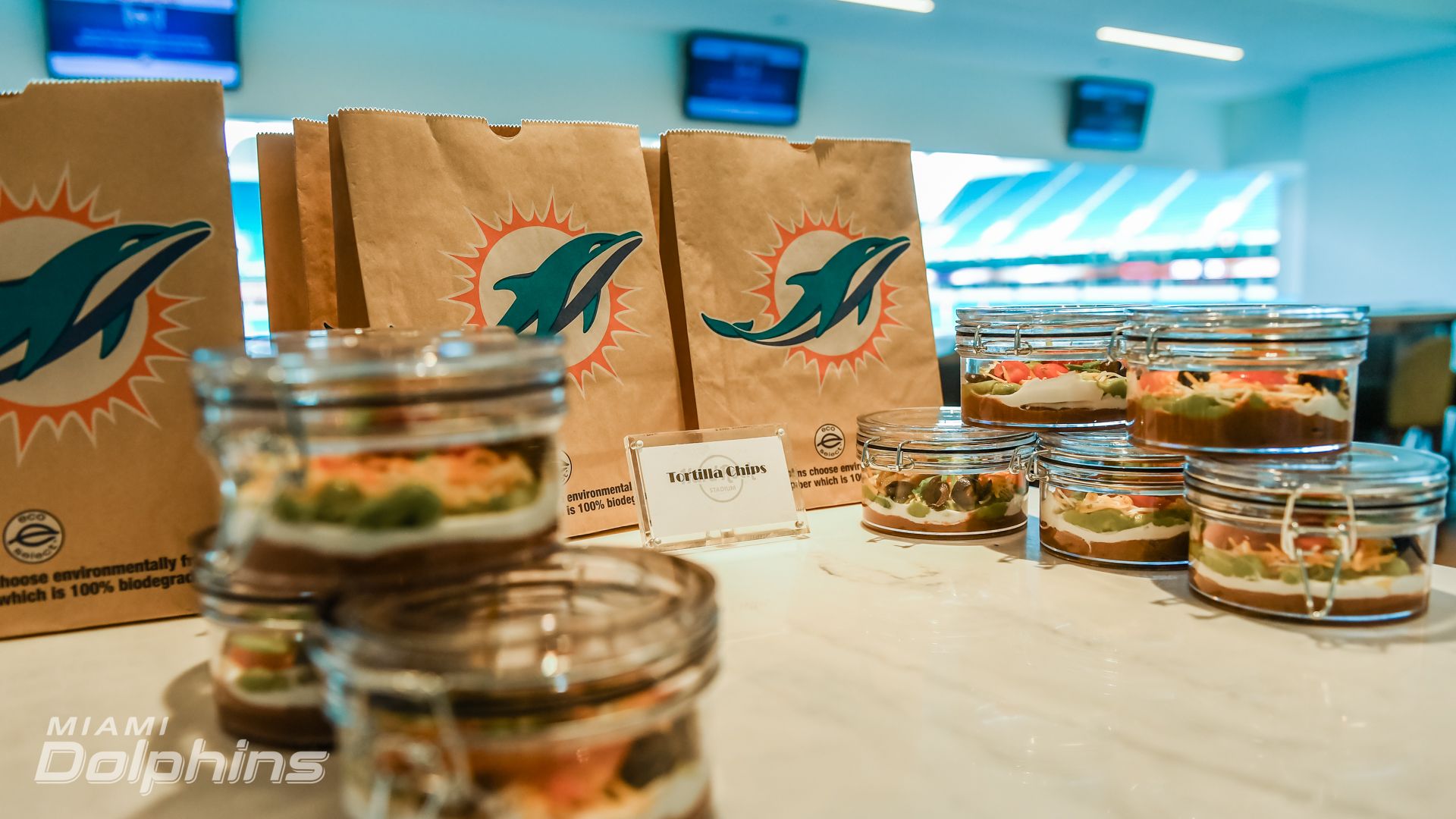 Despite fewer fans in the stands, Centerplate kept the majority of its concession stands open in an effort to prevent additional gathering. "That's a decision we make with clients," Pangburn said. "We transformed several areas from concession stands into a mobile-order pickup location. Some of that transformation was done based on the expected level of mobile ordering."
Pangburn also noted that the company chose not to raise prices on its menu items despite fewer fans being in the stands.
"We wouldn't be seeing the fans as elated as they are if we were crushing them all on pricing," he said. "It's obviously a sensitive issue."
Hawkers Take a Seat
"Beer here!"
That's a cry you won't hear at Hard Rock or other stadiums, at least during the pandemic. Hawkers walking the aisles to bring food and drink to your seat have gone by the wayside, at least for now.
"We generally prefer having our teams behind plexiglass," Pangburn said. "I think that fans are looking for that as well. It gives us a level of social distancing."
The End of the Condiment Stand?
One of the most challenging parts of the concession experience for fans has always been the condiment stand. The days of reaching for that spoon to put relish on your hot dog or squirting the top of that ketchup dispenser for your fries may be gone for good. At least Pangburn hopes so.
In addition to being a challenge to refill to keep up with volume, the communal sharing experience poses too many potential danger points and as a result, you may see the elimination of that stand for good.
An Obligation From the Fans
There is no doubt that food suppliers like Centerplate have an added responsibility to train staff and ensure fans they are getting the safest possible experience when it comes to food and beverages. But there is an obligation on the fans as well to play by the rules and be prepared for a potentially different experience when they return, Pangburn said.
"One of the messages is we all have our part to play," he said. "Our teams have a part to keep fans safe. But for the fans, if you're not feeling good, don't come to the stadium for the good of someone else. Be responsible for that."
Above all, Centerplate knows when fans return in earnest to sports venues when restrictions lift, that first game back is going to be among the most memorable.
"We know how to keep people safe and that's the first thing, the most important thing in the fan experience is keeping people safe," he said. "And we have to make sure it's a unique experience they never forget. The first game you go to is going to be a memorable one."