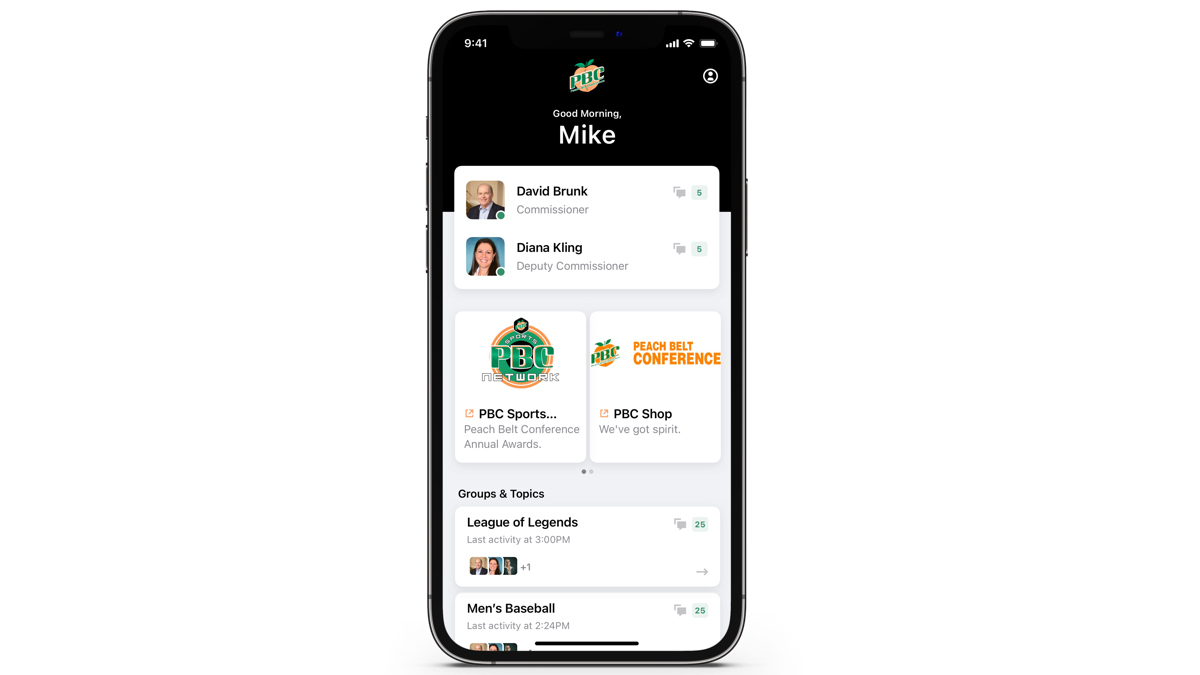 The Peach Belt Conference has started utilizing a new mobile app in an attempt to streamline communication and championship event coordination throughout the league.
Moxtra is the league's client collaboration platform starting this fall. Conference coaches and administrators are connected via a custom mobile app that allows for communications when it comes to fan sections, logistics, travel and any local health restrictions. The partnership with the Peach Belt represents Moxtra's first foray into collegiate athletics.
"With the advent of COVID like everybody else we were having to Zoom all the time and using different platforms to get the communications out with all the different constituent groups that we have in the Peach Belt," Peach Belt Conference Commissioner Dave Brunk said. "To be able to use one platform for myself, my staff, and our members to interact was something very beneficial to us. … If I'm sending draft budgets for the next fiscal year to our financial committee, I would rather send it through our channel than scanning and faxing that information out."
The platform has been especially useful during the pandemic with various health and safety protocols for the league's different schools in multiple states. The league has 10 schools in South Carolina, Georgia and Florida along with nine associate members for its esports league ranging from Elma in Michigan to Hawaii Pacific. The league sponsors 16 sports between men and women.
"We're constantly having meetings that have been in person with pre- and postseason for the coaches and we've met so frequently with our athletic directors and presidents on our COVID protocols last year and this year," Brunk said. "That there's still hesitation to travel and meeting in person, this really fit the bill for us in regards to, having a platform that all of us can get on and be a part of when we have our individual meetings and the interaction that is necessary."
The PBC has recently completed soccer, cross country and volleyball championships and did most of the prep work for the events over the app. "We put our championship operations manual from A to Z with hotels, practice times, awards and how those will be handed out, the contest times," Brunk said.
Security has not been an issue for the PBC as well: "When we were first engaging, they put together a dummy app if you will that we were able to walk through with various components and it eased my mind on it," said Brunk, adding other leagues have asked him about the partnership and platform. "It gives us a sense of security. It's not like we have high-level secret documents, but there are some that would go out that I would not like other folks to be able to see and this is very helpful in that."